Personal hygiene is more than a regular bath, manicure or pedicure, be it for men or women. Along with keeping the body parts clean, the feet should be cleaned as well since it is the only part of the body that always touches the ground, due to which the chances of germs growing are high. Moreover, blisters, dead skin, dirt and calluses make your feet worn out.
All you have to do is to choose a premium quality foot scrub so that you can flaunt your heels, at the same time maintain overall hygiene. Foot scrubs help clean away foot dead skin and blemishes and exfoliate your feet.
Foot scrubs are formulated with cream and a paste of exfoliating granules that help clean dead skin and rid of dullness. A foot scrub is harsher when compared to scrubs used for the face and body because the foot skin is harder. You will need to choose foot scrubs that not only exfoliate feet skin but also make your feet smooth and soft.  A quality foot scrub will help you to prolong and maintain the frequency of your next pedicure. To help you pick the best one that meets your needs, we have compiled a list that includes some of the best scrubs available in India.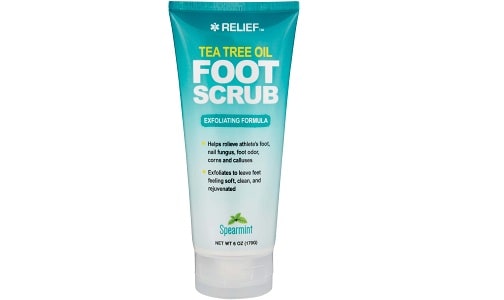 List of Best Foot Scrub in India
Ridhima Sharma is a Senior Pharmacist at Kukreja Hospital, New Delhi. Ridhima completed her Diploma in Pharmacy (D. Pharm) from UP University. She regularly writes article on health information, fitness and beauty related products at IndiasStuffs.com