Confused about which gel pens to go for the new school year? That's logical, given the countless pen varieties and the countless pen brands and styles within those varieties. The gel pen, for example, is great for students of all ages since it makes writing fun and easy. They work by depositing ink from the pen's reservoir onto paper via a small spinning ball at the tip, much like a ballpoint or rollerball pen.
Ink for gel pens is a water-based gel containing colour and thickeners like xanthan gum and polyacrylate. The result is vivid, flowing lines that require less pressure from the writer. Because of their high pigment content, they are also the finest option for signing official documents.
List of Top Gel Pen Brands In India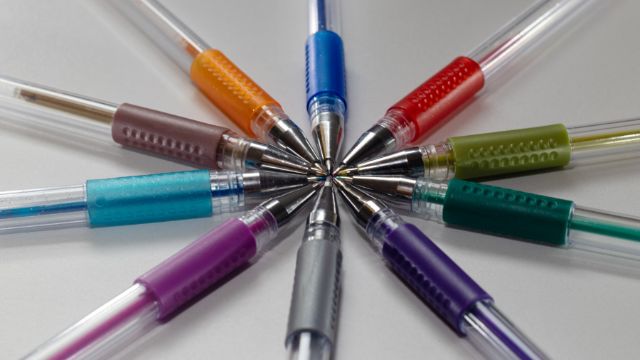 Here is a list of top 10 best gel pens in India for students that you must know
1. Uniball Signo
This pen has rounded tips that make it glide effortlessly across paper, making it a perennial favorite among pen enthusiasts. It has a wide range of available tip sizes, making it suitable for practically any task.
Its gel ink flows smoothly and won't dry out or fade, making it ideal for schoolwork, artwork, and more. On the festive side, you can choose from a plethora of colors and tip sizes, including subtle "near black" tones, vibrant primary colors, and soft pastels.
Price: 60 INR
2. Zebra Sarasa Dry
Amazingly, the ink in this gel pen dries in few seconds. This not only makes it a good option for left-handers, who must be especially careful while reading from left to right, but also for younger children who may lack patience. The modern ink flows evenly and easily. Its large barrel and rubberized grip make it easy to hold for long periods of time. Although these pens are available in 14 different hues, they are only available with 0.7 mm pens.
This pen's ink is specially made to prevent smudging.
Price: 450 INR
3. Pilot FriXion Clicker
These unique writing instruments take the best features of both pens and pencils, bringing you the best of both worlds. They use a particular thermo-sensitive ink that becomes transparent when subjected to elevated temperatures, such as those generated by the friction of erasing. Absolutely no evidence survives.
Each has a 0.7 mm nib with rounded rubber end, so you'll need to apply some force to get the desired result using a standard eraser. However, unlike pencils, "erasing" does not leave behind any trace. One cool thing children can do with such gel pens is to write something, then erase it, and then freeze the paper to make the ink emerge again. Send your secret messages flying with this bundle of gel multicolored pens.
Price: 600 INR
4. Pilot B2P Bottle Pen
The barrel of this pen is manufactured from recycled plastic bottles, but the ink inside is identical to that of Pilot's renowned G-2 pen.
Pilot's G2 pens are highly regarded because of their long ink cartridge life and the ink's ability to flow smoothly without slipping or smearing. The B2P pen uses the same ink and is built with a durable barrel from recycled plastic bottles, of which 89% have already been used. The ribbed grip and end cap button make the pen easy to hold and use, and the point advances & retracts with a satisfying click.
Price- 450 INR
5. Cello Buttergel
This Indian gel pen is of the highest quality and was made with children in mind. These superhero-themed pens were produced by a commercial enterprise. Your child will feel more important to his peer group if he has this item, which has the appearance of a toy due to its themes and may be carried in the child's upper pockets like a pen.
 It's constructed of plastic, and the included pen will leave blue marks on the pages. The cello gel Roller 50 is a good refill for your pen if the ink runs out. Its price is not too high, and the quality of the pen is satisfactory.
Price: 95 INR
6. Reynolds Mera gel pen
It is a perfect fit for people who prefer a contemporary take on a traditional writing instrument. Its transparent body and rubberized grip make for a comfortable, secure grasp and a smooth writing experience. Use this gel pen with a 0.5 point tip to reduce strain on your hands while producing professional results quickly and easily. It is the best option if you want your writing to mirror your pen's performance.
Price: 8 INR
7. Linc
In over 45 years of business, LINC has earned the loyalty of hundreds of thousands of regular customers by offering a wide selection of high-quality writing instruments at reasonable prices. Among the greatest gel pen manufacturers, they consistently produce cutting-edge gel pen designs that are both stylish and functional.
It is the most well-known pen manufacturers in the world; the company sells its products in almost every country.
Price: 50 INR
8. Octane by Classmate
Whether you need to sign a contract, send a letter to a friend, or take meeting minutes, you can do any of these things with the help of the best stationery on the market. Classmate is an Indian stationery and classroom supply brand. ITC Ltd's Classmate notebook line was among the company's first products in 2003. Classmate's offerings not long after the company's founding. It uses chlorine-free paper, making it more eco-friendly.
The rubber grip on these Classmate octane pens gives you a firm grasp, making writing easy and preventing slip-ups—all for less than 10 rupees. The pen won't roll around the desk or fall out of your hand thanks to the secure grip. The water-resistant ink in the pen ensures that your writing never smears, so your sensitive information is safe at all times.
Price: 99 INR
9. Liquiglide by Reynolds
Reynolds Pens, formerly an American brand, is now legally owned by an Indian company. Its doors first opened in 1945.. Chandivali, India is home to the company's main office.
Writing with the Liquiglide is a breeze thanks to the pen's streamlined design and fluid ink. This beautifully crafted pen has a superior grip that makes writing a breeze.
 This pen's smooth-writing nib measures in at 0.7 millimeters. The triangular shape of the Liquiglide Pen's grip makes it easy to hold and write with. This gel pen's laser tip ensures pinpoint accuracy. The premium ink in these pens ensures clean, smudge-free writing. It has twice the lifespan of standard ballpoint pens.
Price: 15 INR
10. Flair Carbonix
The Indian company Flair is a frontrunner in the global market for high-quality writing instruments. For the first time in 1967, the company's hallmark brand, "Flair," was introduced with a line of metal pens.
With a daily capacity for production of 63 lakh units, Flair is rapidly becoming India's leading pen maker. By stocking a wide variety of writing instruments (including ballpoint, gel, fountain, roller, and metal pens), Flair has been able to appeal to customers from all walks of life.
This pen's smooth 0.5 mm tip makes quick work of the paper. The retractable function of this pen makes writing feel as effortless as writing with butter. Low-Viscosity Ink is included for effortless penmanship. Flair Carbonix's Soft Rubber Grip makes it easy to write for long periods of time. The ink from this pen dries quickly and covers well.
Price: 100 INR
Conclusion
Gel pens are highly useful for students in India, especial for writing assessment and completing notes as the ink of a gel pen is water-based, and it employs pigments rather than dyes, so you may choose from a wide range of colors.
Gel pens are popular because they provide a comfortable writing experience in addition to their renowned crisp, precise lines. As a result, you can avoid fatigue and discomfort while writing for longer periods of time at a higher quality. This allows you to work with fewer interruptions and more uninterrupted flow of ideas on paper.
Santosh Kumar, He is a SEO + Blogger have 12 years of experience in writing tutorial, informative and product reviews topics.