Music has long been a part of Indian culture, and we Indians have embraced it for centuries. And even in this modern world, where everyone's into pop and rock types of music styles, India is still keeping the classic music formats or styles alive. But from the looks of it, you may think that the new music artists are trashy and don't produce original music, but there are a lot of other underrated artists and music bands that need your attention.
And if you are specifically into music bands, then you've got to check out the list we are about to share. Well, this post is all about the top 10 best music bands in India for 2023. We have included the all-time famous ones, to the newer bands that have just started but are making quite the name. So, if you are here just for that, then you may wanna stick a little longer because it is going to be fun.
List of Top Music Bands In India
1. Indian Ocean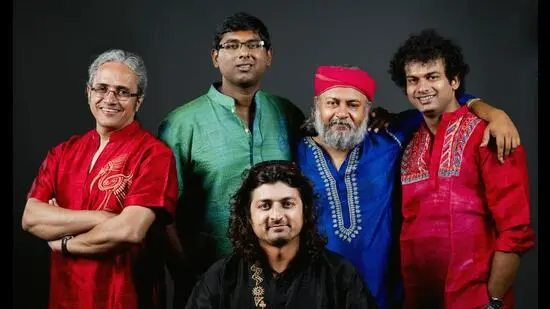 Have you ever heard of the Indian Ocean? Well, for those of you who don't know, they're this super cool band from New Delhi that started way back in 1990. People say they're the ones who really got the whole fusion rock thing going in India. Originally, it was four guys, Susmit Sen, Asheem Chakravarty, Rahul Ram, and Amit Kilam. After Asheem sadly passed away in 2009 and Susmit left in 2013, two new faces, Tuheen Chakravorty and Himanshu Joshi, joined in. Rahul Ram is the only original guy who's still around from their first album. Music-wise, they mix jazz, traditional Indian tunes, and rock, and it's awesome! They even throw in some Indian folk, spiritual chants, and eco-friendly messages into their songs. One of their albums, "Kandisa" from 2000, is a real standout. Nowadays, they've ditched the usual record companies and just put their music online for free.
2. Swarathma
Okay, next up is Swarathma. These guys started in Mysore but are now based in Bangalore. They kicked off their band in 2002 with Vasu Dixit leading the way. They paused for a bit, then got back together in 2006 with some new bandmates. They became famous after winning a contest called Radio City Live in 2006. What's cool about them is their sound, it's like a mixtape of Indian folk, classical music, and Western styles like blues and reggae. They sing about everything from personal experiences to big social issues. They've released a couple of albums and even got some awards back in 2009. Not just popular in India, they've toured places like the UK, Morocco, and even Australia!
3. Euphoria
Then there is another all-time favorite and famous Indian band, we are talking about Euphoria. Started in 1998 in Delhi by Dr. Palash Sen, who was actually studying medicine at the time! The name "Euphoria" is a fancy word that describes a super happy mental state. Over the years, they've had all sorts of musicians join in. They began with English rock but found their thing in fusion music with Hindi words and tunes. Their first album "Dhoom" made them super popular in India, mixing traditional vibes with modern rock. In 2012, they even got into the Hall of Fame by the Indian Recording Arts Academy. Unlike many bands from the 90s, they're still making music and are quite relevant in the country.
4. Agnee
Next up is Agnee, straight outta Pune, India. They hit the music scene in 2007 and were started by two artists, Kannan Mohan, who used to be a bank executive, and Kaustubh Dhavale, who goes by Koco on stage. Early in the days, they landed a big deal with Sony BMG, which is a huge win for any rock band in India! Their first album, also named "Agnee," gave us some soulful tracks like 'Sadho Re' and 'Kabira,' which were inspired by the beautiful poems of Saint Kabir Das. Oh, and if you're an MTV Roadies fan, they're the geniuses behind that catchy theme track! They often release their music online for free, which is another thing that has made them significantly popular in the country!
5. Parvaaz
Coming at you from Bengaluru, Karnataka, Parvaaz formed in 2010. It all began with Kashif Iqbal and Khalid Ahamed. The current band has Khalid singing, Fidel Dsouza on bass, Bharath Kashyap shredding the lead guitar, and Sachin Banandur bringing the beat on drums. They got the spotlight early on by winning some college contests and their music is this amazing mix of progressive rock, alternative, and folk. What makes them stand out is that they sing in Hindi, Urdu, and even Kashmiri! They dropped their first single "Dil Khush" in 2011 and their debut album "Baran" came out in 2014.
6. The Local Train
This band started in Chandigarh in 2008 and then made New Delhi their home in 2015. It was formed by Ramit Mehra and Raman Negi, who later teamed up with Sahil Sarin and Paras Thakur. Raman recently left, but the band's still going strong! They kicked things off with some singles and then launched their first album "Aalas Ka Pedh" in 2015. Their second album "Vaaqif" came out in 2018, and both were hits on Apple Music India. They've also rocked out at big music festivals like Bacardi NH7 Weekender and Red Bull Tour Bus, to name a few. Right now, they're cooking up a third album and continue to perform live. So keep an eye (and ear) out for them!
7. When Chai Met Toast
Coming to life in Kochi, Kerala, in 2016, these guys blend indie, folk, and alternative styles. The band features Ashwin Gopakumar as the guy on the mic, Achyuth Jaigopal strumming the guitar, Palee Francis on the keyboard, and Pai Sailesh banging the drums. Ashwin and Achyuth were the original duos who started jamming after they met at a music café called Springr. Fast forward through some ups and downs, and now we've got the full band. They've put out two EPs and a bunch of singles, including their first full album in 2021 called "When We Feel Young." They've been on VH1 India, played in Bollywood trailers, and rocked stages from India to Singapore and Dubai. You can find them on Spotify and at live gigs all over the place!
8. The F16s
Then there is the F16s band from Chennai. They've been around since 2012. Josh is the guy on vocals and guitar, while Shashank plays bass, Harshan is on the keys, and Vikram is the drummer. Abhinav joined in 2013 after the original guitarist left. Before this, they all were part of other local bands you might not have heard of. They've got this song called "Moon Child" that people can't stop listening to! Plus, they even made it onto Spotify's top charts. You can catch them not only in India but across Southeast Asia.
9. Peter Cat Recording Co.
Peter Cat Recording Co. is from Delhi, and man, they've got a story! Their lead singer, Suryakant, had this life-changing spiritual experience in San Francisco. He moved back to India, met some other awesome musicians, and voila, the band was born. They're a mix of different sounds and talents like Karan on drums, Dhruv on bass, Rohit and Kartik juggling keys, guitars, and trumpets. These guys aren't just popular in India; they're making waves internationally. They've been mentioned in some pretty big-name publications and are always working on new music.
10. Sanam
And then we have Sanam, a pop-rock band that's making quite the waves, all the way from Mumbai. The band has Sanam Puri, who sings and writes tunes, his brother Samar Puri, who's also a writer and shreds on the guitar, then there's Venky S on bass, and lastly Keshav Dhanraj. Venky and Samar actually go way back, they were classmates in school in Muscat. After school, they came to India for college, met the other guys, and thought, "Why not start a band?" So, they simply did. They even won this big music contest called 'Supastars' and that really helped kick things off. You might have heard their songs "Hawa Hawa" and "Behka," or even their Hollywood track "Main Hoon" for "The Amazing Spider-Man 2."
Conclusion
All in all, there is still that spark in the newer music bands in India, but yeah, as music lovers, we have to show more appreciation to see more talent emerging from the Indian crowd. These top 10 music bands in India aren't just making the listeners or followers fall in love with them, but they are also a source of inspiration for newcomers in this digital era.
Santosh Kumar, He is a SEO + Blogger have 12 years of experience in writing tutorial, informative and product reviews topics.