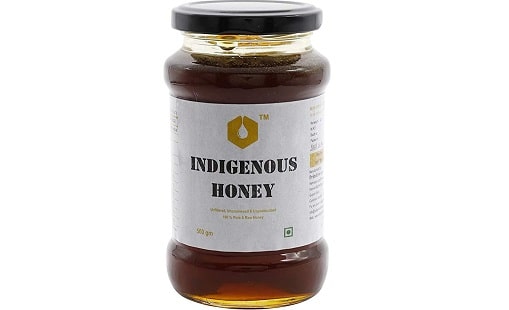 One of the basic needs of humans is the need to serve his/her hunger. There is a saying in India that all that happens happens for the sake of hunger/stomach. In the ancient times of humans, what do you think was the sweetest food or thing that humans must have tasted. Well, being in forests and taking advantage of the food source in the forest, honey is probably the sweetest thing that humans have tasted. Honey is the sweetest natural available, and anyone knows of. It has multiple nutrient values and filled with antioxidants, which increases the immunity level in humans.
Honey is produced by industrious bees, also known as honey bees, and is stored in the honeycombs for their use in times of food scarcity, especially in the time of winter. Honey is produced using the nectar that is extracted by the bees from the flowers. Hence, the colour and the taste of the honey would vary based on the type of flowers the bees extract the nectar from.

Honey has various nutrients in it and also contains antioxidants that work as medicinal properties. Honey in India has been used since ancient times, mainly in ayurvedic medicines. It also is used by singers to soothe their vocal cords. It is sometimes used as a natural sweetener in the food. It is used in salads to make them tastier. It can also be consumed directly.
In the below section, we will be talking about the 10 best organic honey available in India and their features.
Best Buy Honey Online In India
As mentioned, there are various benefits to honey consumption. It has medicinal properties and increases immunity with regular intake. Let us talk about the best pure organic honey available in the Indian market.
1. INDIGENOUS HONEY Raw Organic Honey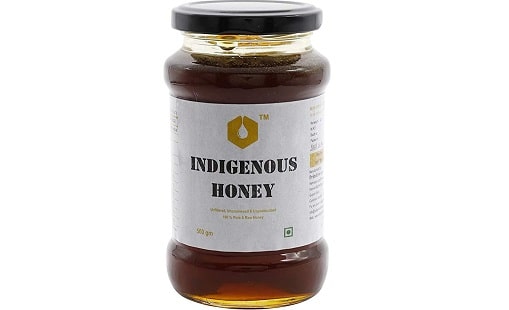 Raw honey is the unprocessed honey that does not go through any pasteurization process. This helps retain all the nutrients of the honey. Indigenous Honey claims to sell such honey that is raw and also organic. This is completely a vegetarian product and is not an animal extract. They breed the honey bees in specially designed wooden boxes that are also known as beehives. These bees are let out to collect nectar from the flowers nearby, and the honey that is produced contains antioxidants, enzymes, vitamins, pollens, and many natural minerals. There are usual practices of either cane sugar or corn sugar being added into the honey to dilute it or increase the quantity. Indigenous honey does not follow any such practices and hence they are termed to be raw honey.
They follow GBP – Good Beekeeping Practises, which are being directed by National Bee Board. They use all the best methods to ensure the extraction is done without hurting any bees. The production site of the Indigenous Honey is far away from the industrial area, and hence they are free of pollution and usage of any pesticides and chemicals while growing the flowers. The package comes in a glass jar, and hence it is also a safe way to store it.
Things we liked
This is a vegetarian product and has no animal extracts in it
The company complies of all the rules laid down by National Bee Board
No bee is hurt during the extraction process
The honey is 100% raw and does not go through any process – hence no nutrients or natural elements are lost from it
Things we did not like
Some customers complained of not so good taste
Customers pointed out that it was not organic
Some customers claimed the honey they received more of sugar syrup
---
2. Farm Honey Wild Unprocessed Honey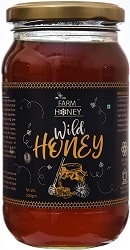 Farm Honey is the brand that brings to you the wild forest honey. It is collected from the forest region of India, which is free of pollution and pesticides. It is also free from any antibiotics, chemicals which are usually found in the urban region. The forest region includes dense forest and also mountain regions that are known to have the beehives and the purest form of flowers. It is 100% pure and natural honey – that means it is not pasteurized, filtered, processed and is completely raw. No chemicals or ingredients have been added to it.
The colour of the honey is dark, which is also one of the qualities of pure honey. This is packaged in the glass jars, which retains all the nutrients. The uses of this honey are numerous. It can be added in the desserts, roasted and grilled fruits, tea, coffee, butter, cheese and many such products. It is your creativity and imagination that is the limitation. The product is FSSAI approved which means it is of the consumable grade. No harm comes with the consumption of this honey. They also come in flavoured versions. The addition of ginger is known to be the healthiest form for the throat and also the digestion.
Things we liked
Approved by FSSAI and tested in the laboratory
Wild forest honey that comes from dense forest and the mountain regions
RAW and unprocessed honey with pollens in it
Can be used in various food items
Things we didn't like
Customers complained of low quality
Customers commented that it tasted of jaggery syrup
---
3. Bare Elixir Organic Forest Honey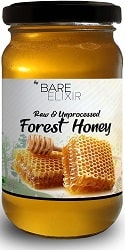 Bare Elixir is the company that had a passion for the honey and bee-keeping. The company's mission is to make 100% raw honey. The company found an indigenous tribe which harvested for honey, and they also got into it. The bees that produce this honey uses nectar from the Red Silk Cotton trees, which are unique when compared to the other flowers. Hence it has a unique taste. This honey does not go through any filtration or pasteurization process, keeping it raw and true to the taste it was produced in. This also ensures no nutrients are reduced and all the antioxidants are available, making it a good consumable for immunity purpose.
The honey specifically comes from the forests of Gir from Gujrat. The company works with various small farmers and tribes who help them source it from various parts of the forest. The company shares a very different kind of culture and has the aim of preserving the natural habitat for the bees. They make sure not to hurt any bees during honey extraction. This is a completely vegetarian product, and no animal extracts present in it. The founding story of this company is truly inspiring.
Things we liked
Vegetarian product and no animal extracts
Extracted from the beehives of Gir forest
Sourced from small farmers and tribes hence providing them with the opportunity to earn their livelihood
Bees collect the nectar from Red Silk Cotton trees from the forest making it unique in its taste
Things we didn't like
Some customers commented on having sugar content in it
---
4. MERLION NATURALS – Organic Raw Honey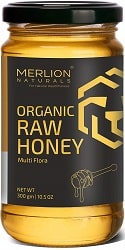 Merlion Naturals introduces their honey in a package of 300 gms and packed in the glass jar preserving the nutrients of the honey. Honey has various health benefits and Merlion comes with some specific health benefits. The jar comes with raw honey that is filtered with a nylon cloth or strainer with the only intention of removing the impurities like dead bees or the wax pieces. Other than this filtration, it is free from any other kinds of filtration or chemical processing. There is no addition of sugar or jaggery syrup to increase the quantity of honey.
The honey is said to be prebiotic, which means it is good for your gut health. It increases and feeds the good bacteria in your guts, that help in the digestion process. Regular consumption helps increase immunity and also supports overall good health. It is rich in nutrients; hence it is the quickest and vital source of energy. It also includes some essential elements like iron, calcium, potassium, and zinc. The raw honey contains all the 22 amino acids in it. Merlion maintains all the standards as per the authorities and hence it is a good source of honey. Organic honey is essential for the avoidance of chemicals and pesticides.
Things we liked
Completely raw honey making it pure and full of nutrients
Good for gut health
A vital source of energy
Filled with antioxidants
Contains all the elements like iron, zinc, calcium and potassium
Things we didn't like
Customers conducted a water test and it failed
They complained of molasses content in the honey
---
5. THE HONEY SHOP – Raw Forest Honey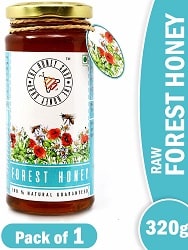 The Honey Shop comes with the Raw forest honey in a package of 320 gms. This package comes in a glass jar and is the most efficient way to store honey for a longer duration. Raw honey is known to be filled with nutrients and also the properties of healing and medicine. Hence, they are used in ayurvedic medicine. The honey from the Honey Shop is collected from deeper forests by the experienced and trained foragers to ensure the bee colonies are not disturbed. They also make sure not to hurt any bees in the process.
It is unpasteurized, unfiltered, and unprocessed to maintain its authenticity and natural nutrients. It is rich in amino acids, enzymes, vitamins and minerals. It is also rich in pollen and it is not filtered away. It is a natural immunity booster with regular consumption. It is very effective against cough, cold and sore throat. It is also said to increases memory in children with regular intake. It increases the digestion power of the guts, and also acts as an energy booster. It quickly heals when applied on burnt skin. For people who want to lose weight consumption of honey will help burn fat and hence lose weight. Honey with lemon proves to be a very good combination of antioxidants to the body. The combination has shown very good results in the case of weight loss.
Things we liked
Sourced from the dense forest, it seems to be pure and raw
Unpasteurized and unprocessed retains all the nutrients
Natural immunity booster and a quick source of energy
No bees are harmed during the extraction
Extracted by trained and experienced people
Thins we didn't like
Customers complained of the honey to be adulterated
Customer service needs improvement
---
6. DADEV Organic and Raw Forest Honey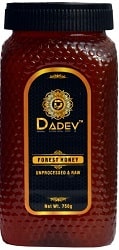 Raw forest honey offered by Dadev brand is also organic. The package is in a stylish glass jar that is attractive. The colour is dark hence known to be of high quality. It is also unprocessed, meaning it will have all the nutrients that it held when it was in the beehive. It is high in pollen, which means it is in its pure form with no heating or processing. The company makes a statement about the honey "from the hive to the table" which means there is no intermediary process. They claim it to be the purest form of honey when compared to its competitors.
It is said to be a very good ingredient for weight management process. You can use it in any of the drinks as a natural sweetener, thus making it easy for regular consumption. You can also apply it on the skin for healing burn injuries, getting rid of acne and to keep skin health in check. A teaspoon of honey just before you go to sleep will give you a sound sleep along with a remedy for cough and sore throat. It also improves the stamina of the person who consumes it.
Things we liked
From the hive to the table honey making it pure
Very good ingredient for weight loss process
It is raw and forest honey – it is sourced from the forest areas
It is completely a vegetarian product
Things we didn't like
The viscosity is very liquid and hence not a pure honey
Some customers tasted it to be a jaggery water
---
7. Pure & Sure Organic Honey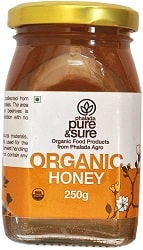 As the name suggests – Pure & Sure Organic honey packages the organic honey that is a vegetarian product. The company does not claim it to be raw honey. The company sources it from the certified beekeepers across the country. They are said to be non-adulterated, and no additional flavours added. It is said to be sourced from the areas that have organic flowers being grown. No chemicals or pesticides have been used for the flowers where the nectar is extracted from. The honey bees are bred within the said standard practices and hence it does not harm any bees during the extraction process.
The taste is also good and unique as per customer information. It also smells good along with the taste. Some customers have completed some tests to test its purity and it has come out with flying colours.
Things we liked
Certified organic honey that is sourced from various certified beekeepers across the country
No intermediary process to adulterate it
The plants whose nectar is used are all cultivated from organic farming
Pure vegetarian product
Things we didn't like
Quality has been criticised by a few customers
Sugar content being spotted by the customer
---
8. First Bud Organics Pahadi Honey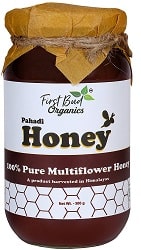 The uniqueness shared by First Bud company is that they claim to have sourced the honey from the Himalayas. It is said to 100% pure and output of the multi flower nectar honey. The product has FSSAI certification; hence it is safe to be consumed. The bees are bred away from the crowd and urban area. This avoids any inclusion of pollution into the flowers and then into the honey. The bees are naturally bred, and hence they use the nectar from various flowers to produce honey. It is unpasteurized and stored in glass bottles retaining all its nutrients in the process.
It comes from the indigenous honey bee that is specifically found in the Uttarakhand area. The honeybees are bred in the specially designed beehives that are kept in various villages to produce honey. It is said to help in the digestion process and increase the immunity level. It has no added artificial sweetener hence making it pure and filled with nutrients. As it is unprocessed all the elements like iron, calcium and many others are found in it.
Things we liked
Bred and harvested in the Himalayan region
Unadulterated honey
Unprocessed and unpasteurized honey
Things we didn't like
Customers complained of the honey tasting like jaggery syrup
Quality was questioned by the customers
---
9. Al Qusai Natural Honey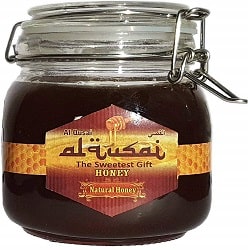 Al Qusai brings the natural honey to the consumers in a 1 kg packaging of a glass jar. The product is vegetarian and no animal extracts are present in the product. In general, natural honey is far better than refined sugar and hence even using it for regular usage causes no harm. Instead, it has various health benefits most of us are aware of. It acts as a natural immunity booster with regular usage. It helps in digestion and also improves gut health. There are various nutrients present in it, like iron, potassium, zinc and many others.
It has medicinal values that are helpful in ayurvedic medicines, and some medicines are advised to be taken with honey. Honey also helps in maintaining skin health, also seen cure burnt injuries on the skin. It is an effective ingredient for people who want to lose weight. It is known to keep blood pressure levels and cholesterol levels in check.
Things we liked
Comes in 1 kg package and a large glass jar – it retains the nutrient values intact
Acts as a natural sweetener and also healthy when compared to sugar
Extracted from natural sources from various parts of India
Controls blood pressure and cholesterol level
Things we didn't like
Company does not mention if it is raw or organic
Sugary deposits at the bottom seen after 6 months
---
10. Farm Naturelle-Raw Honey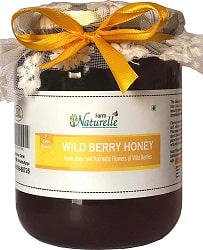 The last one in our list is from Farm Naturelle, which packages raw honey sourced from foothills of Himalayas and orchards of Uttaranchal. It is raw honey that is unpasteurized, unprocessed and unfiltered. It means that it has retained its natural contents and also the pollen making it rich in nutrients. There are also no artificial flavours or sugars added. It is filled with vitamins A, B, C, D, E and K and also various minerals. All these provide health benefits and also medicinal values to it.
It is filled with antioxidants and anti-inflammatory properties. These properties help heal cough, cold and build up immunity. It is also known to heal wounds and burns on the skin. Due to the presence of pollens in it, it tends to crystallise during storage. It is FSSAI certified meaning it is a consumable product without any doubt.
Things we liked
100% raw honey without any adulteration
It is unprocessed, unpasteurized and unheated
Filled with nutrients and antioxidants ensuring to increase your immunity level
It can heal skin issues or burns faster
Things we didn't like
Customers did not like it getting crystalized
Some customers found it to be sugar syrup
How To Choose The Best Honey In India
Various companies claim to be selling pure and raw honey in India. However, not all products are genuine and pure. Some features of it make it raw and pure. Below are some features you need to keep in mind before buying.
⇒ 1. Water content
Viscosity is an important feature of pure and raw honey. Honeybees ensure it is free of water content as much as possible. Pure honey can have a maximum of 20% water content in it. You can read this in the product details on the jar. The company must describe the ingredients and their quantity on the label of the jar. You can also make out when you use it if the water content is high. We will talk on how we can test it in the coming section.
⇒ 2. Sweetness
Honey is a natural sweetener in itself. However, if you have a chance of tasting it before you buy it, then make sure it does not taste like sugar or jaggery. You can easily make out the difference between the raw honey and the sugar/jaggery added honey.
⇒ 3. Processing
Raw honey does not go through any processing before being packaged. Some brands sell honey based on the processing and adding in sugar or jaggery into it to increase its sweetness. Make sure the one you are buying is not processed with any chemicals. The process also includes pasteurization, which means it is heated to some extent. The heating process will remove all the nutrients and antioxidants in it. The natural properties of it are lost, making it another sugar syrup. The processing details are supposed to be mentioned on the label of the jar.
⇒ 4. Pollen
Pollens are very important in raw honey. Pollens increase the nutrient values and it acts as the immunity booster. Hence do not go by the clearness of it. The more opaque and blurryit is, the more pollens are present, making it pure.
⇒ 5. Colour
Colour cannot always define purity. But the darker it is in colour, the pure it is. In the case of colour, it is advisable to use other methods to determine the purity along with it. The lighter the colour it is said to be adulterated. So choose carefully when looking at this feature.
How To Check The Quality of Honey
There are different ways to test if it is raw and in pure form. These are simple home tests and are easy to perform. Let us learn some of them so that we do not get cheated.
Spoon test is one of the easy and fastest ways to determine purity. Take a spoon and dip it in the honey. Remove the spoon and then hold it upside down. If it falls easily then the honey is said to have a water content of more than 20%. Pure and unadulterated honey has around 18% of water and hence it does not trickle easily. It sticks to the spoon for a longer time.
Take a glass of water, the take a little honey in the spoon and slowly place it at the bottom of the glass. Then very slowly stir the water with a spoon, if the honey mixes with water easily, then it is adulterated with sugar or jaggery. Raw and unprocessed honey will not mix with water so easily due to its viscosity.
Take a small candle and dip the wick of the candle into the honey. Then try to light the candle; if the wick burns, then the water content in it is less than 20%. If the water content is more than 20% then the wick would not burn. This test is specifically to check if the water content in it is high or less.
How to Use Honey Diet for Weight Loss?
There are many different ways you can use honey for shredding extra pounds from your body. Here is some interesting information about how you can use the honey diet for weight loss:
Lemon and honey for weight loss:
With the help of honey and lemon, you will be able to create a simple DIY drink that can be very helpful to detox your body and lose weight. You should add some water to the pan and heat it. You just need to heat the water and not boil it. In case the water gets overheated, then you need to make sure that you cool it down. You should now add honey, black salt, grated ginger, and lemon juice to the water and stir well. Your detox drink is ready.
Honey and Milk:
If you are some who likes to drink milk, then you should skip the sugar part. You should add one tablespoon of organic honey to a glass of milk. First, boil the milk well and then let it reach room temperature. Once it is cool, then add honey and drink it. Milk is a good source of protein, and protein will enhance metabolism in your body. That will, in turn, help in losing weight.
Honey and warm water:
This is a very well-known tip for losing weight with honey. Like we already mentioned in the first process, you should just heat a glass of water in a pan. Do not boil it. Now add one tablespoon of honey to the warm water and stir it well. You can have this drink first thing in the morning to see some amazing results. It can be used as a pre-workout drink. Water will keep your body hydrated and also flush out all the toxins and aid in weight loss.
Green Tea and Honey:
Green tea is a very popular drink for weight loss. But you will not be able to reap its benefits if you are taking it with sugar. Sugar adds calories to your body, and that will increase your body weight. But you cannot drink green tea without sweetness as it is a bit bitter in taste. So, add one tablespoon of honey to the green tea just before you consume it. It tastes amazing and will also help in cutting down the calorie intake. That way you will be able to lose weight.
Honey is the best substitute for any sweet or sugar that you use in any beverage that you drink. You can add honey and still enjoy the same drink as long as it is healthy for you.
Organic Honey Frequently Asked Questions
The word "Organic" in Organic Honey is just the same that is listed on any other organic product. No chemicals or pesticides are used in the making of the product. The hives will be placed away from any chemicals, and the flowers or the plants that the bees for getting nectar are also grown without using any chemicals. So, it is one of the best and safest form of honey that you can get in the market. It is safe for anyone to consume without any worries.
Is raw honey and organic honey the same?
No, they both are different from each other. The raw honey is just the same that has been removed from the hives. It is slightly strained to remove any bee parts that are left in it and sold as it is. It does not undergo any process of heating. But Organic honey means it is made without using any pesticides and chemicals in the process of making honey. It is also not heated before it is sold to the consumers.
Is artificial sugar added to honey?
This is entirely dependent on the manufacturers. Some honey manufacturers add artificial sweeteners to make it taste just right. But that is not going to be organic honey because the artificial sweeteners may contain chemicals. Some manufacturers mention on the package if artificial sugar is added or not and some don't. So, you need to be very careful while picking one.
Why does thick honey turn runny?
It is due to the temperature outside or where you are placing the honey. You should always avoid placing the honey jar near the window, or anywhere where there is direct sunlight. You should also not place it near cooktops. It is always good to keep it away from heat. When it is exposed to too much heat, the taste of the honey will also change.
Why does honey turn into crystals after a few days?
Whenever you are buying Organic honey, make sure to check the expiry date on the package. The crystal can be formed when the honey expires. Or there is also another reason for the crystal. When artificial sugars are added to the honey, and it is not sold in its pure form, the honey starts to form crystals after a few months.
Can I use organic honey for the face?
Like we already discussed, organic honey, is the purest form of honey. It is made without any pesticides or chemicals, and hence you can use it whenever you want to and also use for making face packs. It does not cause any kind of damage to your skin as long as you are buying the best honey.
Can I give organic honey to infants?
Whether it is organic honey or regular honey, it is not good to feed to infants. Infants will not be able to digest it, and hence they may have stomach pain. But for kids above the age of one year, honey is very good for health. Honey has Zinc, Selenium, Phosphorous, Calcium, Iron and Potassium in it.
Bottom Line
Honey is, no doubt a very useful and essential food item that can be very beneficial with its consumption. The features and the products we discussed was a mere effort to help you buy the best honey in the market. There are many products available, and we have chosen the products based on its quality and customer satisfaction. Hoping that we were able to help you make the right decision.
Ridhima Sharma is a Senior Pharmacist at Kukreja Hospital, New Delhi. Ridhima completed her Diploma in Pharmacy (D. Pharm) from UP University. She regularly writes article on health information, fitness and beauty related products at IndiasStuffs.com