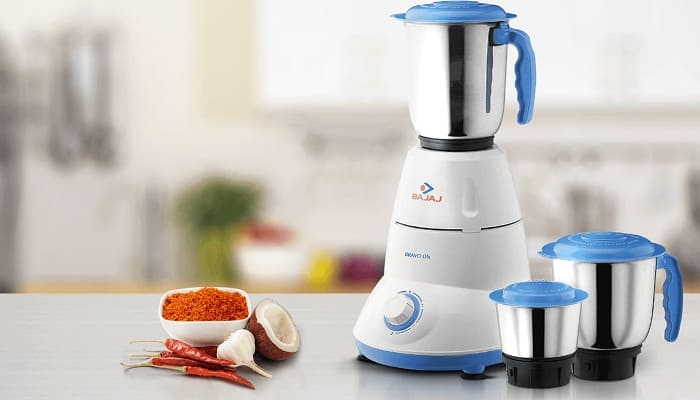 India is a country where people like consuming fruits and vegetables a lot. Some people consume fruits and vegetables in their raw forms, while others prefer squeezing their juices. Some of them have a habit of sipping fresh juices along with their daily meals. Whether you consume juice in your breakfast or the evening snack, a fresh glass of fruit or vegetable juice provides health benefits in the longer run. Gone were the days when Indians used to squeeze juices using hand juicers. The advancements in technologies have brought some amazing machines into our kitchen. A juicer mixer grinder is one such advanced device that blends the fruits/vegetables to squeeze their juices, and all of it happens within a matter of a few minutes. However, after the juice is extracted, there is still a need to filter the residues in order to separate and get a glass of clear juice. Unlike traditional hand juicers, mixer grinders take very little time to make a glass of fresh juice. All in all, a mixer grinder is far better than a hand juicer, especially if you do not want to spend much time squeezing the juices. A mixer grinder juicer proves to be very helpful to students, office workers, and loners.
Best Selling Juicer Mixer Grinder Below 2000 INR
If you are looking to purchase a juicer mixer grinder for your kitchen, then you are reading the right article. We have curated a list of some of the best juicer mixer grinders that can be bought under 2000 rs. in India. Each of the below product has fantastic features. Additionally, we have included the pros and cons of each product. If you want to buy a good juicer mixer grinder, then we suggest you read the given article thoroughly. Let us begin.
1. Bajaj GX-1 Mixer Grinder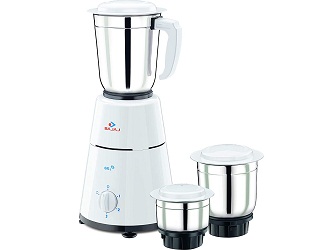 The Bajaj GX-1 Mixer Grinder has secured the top spot in our list of best juicer mixer grinders. In the world of kitchen appliances, Bajaj is a trustworthy brand. Their microwaves, food processors, choppers, and juicer mixer grinders are of fine quality. Here, the Bajaj GX-1 Mixer Grinder can be used to serve the purpose of a juice maker. This is a very effective mixer grinder that can be used regularly to squeeze fresh juices. It has a white and metallic design. Other than that, it is also priced at an economical rate. Apart from fruits, you can also squeeze juice from vegetables in this product. It consumes a power of 500 watts.
In the Bajaj GX-1 mixer grinder, there is also a provision of an automatic shut-off system. With the help of this juicer mixer grinder, making juice will become more convenient and easy for everyone. The product comes along with three jars (made up of stainless steel) – a dry grind jar, a chutney jar, and a liquidizing jar. Each of these jars has different capacities. Apart from that, the Bajaj mixer grinder comprises of super-sharp blades. These blades can perform a variety of tasks such as mixing, mincing, chopping, grinding, and whatnot. Apart from squeezing the juices, other tasks can also be performed in this grinder in a very short time. You would love the elegant design of the product; it is quite attractive. Furthermore, the juicer grinder features three levels of speed; you can change the speed based on your preferences.
Pros
The juicer grinder comes along with three different types of jars.
The brand offers a one year warranty on both the product and motor.
The customer care service is good.
Cons
According to some customers, the motor of the juicer grinder is quite noisy.
2. Inalsa Jazz Mixer Grinder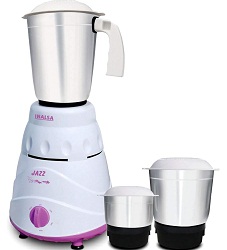 The Inalsa Jazz Mixer Grinder took the runner-up spot in our list of best juicer mixer grinders. This product can be bought under 2000 rs. in India. Many people around the country have bought this product, and most of them have positive things to say about the product. It has this beautiful white-colored body that attracts most of the buyers. If you buy this juicer grinder, you will get three different jars, all of them are extremely strong and highly durable. Each of them consists of PP lids that hold the ingredients intact and in place. And because of the same feature, one can easily blend fruit extracts without the problem of juice spilling out.
The Inalsa Jazz Mixer Grinder comes under the category of convenient kitchen products; it is extremely easy to operate. Additionally, the product features a simple design but with exceptional functionality. There is a 550 Watts motor that is specifically designed to provide a top-level of torque. And that is why the juicer mixer grinder offers a very high performance of blending. Besides, the product possesses high-quality blades (stainless steel, which ensures durability). They are designed in such a way that enables them to provide a powerful but uniform grinding. The three-speed setting turns the entire process of grinding and blending even more convenient for the users. You can use this product on a daily basis to squeeze various types of fruits and vegetables without any hassle. You can also read many positive reviews of the product on the internet.
Pros
The design of the Inalsa Jazz Mixer Grinder is straightforward but attractive.
The product will suit all kinds of kitchen countertops and interiors.
The PP lids come included with the jars.
Cons
As per some customers, the overall quality of the juicer grinder is not up to the mark.
3. Butterfly Hero Mixer Grinder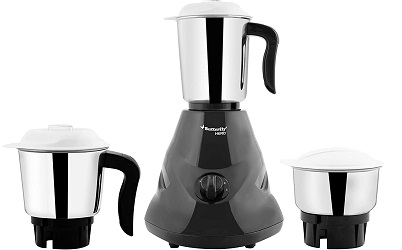 We could not stop ourselves from mentioning this juicer mixer grinder on our list. It is brought by the company Butterfly Hero and is one of the most well-designed mixer grinders in the market. The black designed and silver jars of the grinder are what makes it much more attractive than it already is. The entire body of the jars is made up of food-grade, rust-proof material. The grinder consumes a power of 500 Watts. And because of that, the Butterfly grinder is considered as a power-efficient product. According to the brand, the blades are razor-sharp and run at an RPM of around 17000-2000. Hence, the blades precisely chops, mixes, and cuts the contents of any sizes or shapes.
The Butterfly Hero Mixer Grinder features a three-speed smart knob. It can be used to adjust the speed of the grinder blades. We would also inform you that there is a 'whip' feature. Using this feature, the user can run the grinder at a very high speed. Additionally, the grinder comprises a sturdy and strong handle that also offers a firm gripping, eliminating the chances of slipping. If you want to fulfill your needs of fresh juices every-day, then you should not miss out on this Butterfly Hero Mixer Grinder at any cost. This product can prove to be an essential appliance in your kitchen. You will indeed like this well-rated mixer grinder a lot.
Pros
The product carries a beautiful yet sturdy design.
The material that is used in constructing this mixer grinder is food-grade and highly durable.
The jars are made up of stainless steel.
The grinder consumes 500 Watts of power, and hence, it is an energy-efficient product.
Cons
Some customers say that the customer care service is condemnable.
4. Cello Grind N Mix Ertiga 500-Watt Juicer Mixer Grinder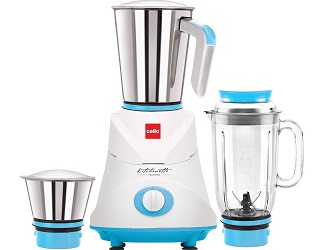 Next up, we have the Cello Grind N Mix Ertiga 500-Watt Juicer mixer grinder for our readers. It is one of those handy appliances that can be used to perform not only a single task but multiple tasks. The brand offers a multipurpose blender (plastic) and two jars (stainless-steel) along with the grinder. The product is available in two different colors – white and maroon. You can choose whichever color you like the most. This device consumes a power of 500 watts, and that is why it has an efficient operation. You can use this product regularly without any issues. One of the remarkable things about this grinder is that it has a tough inner body. Therefore, you need not worry about the durability. Other than that, there are nylon couplers which are of high quality, they tend to get attached to the main grinder unit strongly, and the jars get locked very strongly. You will also like the anti-skid gripping of the grinder. It ensures the device does not skids off during the process of grinding.
The Cello Grind N mix Ertiga 500- watt juicer mixer grinder is a very functional product. It has an overload protector that takes care of the overload damage that usually happens when the device is used for extended periods. Its design is made to suit various kitchen interiors. We suggest that our readers add this product into your kitchen and enhance the food preparation speed and comfort. Once you buy this product, you will not end up disappointed. This product can be shipped anywhere in India.
Pros
The functionality of the product is extraordinary.
The jars are made up of high-quality SS material.
The nylon couplers are meant for easy operations.
Cons
Many customers received defective products.
5. Lifelong Power Pro 500-Watt Mixer Grinder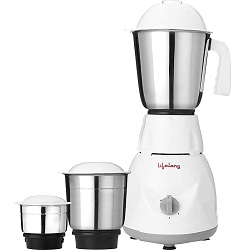 While discussing mixer grinders, we cannot forget the Lifelong products. This company has been in the market for a few years and is providing efficient products to everyone. Therefore, we have added their mixer grinder here. This grinder is an extremely versatile product that is available to be purchased in 2 finishes. These finishes are – White/Brown and White/Grey. One of the best features of this product is that it comes at very reasonable pricing. The 500-watt motor enhances the efficiency of the grinder up-to many folds. You can even crush tough ingredients such as lentils, nuts, etc. You can use the liquidizing jar of the grinder to prepare your favorite juices. Additionally, the grinder has two more jars; each of them is meant to serve a different purpose of grinding. All the jars have easy gripping handles, and because of that, the user can operate the grinder comfortably. Their handles are also very strong and are made to last longer. You can hold the jar with heavy ingredients without the issue of handle breakage.
The Lifelong Power Pro 500-watt mixer grinder comes equipped with three-speed level settings. This setting makes the process of grinding and blending very easy for everyone. While using the grinder, one can easily increase or decrease the speed of the motor. And that prevents the motor from overloading. Besides, there is also a provision of an overload safety button. You can also use this button to save the appliance from fluctuations, overheats, and overloads. The product has more than 15000 buyers in amazon, which, according to us, goes a long way in convincing the customers for making an investment.
Pros
The overload safety button protects the motor from damage.
You can easily change the speed of the motor.
You can blend fruits, vegetables, lentils, and much more in this grinder.
The product can be chosen from two finishes.
Cons
According to some customers, the overall quality of the grinder could have been better.
How To Choose Best Juicer Mixer Grinder in India

Juicer mixer grinders are very popular kitchen appliances in India because it can come handy for various purposes like grinding, chopping, juice, and so on. Manufacturers know this thing quite well; that's why you can easily find too many varieties in this specific category. But this type of high competition between different brands is making it challenging for customers to buy the right type of juicer mixer grinder. And in case if you are feeling confused then don't worry our this detailed buying guide will surely help you out.
Wattage Consumption:
Wattage consumption is the factor that can directly let you know about the overall performance of the grinder that you are going to buy. Let's keep it simple, sweet, but understandable, so take it in this way; the more the wattage consumption, the higher the motor power you will get. But still, the main question is how much wattage consumption of the primary motor is useful for routine grinding and juicing tasks. Right? In our suggestion, you should go with a juicer mixer grinder that must have at least 600 wattages of power consumption.
Rotation Speed of Primary Blade:
The overall grinding, mixing, and juicing of a juicer mixer grinder only depends upon the blade rotation. If a grinder comes with too high rotation speed, then surely that particular option can smoothly do any hard to hard grinding tasks without causing any issue. The question remains the same, and we know that, so as per the experts and manufacturers, you should choose a rotation speed of at least 15,000 rpm for daily kitchen grinding, mixing, or juicing tasks. If your desired grinder is not providing this type of decent rotatory speed or primary blade, it would be better to skip that option.
Blade Speed Control:
Blade speed controls Another essential point that you should never ignore while buying the right type of juicer mixer grinder in India. With this type of controls, you can easily adjust the speed of the primary blade or the motor as per the need or the task you are performing. In terms of speed control of the primary motor, there are many options present, and the speed control in juicer mixer grinders can go up to ten levels. In our recommendation, you should choose a grinder with at least six levels of speed control for the primary motor with a mechanical dial.
Accessories And Attachments:
Accessories and different attachments with a juicer mixer grinder can enhance your experience with a particular variant. However, many manufacturers don't offer any additional accessories and attachments rather than the primary grinding/mixing or juice jar. But it would be great for you if you look for an option that comes with a variety of accessories like different jars and cups. And it should have different blade attachments, so that you can change it as per your requirements like chopping, grinding, and regular mixing. One thing to always keep in mind is that finding or looking for an option that comes with additional accessories and attachments might cost you a bit higher than the standard options.
Conclusion
The demand for juicer grinders is increasing day by day. This could be due to the fact that people nowadays are preferring a healthy diet. Consuming juices on a daily basis has several health benefits. But, we have seen so many people struggling to select the right juicer grinder for regular use in the kitchen. Hence, we have made a list of top ten juicer mixer grinders that can be bought under 2000 rs. in India. All of these products have excellent quality and unique features.
You should choose the juicer grinder, which has all the things that you are looking for. Stay healthy and happy!
Santosh Kumar, He is a SEO + Blogger have 12 years of experience in writing tutorial, informative and product reviews topics.