Mixer grinders help us in making soups, sauces, smoothies, and spreads. It helps in making all these works easy and effortless in comparison to traditional methods. We blend, chop, and whisk various ingredients in our kitchen many times by using traditional Indian methods, which makes the blending too hard. Using a mixer grinder makes this work too easy, and it is one of the perfect options to consider in India.
From simple to professional-grade mixer grinders, you can find an intense number of options that can fulfill all your basic needs. You can consider design, size, capacity, speed, and so many aspects, but it can take lots of time. Chances of missing some small features like interface, type of operation, and many other things seem common. Due to this, looking after the need before buying a mixer grinder plays an important role.
Here, we are back with our list of top ten best selling mixer grinders in India, and this time, we are considering a pocket-friendly budget, which is 2000 rupees. It seems like a tight budget, but if you consider all the factors we did, you can find many options that amaze you with the performance and build quality. To make this list, we did some hard work and talked to professionals.
Best Selling Mixer Grinder Below 2000 INR
After comparing all the aspects, here is a list of top ten best mixer grinder below 2000 rupees with their in-depth review so that you can choose the perfect product for your specific need with ease. Let's get started –
1. Bajaj Rex Mixer Grinder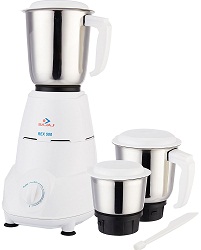 Bajaj is a remarkable name in the kitchen appliances industry. They offer a perfect blend of elegant design, high-grade build, and affordability. If you have made your mind for a reputed brand, then there is no better option than Bajaj Rex Mixer Grinder. Their Rex series is widely popular for the design part, which includes a compact grinder and three different sized jars to fulfill all your basic needs with ease.
Bajaj Rex 500 is named after its 500w powerful motor, which provides intense torque to get you a fine texture. You are getting three different speed settings so that you adjust the speed as per your need. This one has a multifunctional blade system to get you effortless grinding experience in every single use. Last but not the least, this mixer is sturdy built with a rust-proof body to provide better durability.
Pros
You are getting a 500w powerful motor to get you a perfect blend in every single use.
The build quality is sturdy, and it has a rust-proof body to provide better durability.
The multifunctional blade system provides ease while mixing herbs, veggies, and fruits.
The manufacturer is offering one year of warranty from the date of purchase.
Cons
During the starting days, this grinder makes significant noise.
2. Inalsa Jazz Mixer Grinder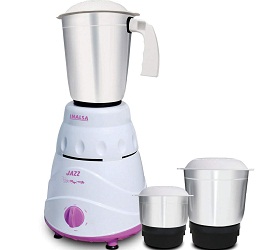 For slightly higher power, you can go with Inalsa Jazz Mixer Grinder, which packs a 550w motor, a quiet operating mechanism, and three different sized jars for great usability. It is a slightly compact and well-liked product which can fulfill all your needs during the go. The manufacturer offers plenty of options so that you can choose a reliable mixer grinder for your specific need.
The blades are extremely sharp and made up of stainless steel. Due to the sturdy build and a rust-free design, you can expect better durability of the body, and the blades won't fade its sharpness that easily. You can continuously use this mixer grinder for five minutes, and then you have to stop for two minutes so that motor cool down. It is the only flaw in this mixer grinder; otherwise, everything is great.
Pros
It provides a compact design and easier storage solution for daily use.
It comes with a large machine and three different sized jars for better comfort.
Provides three different speed option so that you can get a perfect blend easily.
Blades are durable, and they can contain sharpness for a long time.
Cons
It has a great design, but it is producing audible noise while grinding herbs or making a paste.
3. Cello Grind N Mix Ertiga mixer grinder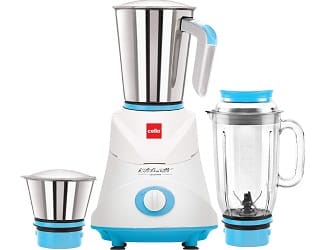 Cello is a well-liked brand. It provides numerous home appliances for quite a long time. They are well known for their affordable price point. In this product, they are providing us three types of jars, one for smoothies or shake others for chopping vegetables. It also has speed variation so we can use optimum speed according to our needs. It provides a 3-speed variation. It has stainless steel blades for optimal grinding efficiency.
For better convenience and flawless use, you can find nylon couplers. It provides a perfect seal and protects spills from the jar. On the other hand, there are two color choices, which are blue and maroon. Apparently, a warranty is an important factor which can ensure a quality purchase. Here, Cello is offering one year of warranty with an extended year, which will help you get a perfect deal.
Pros
It has an elegant design with two impressive color options.
The built quality is sturdy and ensures long time durability.
Blades are extremely sharp to grind hard objects into small pieces efficiently.
Manufacture is offering two years of warranty from the date of purchase.
Cons
This mixer grinder makes significant noise on maximum speed operation.
4. Lifelong 500 Watt Mixer Grinder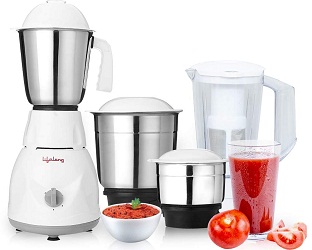 A deal that packs some great advantages in one place is Lifelong 500 Watt Mixer Grinder. For efficient performance, it provides three blades to grind all your ingredients to powder, smoothies, or paste. It has a 3-speed variation, which must be very helpful to you, and you can expect a perfect texture using the speed settings. It can enhance your overall experience during the use.
There are four jars included in the box where you get three stainless steel jars and one juice jar. It enhances the value for money factor, and you can expect several other features. It is compact, the white color of the grinder looks elegant, and you can find it perfect for kitchen tabletop, which will enhance the overall usability. The only problem is, claiming warranty for this mixer grinder is a bit typical.
Pros
It is well-liked designed, and it is preferred by those who want something compact.
You can expect great rotation speed options for the perfect blend during long use.
It makes lesser noise if you use it wisely and follow the manual guide.
The jars are extra thick, and the seal over the top is providing perfect protection.
Cons
There are no warranty details mentioned by the manufacturer.
5. Singer Cheffy 500 Watts 3 Jar Mixer Grinder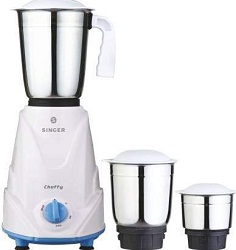 In case you want something powerful and reliable with an easy to choose the appearance, then the elegant design of Singer Cheffy 500 Watts 3 Jar Mixer Grinder is good enough to amaze you. It has incredible power, and you can expect better usability over the other products. It is a lot more into the value for money factor, which makes it reliable, and most people love it so far. There are no cons to worry about, so you may like it.
The manufacturer is offering two years of warranty from the date of purchase, and it seems quite appealing so far. There are three stainless steel jars included so that you can choose the right size while preparing the sauce, making shakes, or anything of your choice. But, there are certainly a few things that we would like to point out in the beginning. This one has slightly cheaper plastic that might cause trouble.
Pros
It is quite an affordable priced mixer grinder over the other ones.
The design is simple, and it provides a better solution for less storage space.
There are three jars included in the bar, and all of them are made of stainless steel.
The handle of this mixer grinder provides a firm grip for easier use.
Cons
The plastic of the mixer grinder certainly gives a poor in-hand feeling.
How To Choose The Best Mixer Grinder in India
Mixer grinders are a useful and time-saving appliance to use in the kitchen. They come with many features that one should understand before purchasing a mixer grinder for his or her kitchen. So follow the points explained in this buying guide to choose the right mixer grinder for your kitchen.
Number Of Jars And Their Size:
First of all, you need to check the number of jars included in the mixer grinder and make sure it is suitable for your needs. In the market, you can find mixer grinders with 2 to 4 jars. For individuals and small families, a mixer grinder with 2 jars will be sufficient, but for large families, you need to choose a mixer grinder with 4 jars.
Also, you can check the size of the jars to make sure they are fit for your specific needs. Usually, mixer grinders include a small jar for grinding chutneys and spices, a large jar for grinding batter, and a medium-size jar for grinding other ingredients. The 4-jar mixer grinders come with an additional juicer jar.
The motor RPM is another essential point to take into consideration. Mostly, the motor RPM of a mixer grinder ranges from 10,000 to 23,000. In general, 15,000 RPM is sufficient to perform different grinding needs. So, it is important to check the motor RPM of the mixer grinder before buying it. You also need to choose a mixer grinder with a powerful motor so that it can perform all your blending tasks efficiently.
Mixer grinders with different speed control options are a good option to use. With this feature, you can adjust the speed of the mixer grinder from high, medium to low according to the ingredients you want to grind. The speed control option of the mixer grinder adds convenience in grinding different fruits and vegetables. This way, you can operate the appliance to grind different ingredients effectively.
Mixer grinders usually consume 500 watts to 750 watts of power. For most grinding needs, a 500 watts mixer grinder is good to choose. But for grinding tougher ingredients, you can choose high power mixer grinders. While choosing high power mixer grinders, you need to keep in mind that they will produce a lot of noise. Therefore, you should choose an energy-efficient mixer grinder that will provide better performance and save your electricity cost.
Because the mixer grinder is an electrical appliance and comes in touch with water during common usages, it is essential to check the safety features included with it. The first thing to check in the mixer grinder is that it has a non-slip base or not. Apart from that, you can also check whether the appliance has a locking system or not. With a locking system, the machine won't start until the jar is placed on it appropriately. Mostly, modern mixer grinders come with these safety features. So, make sure to look for these safety features before selecting any mixer grinder for your kitchen.
Conclusion
After going through a number of features, reviews, and price point related factors, we made this list of top ten best grinder mixer. Every product on this list serves the purpose of the best purpose for a specific need, and it is the major reason that you can take an easier call while considering all the products. Most products provide great value for money, and each one has a range of positive reviews that can impress you toward the purchase. We hope that you have a great experience during the purchase of a mixer grinder.
Manoj Kumar, is a Service Manager at Rakesh Electronics, New Delhi. Manoj has 8 years of experience in dealing with home electronics products. Manoj is a freelance writer and share his knowledge at IndiasStuffs.com