Neurology is a medical field that covers issues related to the nervous system, such as the muscles, blood vessels, brain, and nerves. Specialized areas of neuroscience include the central, autonomic, and peripheral nervous systems. However, the human brain contains a hundred billion neurons capable of generating impulses of their own and receiving and spreading impulses from nearby cells.
And those healthcare providers who specialize in the field of Neurology are known as Neurologists. And the study of neurology includes the autonomic nervous system, the peripheral nervous system, and the central nervous system. In addition, functional and structural disorders of the nervous system sort from congenital disabilities to degenerative diseases such as Alzheimer's disease and Parkinson's disease.
And neurologists are experienced in diagnosing and treating neurological disorders by assessing mental status, cranial nerves function, coordination, strength, sensation, and reflexes. Neurological disorders include multiple sclerosis, brain cancer and diseases, spinal cord disorders that target the peripheral nerves & muscles, and neuromuscular junctions.
List of Best Neurology Hospitals in Bangalore
If you or someone close to you has nervous system-related disorders or difficulties, you must visit Bangalore. Bangalore houses India's best neurology hospital with world-class facilities & treatments. So let's get started with them!
1. Fortis Hospital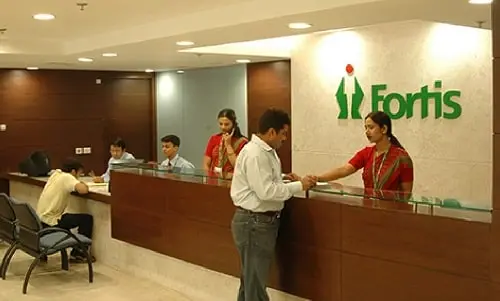 Address: 154/9, Opposite IIM-B, Bannerghatta Road, Bengaluru, Karnataka
Website: fortishealthcare.com
Fortis Bannerghatta was established in 2006 and is the perfect mix of technological intelligence and talented medical personnel. The hospital is famous for patient-orient treatment and premium quality medical standards while earning respect & reputation among visitors. Because of working on strong principles & with a well-qualified health team, the hospital has developed and grown constantly. The center has a 100% success rate, thanks to all surgeons and specialists associated with it.
When it comes to specializing in Neurology, the department is experienced in managing nervous system issues like neuropathy, vertigo, headache, Alzheimer's, Parkinson's, and much more. Additionally, top neurology experts in Bangalore constantly perform nerve conduction studies, electromyography, and Video EEG for diagnostic purposes, and they prefer medications more than surgery. Epileptic seizures, neuromuscular emergencies, and server back pain treatments have also been given in this hospital.
Dr. PR Krishnan (Consultant Neurologist), Dr. Ashok Singal (Consultant Neurologist), Dr. G Anitha ( Neuro-Oncologists), and more are some of the best neurology experts and surgeons working in this department.
2. Manipal Hospitals
Address: Manipal Hospital 98, HAL Airport road, Bangalore – 560 017
Website: manipalhospitals.com
Manipal Hospital has a well-trained group and the best neurology medical team. The neuroscience center has leading surgical specialists who deal with neurological emergencies in patients who come to them. The Center has accomplished path-breaking work in the field of Neurology since its formation in 1991. The Department of Neurological Health Services Provider cum Surgeon is globally trained and has expertise in surgical outcomes for patients and their families.
The National Accreditation Board accredits the hospital for Hospitals and Healthcare Providers. With a 100% success rate, all the surgeons here perform more than 7k neurological procedures yearly.
Investigative machinery and high-end diagnostics allow surgeons to go to the root of neurological problems experienced by patients. The hospital's high-end operation theaters also perform critical surgeries to treat nervous system diseases. More than that, it has highly updated treatment tools and an intensive care unit, which is available for dealing with neurological crises.
3. Apollo Hospital
Address: # 21/2 (Old No.2), 14th Cross, 3rd Block, Jayanagar, Bangalore – 560011 (India)
Website: N/A
The Jayanagar branch of Apollo Hospitals is a premier multi-specialty hospital, providing treatment and quality services to its patients. The hospital's neurology team is available 24*7 for patient emergencies. Several approaches used by healthcare providers and surgeons for emergencies have always proved helpful as they follow the subsequent treatment of patients with particular nervous system diseases.
Under the roof of Apollo, we provide Intra Arterial Thrombolysis and Intravenous Treatment for stroke prevention patients of all ages. The building houses an electrophysiology laboratory equipped with equipment and machinery for diagnostic tests like video EEG monitoring, nerve conduction studies, etc. In addition, an updated intensive care facility caters to critically ill patients suffering from neurological events such as movement disorders, etc.
4. Columbia Asia Hospital
Address: Kirloskar Business Park, Bellary Road, Hebbal, Bengaluru, Karnataka 560024
Website: N/A
Columbia Asia Hospital has India's best neurology department, a multi-specialty hospital providing high-quality medical care to its patients. The department is famous for superior medical personnel and technical know-know. All experts have comprehensive knowledge and extensive experience treating neuromuscular emergencies, neurological infections, and more.
The center has been constituted for accurate prediction of neuromuscular disorders and nervous system, treatment of deep brain stimulation, etc. After the treatment and surgery, the patients are treated for comprehensive care by a team of nurses. Talented neurological personnel and technological expertise are the powers of the neurology department working under the roof of Columbia.
5. Hosmat Hospital
Address: #45 Magrath Road, Off Richmond Road, Bangalore – 560025
Website: info@hosmathospitals.com
Hosmat Hospital is engaged in providing Neurology, Neurosurgery, and Spinal Surgery care to its patients. The services offered by Hosmat are combined with internationally trained medical personnel. In addition, surgeons in the Department of Neurology have extensive medical practice experience and significant research contributions.
Some of the critical features of Hosmat Hospital include two operation theatres entirely dedicated to neurological operations, 22 bedded neurological intensive care unit, a brain lab, and images-guided surgeries for treating brain tumors.
Conclusion
To contact Neurology Hospital in Bangalore, you can visit there in person or visit their official website.
Santosh Kumar, He is a SEO + Blogger have 12 years of experience in writing tutorial, informative and product reviews topics.