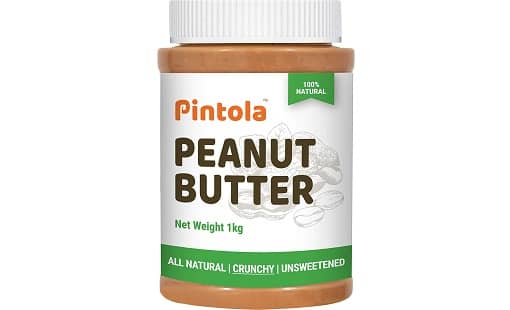 Indians are known to have several dishes on their breakfast menu. Dosa, idli, paratha, chapati, and many more. You can see the varieties change from part of the country you are from. Due to the influence of western culture into India, we have seen the surge in the western breakfast being introduced in Indian households. Bread and omelette, bread and butter, sandwich, and one of the most recent ones is the bread and peanut butter.
Peanut is the most common food ingredient used in India, hence embracing peanut butter by Indian households was not a difficult one. We have seen peanuts being used in Indian cuisines and chat items. Roasted peanuts are sold in the streets and they are the most delicious snack for Indians. In the list also includes deep-fried masala peanuts, chikki, Mirchi ka salan (Hyderabadi curry), and numerous cuisine that use peanuts as one of the main ingredients.
Peanut being a high source of proteins and energy, is important in our diet. Peanut butter would be the most convenient form edible during breakfast and snack time. It is delicious and can be used in various dishes or forms to be consumed. In this article, we will be talking about the 10 best Peanut butter available in India for weight gain or loss. We aim to make you aware of its benefits and uses in our day to day diet. Let us have a look at them.
Best Choice
Premium Choice
Value for Money
Pintola- All Natural Peanut Butter
Sundrop Peanut Butter – Crunchy
The Butternut Co. Peanut Butter – 1 Kg pack
Why we selected it

Healthy butter
No Hydrogenated oil
Unsweetened Peanut Butter
Aids Weight Management
Made from 100% roasted peanuts

Why we selected it

Needs NO REFRIGERATION
Tasty and healthy spread
25% protein in each serving
Made from roasted peanuts
100 percent vegetarian

Why we selected it

Made with 100% Peanuts
Highly Nutritious | Vegan
No Added Sugar
good source of Protein, Fiber and Vitamin E
Supports Cardiovascular and Brain Health

Buy On Amazon
Buy On Amazon
Buy On Amazon
Different Types of Peanut Butter
There are various types of peanut butter include sodium-free, sugar-free, chunky, organic, natural, smooth and regular. Different varieties of peanut butter are below mentioned:
1. Natural Peanut Butter
As the name implies, this type of peanut butter is made using natural ingredients like crushed peanuts with no added sugar, oil and preservations. Health-conscious people mostly choose this type of peanut butter. For better consistency, you need to keep it in the refrigerator. Additionally, it may include 10 % of sweeteners, hydrogenated vegetables and salt.
2. Regular Peanut Butter
This type of peanut butter is available in several brands. A regular version of peanut butter contains added oil and sugar. Also, it has preservatives so that you need to refrigerate it. However, the consistency of ingredients varies between brands. Today, some brand contains no or low sugar and no or low sodium in the regular version.
3. Organic Peanut Butter
This type of peanut butter is usually made without salt, oil, sugar and preservatives thus they are called the organic version. Organic peanut butter is meant to be grown without pesticides. They are slightly expensive than natural or regular as they are offered by few brands only. Once the organic peanut jar open, you have to store into the refrigerator for long-lasting use.
Best Buy Peanut Butter Online In India
As some numerous brands and companies manufacture Peanut butter in India, we have made some efforts in listing top selling peanut butter in India of them and discuss what features make them unique to others. We would also guide you to choose the best peanut butter brand based on their important feature. Without wasting any more time, let us look into them.
1. Pintola- All Natural Peanut Butter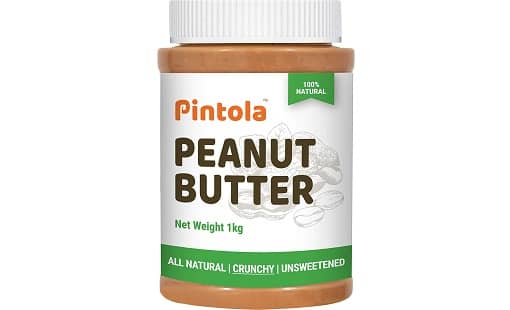 The Pintola company is known to be in the food industry for a long time in India. It is known to have different products like Almond butter, Cashew butter, and Hazelnut Cocoa spread. But the best of them in the list is the Peanut butter. The one we are discussing on is a 1kg pack that comes in a fibre jar and is packed very well to retain all its nutrients and the taste. This is a 100% natural product and mainly contains roasted peanuts. The texture of the butter is crunchy, and you will find small pieces of peanuts as you eat it.
As mentioned, the main ingredient is the peanut, it is high in proteins and calories. It provides great strength after consumption. The peanut butter from Pintola is said to have zero cholesterol, no trans-fat, no added sugar, and no salt. There is no presence of any preservatives, either. There are various ways to consume peanut butter. People use that as a bread spread, in dietary shakes, ice-creams and also can be consumed directly. The butter is non-sweetened hence no presence of additional sugar. It is used by body-builders and athletes, for additional stamina and energy. It can also be part of a diet for weight control and a healthy lifestyle.
Things we liked
Variety of butter available with them
No Cholesterol, no added sugar or salts
100% natural and no preservatives present
Can be used as dietary food hence making it a healthy food
Things we didn't like
No manufacturing date mentioned on the pack
Some customers received a fake product
---
2. Sundrop Peanut Butter – Crunchy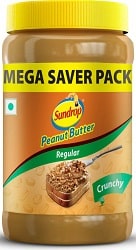 Sundrop is not just a brand for edible oils, it also manufactures the peanut butter, and it is known for its taste. The butter comes in a 924 gms of quantity in a plastic jar. It is a 100% vegetarian product. The texture is crunchy as it provides a different taste and eating experience. The butter is slightly different than the previous one. This is sweet and salted peanut butter; hence it provides a tasty and healthy spread for the toast or slice of bread. It contains roasted peanut, stabilizers, peanut oil, iodised salt, and sugar. These ingredients make the butter tastier.
The butter is high on calories and provides a very good source of protein for the body. It contains dietary fibre which is very important for intestine health. This product is recommended for people who work out regularly and people who spend a good time on physical exercise. It can be used for the preparation of ice-cream, milkshake, and as bread spreads. The product is available in both crunchy and creamy version, and hence you can choose what you want to buy. It survives in the normal temperature and need not be refrigerated unless you are going out for a few days.
Things we liked
It is made of roasted peanuts and is high on proteins
No cholesterol or trans-fat present
Can be stored at room temperature
It is a sweetened product
Things we didn't like
Users mentioned that it is slightly highly-priced
Contains sugar
Some users did not like the taste of it
---
3. The Butternut Co. Peanut Butter – 1 Kg pack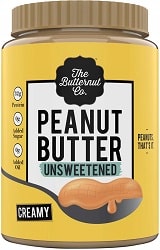 Various ways to have peanut butter has been depicted by the Butternut Co. Did you ever know you could have it in at least 6 different ways? Well, we did not know that. The company advertises the peanut butter for being healthy and for staying fit. The pack comes in the quantity of 1kg and hence can serve you for your breakfast needs at least for a month for a single person. You can prepare oatmeal, nut butter cookies, sandwich, smoothie, salad, and after workout snack. It provides a high protein diet for the regular after workout protein shake.
There is no added sugar in it and hence becomes a very healthy product. No oils, preservatives or milk products added to it. Hence it is a vegan product also. Unlike the other brands we have talked about, this does not contain crunchy peanuts but this one is in a creamy form. Many of the canned or bottled food have Gluten in them, but The Butternut co. makes sure there is no Gluten in the product.
The ingredients in the butter are just peanuts and nothing else. As peanuts are a source of high proteins and other nutrients, it makes a very healthy food to have. Not just the taste, health-wise it is very useful in supporting cardiovascular and brain functions. This is a vegetarian product and completely made of peanuts only.
Things we liked
100% of peanuts only product
No added sugar and also a Vegan product
It has a high source of protein, fibre and Vitamin E
Things we didn't like
Too watery hence is unusable onsandwiches
The package is extremely poor in its quality
---
4. DiSanoAll Natural Peanut Butter
DiSano is the all-natural peanut butter that is packaged in a 1kg quantity. It is the product that provides 30% of the protein in any quantity consumed. This is a creamy butter that has no sweetened flavour and is completely Gluten-free. The only ingredient used in the product is the roasted peanut and it makes a very good taste for breakfast or snack purpose. The product is completely vegetarian and no animal fats or oils present in it.
The product is a highly tasty and healthy one making it one of the easy snacks for the athletes or people in a regular fitness regime. It is a very rich source of Vitamins E, B3 and B6. It is zero in cholesterol and trans-fat, hence making it healthy food to have. The product comes in four types, the natural, the crunchy, creamy, and the Choco one. The one we are talking about is the natural version.
The natural peanut butter makes a complete food. It is used by the people in the weight management process. It forms as a high source of protein and energy hence used by the people who workout. There are no preservatives in the peanut butter hence making it a safe and natural one to have.
Things we liked
Comes in 4 versions to choose from, Natural, creamy, crunchy and Choco
High in proteins and gives out a lot of energy
Good source of Vitamin, E, B3, and B6
100% Vegan product
Things we didn't like
The product was watery when received
Wrong versions delivered
---
5. Dr Oetker Fun Foods Peanut Butter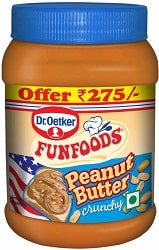 Dr Oetkar is one of the known brands in such a food category and they have a variety of such products to choose from. Peanut butter is one such from their list which has made to the best 10 of our list. This is a 925gm package that is packed in a plastic jar. It is well packed to retain all its natural nutrients and also taste. It is completely a vegetarian product, which means no animal fat is added in it. The company claims the butter to be 99% fat-free. Any product is best when it is natural and has less artificial ingredients. Such Dr Oetkar's peanut butter, with all its natural ingredients.
It is a crunchy one, which means while you eat, you get these small crunchy pieces of peanuts, making it delicious and fascinating to eat. The butter mixes well with most of the food and makes the best salad out of vegetables. It is known best to prepare Greek salad out of it. It comes with a mega saver pack as you buy a 925 gm one, you can save some money when compared to the smaller pack.
Things we liked
100 vegetarian products
99% fat-free
Completely natural – no artificial ingredients added
No preservatives make it a safe product to have
Things we didn't like
Quality issues found lately
Damaged product package
---
6. MYFITNESS Gold Natural Peanut Butter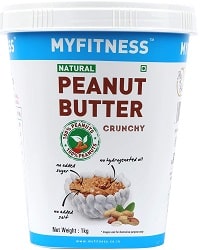 A breakfast companion, high nutrient value, and packed with energy are all the features of Myfitness peanut butter. It is packed in a plastic jar, and it retains all its nutrients and also its taste. The butter is a crunchy one making it interesting while you eat it. There are various options for you to prepare breakfast or snack out of it. You can use it as a bread spread, which is the most common use of it. Other forms would be a smoothie, spread on chapati, ice-cream and all other innovative ways you can think of. You can also just mix it up with dry fruits and eat it.
It comes with a 1kg package, and hence you can use it for a long time. The main ingredient of the butter is 100% peanuts. There is no added sugar or other hydrogenated oil. All these natural ingredients and no presence of fat make it a safe food to have. It has zero cholesterol and trans-fat, low on carbs, rich in fibre, and filled with energy. It is a 100% vegetarian product – no animal fat has been used in the preparation of it. It is a US FDA certified product. It has a 12-month shelf life, and hence it is safe for the product to be consumed.
Things we liked
100% vegetarian product
Zero cholesterol and trans-fat
High in Proteins
Rich in nutrients
Things we didn't like
Some customers found it to be very watery and hence not good to use
Customers complained of its quality
7. Alpino Peanut Butter Chocolate 400 G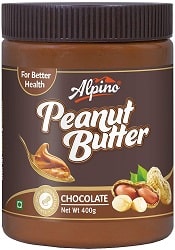 Alpino's version we are discussing is the Chocolate one which is delicious and goes well as a breakfast food or even as a snack. It is completely a vegetarian product hence can be consumed by anyone. It is difficult for food to be both healthy and tasty at once. But Alpino's Chocolate peanut butter is not one of them. The chocolate flavour makes it more engaging. It is made of high-quality roasted peanuts with cocoa powder. It is healthy as it does not have any Gluten or GMO in it. It has zero cholesterol and trans-fat in it. The product comes in two quantities, one is the 400 gm, and the other is 800 gm.
The product is manufactured in a certified facility with certification from various food regulators like US FDA, GMP, FSSAI, KOSHER, FSSC and many more of them. This product hence becomes the safest one to have for many reasons. The butter has no sugar or salt added separately; hence you get only the natural taste. There are no unnecessary ingredients added in the butter like preservatives or hydrogenated oil. The company also has other types of products in its list and they are all of good quality and hence makes the company a successful one. They have products like vinegar and muesli.
Things we liked
The chocolate flavour makes it even tastier to consume
Completely vegetarian product
No artificial ingredients used in the Peanut butter
A very good source of nutrients and energy
Used by athletes and gym-goers
Things we didn't like
Poor quality of the product being spotted by the customers
Some customers did not like the chocolate flavour
---
8. AS-IT-IS Peanut Butter Creamy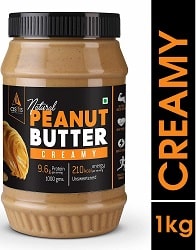 As-It-Is comes up with the creamy version of the peanut butter, which is yummy on your breakfast bread. This product comes in a pack of 1 kg jar, which is well packed to retain its taste and nutrients. The product is made from only one ingredient, which is high-quality fresh peanuts. It does not contain any daily products and free from Gluten. Unlike some peanut butter, it does not contain any palm-oil, added sugar or salt. No flavour has been added hence it makes the butter as natural as it can get. It has zero cholesterol and trans-fat and contains no preservatives.
It is an excellent source of proteins hence can be used by the gym-goers and the athletes as their diet food. Daily consumption of the butter will help in muscle growth and build up the immune system. It also contains dietary fibre hence keeping the intestine health in check. It is also very useful food for weight loss management. It is a vegetarian product hence consumable by everyone. It can easily form as part of your breakfast as you can use it on bread as a spread, addition to your salads, prepare smoothie of it and all the innovative ways you can think of.
Things we liked
Free from preservatives, trans-fat, cholesterol and hydrogenated oil
A very high source of energy
Helps in weight loss and management process
Good for gym-goers and athletes
Things we didn't like
The taste was not as good as compared to the competitor's product
Damaged pack received
---
9. MuscleBlaze – Natural Peanut Butter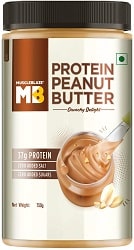 The FSSAI certified peanut butter from MuscleBlaze is high in proteins with addition to Whey protein in it. This is a 750gms of quantity and has all the nutrients packed in it. The butter is a crunchy one, which means you will feel and taste the peanut pieces as you consume it. The butter has no added salt or sugar making it as natural as possible. It has no preservatives added and is free from Gluten. The butter contains 80% peanuts and 20% whey protein, thus giving you that additional dose of proteins for additional energy.
We have seen some peanut butter made of different kinds of oil, but the most harmful of all is the presence of hydrogenated oil. MuscleBlaze has avoided using this oil and hence a healthy one to have. The peanuts are roasted very well before the preparation of the butter; therefore you have that extra crunchy feeling making your breakfast crunchier than ever. This forms as the best snack ingredient. It can be spread on the bread, can be used in smoothies, added as a dressing for the salad and try your creative ways to eat it.
Things we liked
Unsweetened – no sugar or salt added
High on proteins including Whey protein
Imported Whey protein used
Contains natural sugar present in the peanuts and hence no additional sugar added
Things we didn't like
Damaged product delivered to the customers
The customers did not too appreciate taste and texture
---
10. Solimo Natural Unsweetened Peanut Butter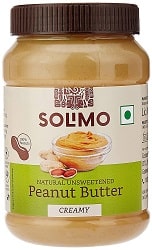 The last one on our list, Solimo comes with the natural taste unsweetened and no added preservatives. It is completely a vegetarian product and ais a creamy one. You would not find chunks of peanuts as you have seen in others. The product has a life of 12 months from the date of manufacture and comes in a pack of 1kg. It is recommended by the company to be stored in an airtight container and also in a cool and dry place. You need not refrigerate it as it would be best used unfrozen way.
As it is peanuts, it is high in proteins and hence is a source of high energy. It is best used in breakfast and snack time. You can spread it across bread or add as an ingredient in the sandwich. It also forms as a unique dressing in the salads. It is used by athletes and gym-goers as they find packed with energy. The package comes in a plastic jar and is designed to retain all of its nutrients and qualities. It is an all-natural product and hence safe to be consumed.
Things we liked
The only ingredient used is the peanut hence it is a very safe and natural one to consume
Need not refrigerate
Completely vegetarian product – no animals fats used
No preservatives or artificial ingredients used
No trans-fat or cholesterol presence
High on proteins and fibre
Things we didn't like
Some customers received watery butter
Some customers fell sick after the consumption
How To Choose The Good Quality Peanut Butter
Any food consumption is expected to be of good quality and fewer preservatives. Likewise, in the case of peanut butter. There are a few features or qualities that become important for consumption. It might be for health reasons or the sake of your taste buds. Below are some features or qualities you need to look into before buying.
1. Organic Quality
Choosing the peanut butter made of organic peanuts is the healthiest choice. With so much of pesticides and other chemicals being used in growing the peanuts, it becomes difficult to manage the unwanted elements getting added into our diet. Hence it is advisable to choose the peanuts that are organic in its production.
2. Sugar/Salt content
Sugar is the most common ingredient anyone uses in any food items. It is present in almost every food item as possible. Even peanuts naturally have sugar content in it; hence it is advisable to choose the product which hs no additional sugar content added – like sweetened peanut butter. The same is the case with salt. Avoiding the product with sugar and salt content is the best and healthy way to go.
3. Oil presence
Some brands add additional oil into the peanut butter to make it creamier and smoother. Peanut in itself contains oil that is good and sufficient enough for the body to use. Additional oil content like palm oil and hydrogenated oil is advisable to be avoided. Hydrogenated oil is not good for our digestive system and takes longer to digest. So be healthy by choosing the one without any additional oil.
4. Ingredients
The only ingredient that matters is the peanuts. Peanut butter itself contains all the necessary ingredients and nutrients that are sufficient for the body. Hence avoid the product that comes with additional ingredients like oil, sugar, salt, preservatives, additives, and any others that are not required. Having only peanuts in the peanut butter is the way to go.
5. Creamy/Crunchy
For the taste, make sure you choose the ones that you find it better, either a creamy one or the one with chunks of peanuts. Peanut chunks can make the peanut butter more interesting as they are crunchy.
Peanut Butter Uses and Advantages
Peanut in itself is high in proteins and fibres, hence the usage of peanut butter has various advantages. Peanut butter is rich in proteins which means it can be used by the gym-goers, body-builders and athletes for their energy requirement. For body-builders, it acts as a muscle-building process and helps them acquire additional stamina to continue with their workouts.
Peanut butter is filled with calories and hence can be used as a diet food for weight loss. Peanut butter controls hunger, and hence less consumption of food leads to weight loss.
The fat content in peanut butter is healthy, and hence it is healthy for the heart and its function. The monosaturated fat in it helps the heart and the body in multiple ways. The presence of iron, magnesium and potassium helps in blood circulation in the body and hence also good for the heart.
Another way it can help is in managing the blood sugar levels. It is a good source of energy for diabetic people. It is low in carbohydrate content and hence produces low sugar in the body when consumed. The fat and proteins provide a source of energy for such patients.
Regular consumption of Peanut and peanut butter since a young age in women reduces the risk of breast diseases, which in turn reduces the risk of breast cancer in them. Hence it is advisable for women ata young age to start consuming peanut butter.
Possible Side Effects of Eating Peanut Butter
Peanut butter is something that all of use love to eat, but did you anytime come across the side effects of eating peanut butter? If your answer is no, then here are some of the ugly sides of peanut butter.
Overdose of Salt and sugar:
Peanut butter is creamy and nutty, and it adds an amazing taste to your food. But did you know that not all manufacturers make it the similar way? Some manufacturers may overdose it with salt and sugar. So, you need to be very careful while you are choosing one and eating. It can overdose on you with salt and sugar. Especially people with diabetes and blood pressure should be very careful while taking it.
You will put on weight:
Another side effect that you may see when you are eating peanut butter is putting on weight. People who are looking for weight loss and weight gain can both consume peanut butter. It shows good results on those who are planning to gain weight. But those who want to lose weight have seen negative effects due to the excess of sugar and unhealthy fats in the butter that does not aid in weight loss.
Increased cholesterol levels:
Cholesterol is one of the major concerns for many people across the world. It is very important to control the cholesterol problem before it becomes too complicated. When you are taking too much peanut butter, you will see an increase in the body's cholesterol levels. It contains trans fats if it is made using hydrogenated oils. That will add more bad cholesterol to the body, and hence you need to be very careful.
Chances of allergies:
The process of growing and storing peanuts can make the peanuts susceptible to mold. If you are eating peanut butter made of such badly stored peanuts, it can lead to allergies. Usually, peanuts are grown under the ground, and that is one of the reasons they stay moist all the time. Several kids show allergic reactions when they eat peanuts or food that is made using peanuts. So, it is good to stay away from peanut butter if you have any doubts.
As some experts always said, eating anything within the limit can never cause any serious side effects to your body. You will also have to make sure that you are reading all the details mentioned on the peanut butter packing so that you will get complete information about its ingredients and how it is made. That helps in making a safe decision.
Peanut Butter Frequently Asked Questions
Is eating peanut butter a healthy habit?
Vegetarians mostly lack some essential proteins and nutrients in their diet. If you have a busy lifestyle and cannot afford a healthy lunch and dinner, a peanut butter recipe is the ideal snack for you. It is a rich source of protein and fiber. Also, it contains healthy fat, which adds to a healthy heart.
Will I find different flavors in peanut butter? What are they?
Yes, you can find so many lip-smacking flavors in peanut butter. Here are some of them:
Creamy peanut butter
Crunchy peanut butter
Chocolate mixed peanut
Honey flavored peanut butter
What are some healthy snacks that I can make using peanut butter?
Peanut butter smoothie with a hint of chocolate.
Peanut butter, jelly, and berry bowl.
Honey Belgian waffle with chocolate peanut spread.
Peanut butter chia pudding.
Peanut butter soup.
Banana berry peanut butter meal.
Do I need to stir it before using it?
The peanut butter that you have recently brought from the supermarket might have a layer of oil on the top of it. There is no need to worry! When it is kept idly for many days, the ingredients get sedimented, and oil comes on the top. You can stir the peanut butter before using it.
Is gluten present in peanut butter?
Yes, it is true that mostly all the organic peanut butter contains gluten. However, you can readily go for a variety of peanut butter brands that are gluten-free.
What are some good brands that I should consider?
Flavino
Skippy
Adams
Jif
Goober
Crazy Richard's
Peanut butter & co
Peter pan
Teddie
Smuckers
These are some healthy brands of peanut butter on which you can always rely.
How should I store it properly?
Good brand peanut butter is suitable for keeping in room temperature. However, you can see the oil separation, if you cannot finish the pack early. To avoid the layer of oil on the top of it, you can go for refrigeration. It will eliminate the need of stirring it from time to time. Make sure that you avoid the freezing of peanut butter.
How is organic peanut butter better than the others?
The organic peanut butter refers to the natural peanut butter. Firstly, on the primary level, the farmers wholly use natural ingredients to grow the peanut. They avoid the use of pesticides and other artificial products. Next, there is no addition of extra ingredients. Only salt and peanut are added.
Once I open the jar, for how long can I use it?
To make the peanut butter long-lasting, we would recommend you to go for natural ones. Once you have opened the jar of peanut butter, you can use it for up to 2 to 3 months. However, refrigeration can make it last one month longer.
Is there any risk of food adulteration?
Previously, various agency found that some peanut butter were adulterated. But, to make sure to stay away from allergens and other health risks, you can check the certification of the peanut butter brand.
Conclusion
We have seen various brands in the Indian market that sell peanut butter. I hope this article help you to know which peanut butter is best in India? We have also seen their benefits and uses in our healthy diet. We aim to make you aware of this product so that you can take advantage of the health benefits and also enjoying the tasteful food made out of it. Peanuts are already present in Indian foods and snacks. This was just a way to introduce another form of it. I hope you found it informative and benefitted by the knowledge of it!
Ridhima Sharma is a Senior Pharmacist at Kukreja Hospital, New Delhi. Ridhima completed her Diploma in Pharmacy (D. Pharm) from UP University. She regularly writes article on health information, fitness and beauty related products at IndiasStuffs.com