A punching bag can come in handy for toning core strength, muscles, even your upper body. Plus, carrying heavy dumbbells as well as punching something heavy prepares you for boxing and martial arts. Sports or boxing enthusiasts can do improves their punching style and patterns by using these cylindrical shaped bags with materials of numerous hardness. There are many benefits to having a punching bag at home, gym, sports club or military centre. It not only promotes physical benefits but also reduces all your stress and makes you feel relaxed.
At the same time, it also boosts the confidence to handle any situation; especially women need to learn boxing for their safety. To showcase your boxing skills, it's good to have the right kind of punching bag. Since the market is full of different types of punching bags, including kickboxing, free-standing, Muay Thai, Heavy, Uppercut, Speed, and Water filled, Sand-filled, and Foam filled punching bags. Apart from different types, you'll find punching bags under different price ranges, materials, sizes and shapes.  You can choose any of them that suits your boxing style and techniques.
Best Buy Punching Bag in India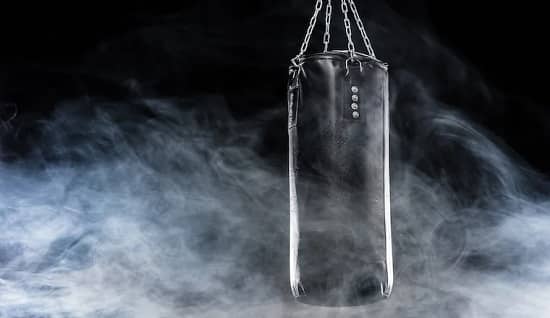 If you're looking for the best punching bags in India, check out the given below options.
How to choose the best Punching Bag in India?
As said earlier, a punching bag is an inflated or stuffed bag hanging from a ceiling and used to train boxers & strong muscles. Punching is a capable workout for anyone wanting to tone the upper body and is designed for continuous punching. It is usually filled with grains of sand or other hard material sand and has a cylinder shape.
Punching bags are used commonly in martial arts, gyms, military training and combat sports. But, choosing a punching bag is the most difficult task as they are available in many types with different materials, filler material, weight, safety etc. You may need to consider all these aspects before buying one. Let us talk more about these aspects in this section:
There are usually two types of punching bags: a mixed Martial Arts bag and a traditional bag. The mixed bags, known as MMA bags, are used for both martial arts and boxing practice. On the other hand, the traditional is used only for boxing. By using an MMA bag, your legs and hamstrings will be forced to kick the bag, respectively. However, mixed bags are often thin and long so that you can kick them easily, whereas traditional bags are neither too long nor too thick.
Depending on what you want to practice or for gym or sports purposes, the punching bags varies. Some bags are thoughtfully, ideally made for Karate, Boxing, Taekwondo, Muay, Taekwondo, and even strength training. The weight, size, and fillings of the bags also vary based on your training type.
Leather is the common material used to design punching bags in India. Most bags are constructed using synthetic vinyl, leather, or canvas material. Depending on your preference, you can choose the material that suits you best. There is a variety of leather bags available. However, the material plays an important role in maintaining the long-term usage and durability of the punching bag. Hence, it is advised to choose a punching bag carefully & wisely after looking at several options.
Bags filled with cotton, sand or some hard material is called filled bags, also known as ready-made punching bags. On the other hand, the filled bag will be empty, and you will have the option to fill it however you like. To make the bag lighter & portable, fill it with fabric or cotton. Don't fill sawdust or sand as they make the bag heavier. When it comes to choosing between two, the best option is an unfilled bag. This is because you can customize the bag's weight depending on your requirement for training, training type and size.
Bag size varies depending on your weight, stamina and height. It's a good idea to fill a bag with half your weight for a good boxing experience. The standard height of people in India includes 3, 4 and 6 feet. Standing style bags tend to be slightly heavier than mounting bags while lighter bags range from 300 pounds to 5 kilograms.
Punching Bag Frequently Asked Questions
What material is best for a punching bag?
Typically, punching bags are made of either a synthetic material, such as plastic or vinyl, or leather. Leather-based punching bags are still controversially desired, as they are the most comfortable, durable and traditional. But, they are not aesthetically appealing as compared to modern punching bags.
What are the benefits of practising daily punching bags?
One of the significant benefits of a punching bag practice regularly is that it enhances general punch, forearm, and wrist strength. Numerous studies state that exercising on a punching bag possibly makes you feel more attentive and alert and improves eye-hand coordination. As an added benefit it lowers the risk of heart disease, high blood pressure, diabetes, and stroke. Also, it can burn more calories, strengthen bones & muscles, and lift the mood.
How much does a punching bag weigh?
Following are the standard weights of a punching bag:
40 pounds for beginners and younger boxers
70 pounds for teenage and beginners boxers
100 pounds for intermediate boxers
200 pounds for heavyweight boxers
What are the steps to be followed to hang the punching bag?
Here are some of the steps to be followed to anchor a punching bag via a support beam:
Look for a support beam
Take a drill to make a hole
Then insert an eyebolt
Connect the chains to the edges of your bag
Once the eyebolt is placed in, connect an s-hook.
What are the types of punching bags?
Numerous kinds of punching bags that available, while everyone weighs differently, as well in size and shape. The common punching bag that you'll see in the Indian market includes:
Pole bags
Heavy bags
Freestanding punching bags
Angled
Teardrop heavy punching bag
Wrecking ball bag
Double End
Uppercut bag
How much does a punching bag cost?
Punching bags in India can range from Rs 500 to Rs 3000. Note that the final price may vary depending on where you purchase it and the material used in it.
Is buying a punching worth it?
The use of a punching bag can beneficial for muscular strength, cardiovascular fitness, and muscular endurance. The muscles in the chest, shoulders, arms, legs, back, and core are all occupied during a heavy bag training session, making it a healthy and effective workout.
Ridhima Sharma is a Senior Pharmacist at Kukreja Hospital, New Delhi. Ridhima completed her Diploma in Pharmacy (D. Pharm) from UP University. She regularly writes article on health information, fitness and beauty related products at IndiasStuffs.com