Cooking with sesame oil made from sesame seeds can be healthier. Two versions of sesame oil are available in the Indian market, which includes toasted sesame oil and light sesame oil. Toasted sesame oil is used to add flavour to soups, sauces and other dishes, while mild sesame oil is used as a neutral cooking oil. However, it is considered healthier oil than olive oil as it prevents cholesterol. Adding sesame oil to cooking frequently is a great lifestyle choice and supports healthy and smart eating. Due to various health benefits, it is highly recommended by nutritionists and dieticians.
Some of the significant health benefits of sesame include controlling diabetes, good for the heart, strengthening bones, preventing the growth of cancer cells, and cellular protection. Moreover, it is in-rich with vital vitamins and minerals which are important for human health. When it comes to choosing cooking oil, there are a lot of options available but it becomes difficult to choose from all.
Best Quality Sesame Oils In India
To make the selection easier for you, we have listed the three best from the rest for your regular cooking task.
1. Amazon Brand – Vedaka Sesame Oil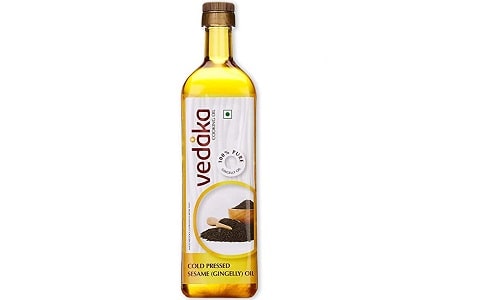 Vedaka Sesame Oil by Amazon has gone through fatty acid profiling to ensure purity with no added colours, flavours and adulterants. It is formulated from premium quality sesame seeds without the process of heat to preserve its natural goodness and taste. Using this oil for food gives delight to the goodness of oil that is unadulterated, 100% pure and full of flavour. Furthermore, it contains good fats in the form of MUFA, which decreases saturated fatty acids. In addition, it enhances MUFA in diet to maintain a healthy heart and normalize cholesterol levels. This oil provides a perfect blend of nutrition and taste to support your healthy lifestyle. The best part about this oil is that it comes in an anti spillage packing which removes the mess caused by oil spillage during transit.
| | |
| --- | --- |
| Pros | Cons |
| The packing allows for easy and non-greasy storage and pours. | This 1-litre bottle is very expensive. |
| It is extracted from high-quality sesame needs. | |
2. H&O Sesame Oil
It is an organic and pure edible sesame oil that is prepared using the traditional wood churning method. It contains no chemicals & extra flavours. It is a rich source of monosaturated fats, anti-oxidant Vitamin E, and flavour. In addition, it is rich in Omega-6 fatty acids, keeping heart cells healthy. This organic oil is ideal for the ayurvedic practice of oil pulling, thus it can be used as standalone hair oil. Since it does not contain zero added essence, chemicals and flavour, it is good for regular food preparation. The packaging is a glass container that is great for the longer shelf life of the oil.
| | |
| --- | --- |
| Pros | Cons |
| The packaging is very good to maintain the durability & usage of oil. | It is overpriced for the quantity. |
| It is free from artificial flavour. | |
3. Dabur Cold Pressed sesame oil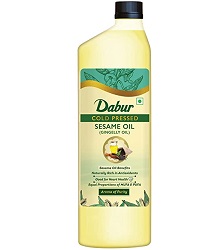 This oil is extracted from high-quality Sesame seeds and cold perfection to perfection. Sesame oil is perfect for frying, sautéing or even raw consumption. It is 100% cold pressed Sesame oil that contains an equal ratio of omega and much. Furthermore, it helps in lowering cholesterol and is naturally rich in antioxidants, which is good for health. This 1-litre cold-pressed sesame Oil is completely perfect for day to day cooking tasks.
| | |
| --- | --- |
| Pros | Cons |
| Dabur is itself a leading brand in India. | Not Found. |
| It is one of the high-quality Sesame oil. | |
Sesame Oil Uses & Benefits
Sesame oil is packed with vitamins, proteins, and antioxidants. It has many health benefits that help in keeping the body fit. Here we have discussed some of the best possible uses and benefits of sesame oil.
Benefits of Sesame Oil
It prevents Anemia
If you consume a proper amount of sesame oil in your diet, you will be able to prevent anaemia. Since it contains a huge amount of iron, iron is highly effective in curing anaemia. Hence, consuming sesame oil is one of the most accessible home remedies for anaemia.
Anti-inflammatory properties
Sesame oil is packed in sesamin composite, which helps treat chronic inflammation, and fights the fungus and many bacteria that affect the skin. The presence of inflammation in your body can also lead to heart disease, obesity and kidney diseases.
It is good for eye health
Sesame oil, also known as gingerly oil, is packed with numerous nutrients, including omega-6 fatty acids, phenolic antioxidants, dietary fibre, and vitamins. It works as a stimulant in nourishing the eyes.
Makes bones stronger
Sesame seeds are a good source of minerals and vitamins. It is power-packed with iron, zinc, and magnesium content which improve metabolism, help blood circulation and produce red blood cells. The copper found in sesame seeds has anti-inflammatory properties which strengthen the bone and reduce pain and swelling of joints.
Good for hair
Sesame oil's calming, nourishing and warming properties make it suitable massage oil. Head massage using sesame oil is recommended in Ayurveda. The presence of antioxidant compounds in sesame oil promotes hair growth, prevents greying of hair, stops hair fall and treats lice.
Helps in Depression and Stress
The availability of amino acids in sesame oil is directly associated with serotonin. It works great in the production of serotonin in the body, thus reducing depression and stress.
Good for Skin
Sesame oil is popular due to its anti-inflammatory, anti-bacterial, and antioxidant properties. It is also used as a skincare item for healing and enlightened skin because it naturally consists of SPF.
Uses of Sesame Oil
You can use it as sunscreen.
Apply it to the scalp and gently massage your hair for a few minutes.
You can use it for stir fry, sautéing, cooking, baking, and salad dressing.
Sesame oil is used in nasal drops.
Use it to reduce dark circles and wrinkles.
Use it to treat removing plaque, foil smell, healing gums, and repairing teeth enamel.
Conclusion
Cooking can be healthier and tastier with the use of Sesame oil as it is loaded with essential vitamins and nutrients. Add this oil to your meal preparation for a healthy lifestyle.
Ridhima Sharma is a Senior Pharmacist at Kukreja Hospital, New Delhi. Ridhima completed her Diploma in Pharmacy (D. Pharm) from UP University. She regularly writes article on health information, fitness and beauty related products at IndiasStuffs.com