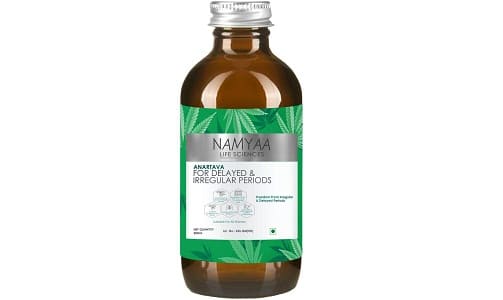 Due to an imbalanced diet, lack of vital nutrients, hormone deficiency, many women in India go through irregular period problems. Sometimes proper treatment and even medicines do not help in getting back to the regular menstrual cycle. But syrups available in the market give a permanent solution.
These syrups are specially packaged, clinically tested and made from natural ingredients for women experiencing irregular periods. They also treat hormonal imbalance, promotes timely ovulation, remove toxins because it helps provide for blood purification.
Moreover, they are free from any harmful chemicals, pesticides, fertilizers, fragrances or other additives, depending on the syrup brand. Today, many ayurvedic brands prepare every bottle with essential nutrients to treat irregular menstruation. But how to find out who will not have side effects and give the right treatment.
Best Syrup for Periods in India
Knowing the ingredients given on the bottle will help to determine that will doesn't harm your body. To make your selection even easier, we have listed the top three Syrups with pros & cons in India. Let's take a look:
1. Namyaa Anartava -For Delayed and Irregular Periods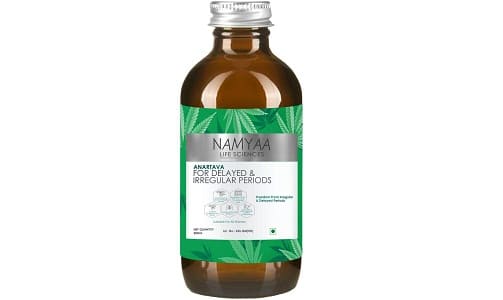 This syrup by Namyaa Anartava not only helps restore the natural period to 28 to 31 days but also treats hormonal imbalance, helps timely ovulation, eliminates toxins since it helps provide for blood purification. The solution is prepared for a long-lasting solution for irregular periods and helps normalize the menstrual cycle and flow every month.
Since it is formulated with Ayurvedic certified ingredients, it does not cause any side effects or allergies. Furthermore, it is packed with the goodness of natural ayurvedic ingredients like Karanja, Aloe Vera, Krishna-Tila, Kutha, and other beneficial extracts and herbs. You need to consume it daily for 90 days for the maximum of benefits for the best results.
| | |
| --- | --- |
| Pros | Cons |
| It regularises period flow and restores hormonal balance. | It may cause stomach aches (depending on the hormones). |
| It is free from any dangerous chemicals & ingredients. | |
2. Kapila Period Care Juice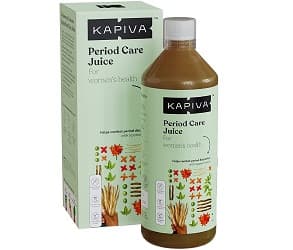 Kapila Period Care Juice is packed with a plethora of Ayurvedic herbs that help in improving women's health. Some of the ingredients are Ashoka, Lodhra which support female health while Mulethi enhances the production of estrogen, etc. This ayurvedic juice is prepared in GMP approved facilities and is also manufactured using organic source ingredients and loaded with no added flavours and colours.
Women note, shake the bottle before consumption and take it with a glass of water. Also, drink it twice a day after meals. When it comes to suitability, women between the ages of 15 and 45 are allowed to consume this care juice.
| | |
| --- | --- |
| Pros | Cons |
| It supports a regular and smooth menstrual cycle. | Taste can be a bit strange. |
| Lodhra, Ashoka, Shatavari more ingredients are packed in each bottle. | |
3. Sachi Saheli Ayurvedic Syrup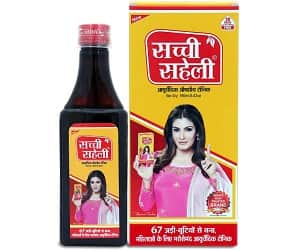 This 450-gram Ayurvedic syrup has lots of effective ingredients to normalize the irregular period flow and imbalance of hormones. Ingredients like Shatavari, Ashoka, Arjuna, etc are good for women's health; they also promote women's health, so on.
It is a completely Ayurvedic medicinal tonic that is formulated with 67 effective herbs and ingredients that are helpful in several issues associated with women's health. The syrup is beneficial in issues like hormonal imbalance, irregular periods, back pain, cramps, etc.
| | |
| --- | --- |
| Pros | Cons |
| This syrup helps in improving the immune system and providing inner strength. | Slight side effects. |
| No side effects at all. | |
How To Use Irregular Periods Of Syrup For Better Results?
Irregular periods can be treated with adequate intake of period syrup, on the advice of a doctor or health expert. Various syrups are available, offering different consumption dosages and procedures. But, all of you are advised to consume period syrup regularly to help in rectifying the irregularity faster.
This period syrup suggests you take a 20 ml portion everyday dinner and breakfast respectively for irregular and delayed periods. For visible and effective results, you need to take this syrup daily for 90 days. It should be consumed after every meal and should be consumed continuously to get better results.
Tips to keep in mind
Since Namya Anartava is an Ayurvedic product, there are no possible side effects once you start consuming it. If you experience any discomfort or abdominal pain after consuming the syrup, it is best to consult a doctor. Even though there is no side effect, it is recommended to take it with other medicines and consult a doctor regarding the dosage.
Kapila Period Care Juice is a perfect blend of natural ingredients like Lodhra, Mulethi, Noni, Ashoka, and Shatavari. Here are the steps to follow regarding its consumption:
Mix the container before every use.
Adulterate about 30 ml of period care juice in a glass of water.
Take it twice regularly, after meals.
Tips to keep in mind
Before consumption, you should read the packaging instructions and dosage.
Always store the bottle in a cool and dry place.
Don't keep it under the direct disclosure of sunlight.
It is only for external use.
Keep it away from the reach of children and pets.
Still, it's a good idea to ask about your health before you start taking supplements with other medicines.
Sachi Saheli Ayurvedic Syrup
Sachi Saheli Ayurvedic Syrup is completely safe to use. You should consult the doctor before its consumption in case you are allergic to any of the active ingredients. Let's take a look at how to consume this syrup:
Take two to three teaspoons, 2 to 4 times a day.
Consult your doctor regarding the dosage and taking plan.
Things to keep in mind:
Check out the label before use.
Store the bottle in a cool and dry place out of reach of sunlight
Consume it under medical supervision
Keep it out of the reach of children.
Conclusion:
It is not necessary that if a specific irregular period's syrup suits you, then your friend or mother should also suit. Before buying, make sure to check out the ingredients list.
Ridhima Sharma is a Senior Pharmacist at Kukreja Hospital, New Delhi. Ridhima completed her Diploma in Pharmacy (D. Pharm) from UP University. She regularly writes article on health information, fitness and beauty related products at IndiasStuffs.com