Maintaining proper hygiene is important to avoid certain diseases that might be caused. It is especially important for the teeth and mouth to be hygienic to avoid some painful and dangerous oral diseases. For this, brushing your teeth is vital. For having clean, hygienic, white teeth, it is recommended to brush your teeth at least twice a day. For the best brushing experience, you need the proper toothpaste to brush with. Without such toothpaste, you will not get much profit from brushing. There are many kinds of good quality toothpaste available in the Indian market made for specific purposes. There is toothpaste available for sensitivity, teeth whitening, freshening your breath and many more toothpaste specially made for oral concerns.
It might be surprising, and you might not believe in the toothpaste miracles. However, most of the toothpaste kinds actually work. The Indian market has many types of toothpaste available, including naturally made toothpaste, fluoride, charcoal, sensitive, and many more toothpastes. For your convenience, we have researched and consolidated different types of toothpaste for your benefit and comfort that you can find on the online Indian market. You can select the most suited one for your dental issue such as Pyorrhea and can even check the product from the links that we provided. We have also given a guide for you on how to choose the right one for you to help choose the proper one. Let us get started.
Best Buy Toothpaste Online in India
In this section, we have consolidated the best selling Indian toothpaste brands, especially for you. You can go ahead and see the product details and can find which is the best toothpaste in India. Once you are done with the list, to assist you, even more, we have given things we like and don't like about each product for you to compare at last. Check the list also for best electric toothbrush in India.
1. Pepsodent Germicheck Toothpaste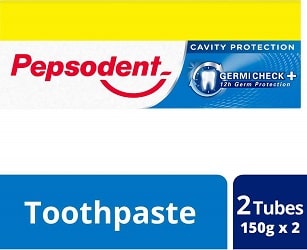 The first toothpaste from our list is from the popular brand, Pepsodent. This Germicheck toothpaste fights against germs which cause cavities and the formula work as long as 12 hours after brushing. There is a naturally activated clay formula and fluoride which gives you fresh breath for a long time. The food remains in between the teeth and the stains on them are reduced and you can have germ-free teeth. In addition to working on tooth decay and cavities, this toothpaste works on protecting the gums too. With this Indian toothpaste, you can be away from all the awful toothaches and gum problems. This toothpaste is available in different sizes and packs. This particular one is a pack of 2 with each having 150 gms.
Things we liked:
Fights against cavity-causing germs
Works as long as 12 hours after brushing
Contains fluoride and naturally activated clay formula
Works on decay, stains and even protect the gums
Things we didn't like:
Some people did not like amazon packing.
---
2. Dabur Meswak

The second toothpaste from our list is a natural toothpaste from Dabur, the toothpaste made in India. This toothpaste is specially made from Miswak – called toothpaste tree in Africa and South Asia. Using this herb, toothpaste is made and it protects the teeth and gums effectively. The deadly tooth decay can be prevented using this toothpaste. Germs and bacteria form the most threatening problems like tartar and plaque. These can be fought using this toothpaste. The gum swelling can be soothed and tooth cavities can be protected by regularly using Dabur Meswak toothpaste. The bad breath usually caused by some kind of bacteria can also be solved using this toothpaste. This toothpaste is available in a pack of 2 weighing 200 gms each.
Things we liked:
Naturally made toothpaste from Miswak herb.
Protects teeth against tooth cavities, bad breath, tartar, plaque
Protects the gums to provide good grip
Cost-effective Pack of 2 with each weighing 200 grams.
Things we didn't like:
Some customers are concerned about the triclosan ingredient present in the toothpaste which is believed to be not that good.
---
3. Sensodyne Fresh Mint
One of the popular brands across the world for producing toothpaste is Sensodyne. This is next on our list. It is quite popular to work for sensitive teeth and doctors recommend this toothpaste often for people having sensitive teeth. This toothpaste is clinically proven and works like a charm for sensitive teeth. When you brush your teeth with this toothpaste, a protective barrier is formed that blocks the sensitivity caused by sweet, cold or hot items. This particular Sensodyne toothpaste has a fresh mint flavor which provides the cool and refreshing feeling inside the mouth after brushing and leaves it fresh and clean for hours. With Fluoride present in the toothpaste, this toothpaste works against cavities. So, you can use this toothpaste regularly. It comes in a package of 450 grams and you get a free tube with the 2 toothpaste tubes in the package.
Things we liked:
Works effectively on sensitive teeth by forming a barrier blocking the sensitivity
Has the fresh mint flavor leaving your mouth fresh for hours
Contains fluoride which help fight against cavities
Things we didn't like:
Some people did not like the mint flavor after using it.
---
4. Colgate Max Fresh Anti-Cavity Toothpaste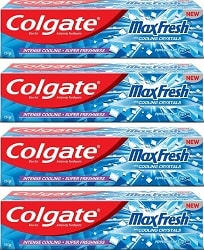 One other popular brand for toothpaste is Colgate. This is one of the brands which introduced the gel type toothpaste giving the cool fresh experience in the mouth. This model in the toothpaste gives you the ultimate coolness and as a result, gives the freshness required for the mouth. One other thing which adds to the coolness of this toothpaste is the cooling crystals which help for fresh breath. The flavor in this toothpaste is peppermint ice. This is a pure vegetarian toothpaste. If you brush regularly using this toothpaste, it helps whiten your teeth and fight the cavities with all the freshness. It comes in a pack of 4 each weighing 150 gms.
Things we liked:
One of the best cooling toothpaste brands available
Peppermint Ice flavor
Ultimate coolness and freshness inside the mouth
Fresh breath with cooling crystals
Fights the cavities and helps whiten your teeth
Things we didn't like:
Some people are not satisfied with the price
---
5. Dabur Red Paste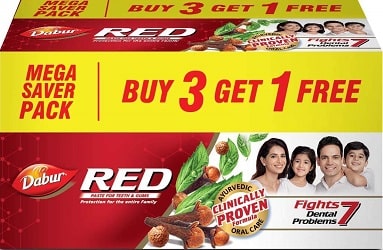 The next toothpaste from our list is a quite popular one, Dabur red toothpaste. It is an ayurvedic natural toothpaste. If you are a person who loves to use natural ingredients, then this toothpaste is just for you. This toothpaste is made carefully considering 13 ayurvedic ingredients including the powerful cloves which are known to relieve toothache, pudina – for fresh breath, Tomar – for the anti-bacterial property and many more. This toothpaste is even clinically proven for providing good oral care. For stronger and healthy teeth, Dabur red toothpaste is a good choice. This toothpaste works on 7 dental problems – bad breath, stained teeth, weak gums and teeth, cavities, plaque, gingivitis, toothache. This comes in a pack of 3 and you get one free with a total weight of 600 gms.
Things we liked:
Clinically proven, one of the best ayurvedic toothpaste for strong and healthy teeth
Contains 13 ayurvedic ingredients
Works on 7 dental problems
Comes in a pack of 3 and you get one for free
Things we didn't like:
Some customers find issues with the seller
---
6. Forever Living Aloe Vera Natural Bright Toothgel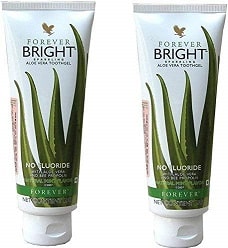 Next, on our list is from Forever Bright. This is specially made tooth gel and is again a natural one from our list. We all know the benefits of aloe vera. It is used for various purposes including treating any digestive problems, skin, hair problems. However, aloe vera is also very good for maintaining proper oral care. Realizing this, Forever Bright made a tooth gel entirely made of Aloe vera and Bee propolis. The formula is fluoride-free and is made entirely with these high-quality ingredients. The tooth gel contains the natural flavor from the mint in it to keep your teeth healthy and fresh for a long time. Your entire family can enjoy the benefits of this tooth gel. It is available in a pack of 2 weighing 260 gms.
Things we liked:
Naturally made tooth gel which is free from fluoride
Made with aloe vera and bee propolis
Comes with a natural mint flavor to provide fresh breath and clean teeth
It comes in a pack of 2 weighing 260 gms.
Things we didn't like:
Some customers are not happy with the price
---
7. Healthvit Activated Charcoal Toothpaste For Teeth Whitening

The next toothpaste from our list is specially formulated for whitening your teeth. This is a very efficient product when compared to other whitening products in the market. This whitening toothpaste is effective as it can work against stubborn stains like coffee, tea, and wine. Some of the whitening products are not safe for sensitive teeth. However, Healthvit toothpaste has specially formulated ingredients in it such that it is safe to use even if you have the most delicate teeth. Along with working on the whitening of the teeth, this toothpaste also fights plaque, cavities, gingivitis working on oral issues too. Most of the charcoal toothpaste in the market have a texture of runny consistency. However, with healthvit toothpaste, you get a thick gel that works like magic on providing the brightest teeth possible. It has the mint flavor for fresh breath.
Things we liked:
One of the best whitening toothpaste in the market
Safe to use even with delicate teeth
Works on other oral issues like plaque, gingivitis, cavities, etc.,
Mint flavor for the fresh breath
Thick charcoal toothpaste
Things we didn't like:
Some customers complained about the sulfate ingredient present in the toothpaste.
---
8. Himalaya Herbals Sparkling White Toothpaste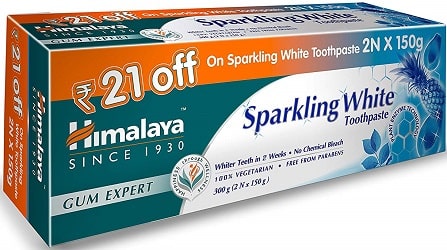 Next, on our list is again a famous herbal brand. This is a special sparkling white Indian toothpaste to work on the whitening of the teeth. Using this toothpaste gives you all-day protection from the deadly oral germs. They claim to provide whiter teeth after using this toothpaste for 2 weeks. There are 7 key natural ingredients in this toothpaste. Almond which is having astringent properties helps to tighten the gums. Miswak helps to fight against plaque, and reduce gum diseases. Cloves contain an essential oil that strengthens the gums and helps against any toothaches instantly. For whitening the teeth, the natural ingredient papain from papaya is used. Also, the enzyme bromelain in pineapple helps to reduce stains. For freshening the breath, Menthol and cinnamon are used. They have a cooling effect and reduce the bad odor.
Things we liked:
Herbal toothpaste specially formulated for whitening the teeth
Protects against germs all-day
7 natural ingredients each having its own property to help with dental care
It comes in a pack of 2 weighing 150 gms.
Things we didn't like:
Some customers reviewed that the toothpaste works slowly and did not have much freshness aspect to it.
---
9. Patanjali DantKanti Toothpaste Value Pack

One of the budget-friendly and popular Indian toothpaste is the Patanjali's DantKanti. Patanjali produces ayurvedic products and has become quite popular for its natural products in India. Everyone shifted from costly skincare products to this brand just because of the good results it gives for less price. Similarly, it's dental care toothpaste has become popular and everyone who switched to Patanjali started using this toothpaste as well. It provides proper protection on teeth to fight against bacteria and other problems associated with oral care. Along with this protection, this toothpaste also provides shiny teeth which is a dream for anyone to smile freely. In addition to all these properties, this toothpaste also helps to work on poor gums and even helps to tighten those gums to avoid painful gum diseases. With this package, you will get a 200 gms and 100 gms toothpaste along with a toothbrush.
Things we liked:
Budget-friendly powerful ayurvedic toothpaste
Protects your teeth and fight against bacteria and other dental problems
Provides shiny teeth
Works on tightening the gums and protect against gum problems
Comes in a pack of 2 tubes of toothpaste 200 gms and 100 gms and a toothbrush
Things we didn't like:
Some customers believe that this toothpaste contains some harmful chemicals.
---
10. Sri Sri Tattva Sudanta Toothpaste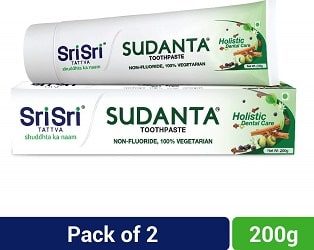 Our last item from the list is a 100% vegetarian toothpaste and is from Sri Sri Tattva Sudanta toothpaste. This toothpaste is again made of different natural ingredients. These ingredients help to work on various dental problems that you can possibly have. Some of the ingredients that are quite powerful and popular to work against oral problems are Bakul, Mayaphal, Lavanga, Maricha, Dalchini. For healthier gums and teeth, you need some powerful ingredients like Bakul and Mayaphal. Whenever you have a bad toothache, it is suggested to put a clove in the area of the pain and it helps to relieve the pain within minutes. The clove properties in this toothpaste help for the same purpose and work against bacteria. Maricha helps to give fresh breath along with working on gum problems.
Things we liked:
100% vegetarian toothpaste
Natural ingredients to work against oral problems
Bakul and Mayaphal for stronger teeth and gums
Lavanga for toothache and to work against bacteria
Maricha for fresh breath
Comes in a pack of 2 weighing 200 gms
Things we didn't like:
How To Choose The Right Toothpaste In India
Toothpaste is the regular product used daily in the house by each and everyone in the family. It is an essential component for brushing your teeth twice daily. In order to assist you in selecting the right one for your purpose, in this section, we are providing some useful information about how to choose the right one for brushing your teeth and addressing your dental concerns. All the toothpaste available out there might be good for cleaning but not all of them are safe to use medically. Read through to get the most out of it.
Flouride
The most important component of toothpaste usually is the fluoride. You need to definitely check for this ingredient when you are purchasing a toothpaste. Fluoride is a mineral found in water and is an essential component. Fluoride not only protects your teeth but also helps to treat them in the early stages of decay. Some countries even have a rule of adding fluoride to the water supplies in order to help people protect their teeth. Water which contains enough amount of this mineral can reduce teeth decay as much as 40%. So, whenever you look for toothpaste, check for this mineral. Even doctors suggest patients to use fluoride toothpaste to avoid any further damage to the teeth. All the clinically approved toothpaste usually contains fluoride.
Other concerns
When you purchase toothpaste, it is good to look at the ingredients for fluoride. However, if you have other specific concerns, it is always good to look at other options for different concerns that you might be having. There is specific toothpaste for different concerns. Let us look at them.
Gum Disease: When the teeth are attacked by plaque and it passes to gum, it might cause severe gum problems. The problem might even start in the gum and pass to teeth. For treating mild gingivitis problems, specific toothpaste is available and you can buy that if you have inflammation of gums.
Fresh Breath: The toothpaste designed for freshening your breath may contain ingredients that fight bad breath. They might attack the bacteria that is causing the issue and help with the bad odor.
Tartar: The hard deposits of bacteria that get accumulated at the roots or crown of the teeth is called tartar. The toothpaste that is designed to control tartar helps to reduce it.
Whitening teeth: To remove the surface stains, the toothpaste products use polishing agents and do not use any bleaches for the purpose.
Sensitivity: The most common toothpaste that most people opt for is sensitive toothpaste which helps with cold, acidic or hot food to cause sensitivity to teeth. Doctors suggest sensitive toothpaste after a procedure too.
Medically approved Toothpaste
It is vital to look at toothpaste packages for the display of medically approved seal on them. It gives people confidence that they are medically tested and proved safe to be used by them and that the specific concerns are also tested. Doctors usually select such type of toothpaste and recommend it to patients.
Problematic Toothpaste
While we have suggested looking at whitening toothpaste if you have concerns with surface stains, you should also look if you have sensitive teeth. Whitening toothpaste has abrasive ingredients that only help with stains and teeth polishing. It is not suggestible to use when you have sensitive teeth at the same time. When you have both the concerns, it is always the best idea to consult a dentist rather than using whitening toothpaste.
Toothpaste Frequently Asked Questions
1. How to choose better toothpaste?
Toothpaste is the most common and popular thing for oral hygiene. And if chosen correctly, toothpaste is enough to maintain excellent oral health. The market has different types of toothpaste, and you can choose a reliable one according to the oral condition. The things that you should care for while purchasing new toothpaste for yourself are the ingredients and your oral health. You can easily opt for the gum care toothpaste or a normal one according to your needs. BY choosing the right toothpaste, you can easily get better hygiene and keep your teeth healthier than ever before.
2. Is it good to have separate toothpaste for family members?
Well, that depends on the oral health of your family. If you have normal health and do not have any teeth related issues, there won't be any need to buy different kinds of toothpaste. But if you have, you should find a perfect toothpaste to deal with the situation. So, be sure whether you have good oral hygiene and choose the toothpaste accordingly.
There are several products now in the market that term them as the kids' toothpaste, and others target different oral problems. So, you can choose a separate toothpaste for the kids, and if you do not have any oral issues, then relying on a single toothpaste for the family would be a great and more reasonable decision to make.
3. How can we achieve perfect oral hygiene by changing the toothpaste?
Oral health is something that we should always care for. And this can alone be achieved by having perfect toothpaste for yourself. Just brush twice a day with a toothbrush with softer bristles, and you won't actually need to spend money on various oral care products that are available in the market. Toothpaste is the basic thing that you can buy for maintaining oral hygiene, and if you choose the toothpaste carefully, you won't need any other product for good oral health. Just switch your toothpaste according to your oral health and get the best benefits with the least efforts and expenses.
In all, if you brush daily and eat healthy, then there won't be any need to invest money on expensive dental care routine.
4. What are the other ways to get perfect oral hygiene?
Apart from toothpaste, the experts recommend that you floss the teeth regularly, drink plenty of water, and choose a good toothbrush for yourself. So, if you are willing to get perfect oral health and are willing to invest the time to keep your smile look great, we will suggest you to keep these points in mind. Spending a few minutes to oral care can change a lot. And you won't regret this ever.
5. Can toothpaste cure the sensitive teeth?
Well, technically, No. The sensitive teeth can only be dealt with expert treatment. The toothpaste can provide you temporary relief from the sensitivity, and if you regularly use them, you can avoid getting the chills everyday. However, to cure it completely, you need to consult the dental experts.
Bottom Line:
Now that you have seen how to choose the right toothpaste for any of your basic dental issues, it is time to purchase the one that you feel is good for you. There are different kinds of toothpaste to address concerns like tartar, bad breath, whitening, sensitivity, gum issues, etc., These kinds of toothpaste are said to be very good to address the concerns at the initial stage. However, if they are severe, you need always to consult a doctor.
As said, it is suggested to brush your teeth twice a day, floss them to have healthy teeth for a long time. All you need to do is select the proper toothpaste for your current concerns and start using the toothpaste. Do not forget to have regular appointments with dentists to get a complete check of your oral health. After you get an idea on which one to choose for brushing your teeth, go through our top 10 list of toothpaste and select the one which you think is perfect. All our recommendations are researched well, and the toothpaste companies are also pretty popular often suggested by dentists. So, get the toothpaste which is perfect for you and have a smile on your face.
Ridhima Sharma is a Senior Pharmacist at Kukreja Hospital, New Delhi. Ridhima completed her Diploma in Pharmacy (D. Pharm) from UP University. She regularly writes article on health information, fitness and beauty related products at IndiasStuffs.com