We were forced to commute independently because of the Covid 19 pandemic. It had been going on for two years. Consequently, we would rather spend more money travelling alone than on public transportation. Everyone wants to be safe because of the pandemic hanging over everyone's heads. That is how the usage of the used car increased so fast. Also, the shortage in the supply of newly-manufactured vehicles paved the way for buying used cars.
In our nation, purchasing a car is still a significant event for many people. But more middle-class households are finally leaping into car ownership thanks to increased disposable income.
Nevertheless, because they spend a sizable portion of their income on this purchase, these customers are frequently the most demanding. Additionally, because these customers are cost-conscious, they demand affordable prices and low maintenance requirements.
Also read: Ways to Improve the Braking Ability of Your Vehicle
Top 7 Used Cars for The Middle-Class
1. Maruti Suzuki Baleno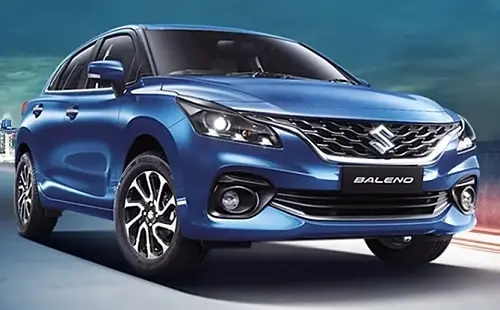 Maruti Suzuki, the largest automaker in India, enjoys showcasing its vehicles in various markets. This time around, the Baleno hatchback is one of the favourites. The Maruti Suzuki Baleno has had enormous success in the Indian auto industry and deserves recognition. The vehicle is one of the best choices because it comes with many of the newest automotive technology, including Apple CarPlay and Android Auto for the infotainment system and LED headlights. In addition, it comes standard with dual Airbags, ABS+EBD, and BA for safety.
The Baleno's 1.2-litre naturally aspirated 4-cylinder engine comes in two different tunings and has a respectable amount of power.
Suzuki's SHVS, which improves fuel efficiency and provides excellent driveability, is added to the Dual Jet engine. The engine has a 5-speed manual transmission, and a CVT transmission is an option. However, the Dualjet engine does not have a transmission option.
2. Renault Kwid
The Renault Kwid has successfully made the entry-level hatchback segment desirable with its butch SUV-inspired styling, roomy interior, and a few cutting-edge features like a completely digital instrument console and an 8-inch touchscreen infotainment system.
Two petrol engine options are available for the Renault Kwid: a 0.8-litre engine that generates 54 PS and 72 Nm of torque and a 1.0-litre engine that produces 68 PS and 91 Nm of torque. A 5-speed manual transmission is the standard choice, and a 5-speed AMT is also an option for the larger 1.0-litre engine.
3. Maruti Suzuki Swift
The Maruti Swift is unquestionably one of the top choices that come to mind when considering the ideal vehicle for middle-class families. The small hatchback also comes with two different engine choices, including a 1.3L diesel engine that can produce up to 75PS of power and 190Nm of torque and a 1.2L gasoline engine that can produce 83PS of power 113Nm of torque. A 5-speed manual and a 5-speed AMT transmission are available for the Swift. The diesel engine provides a significant advantage to Indian buyers by providing 28.4 km of mileage as opposed to the petrol engine's 22 km.
4. Tata Tiago
The Tata Tiago offers a well-balanced combination of excellent performance and good fuel economy at a very reasonable price.
Let's discuss some of the hatchback's key specifications. First, it has a 1.2-litre petrol engine with 86 PS and 113 Nm of torque, which is more than enough for a small middle-class family with a 3-cylinder, 1.2-litre gasoline engine,86horsepower at 6000 revs, 113 Nm of torque at 3500 rpm, Transmission- Manual, five speeds 20 km/L in miles.
5. Hyundai Grand i10
The Grand i10 proved to be a resounding success for Hyundai, and it's easy to figure out why. With the Grand i10, Hyundai has successfully combined all the necessary elements for success, including modern design, premium interiors, exceptional fit and finish, well-tuned engines, and user-friendly driving dynamics. In addition, the large cabin and excellent visibility all around enhance the overall experience. A 1.2-litre gasoline and 1.2-litre diesel engine each produce 83PS/114Nm and 75PS/190Nm of torque, respectively, to power the Grand i10.
Both machines have a 5-speed manual transmission. The petrol version also offers the convenience of an automatic gearbox and is priced from Rs. 4.59 for the entry-level Era petrol model to Rs. 7.33 lakh for the top-of-the-line Asta diesel. As a result, the Grand i10 poses fierce competition.
6. Ford Ecosport
The SUV that combines a sporty exterior and performance with worry-free safety features, such as a standard Security System with side-curtain airbags, is the Ford EcoSport. It is perfect for carefree daily driving. Therefore, the EcoSport gives you a stylish interior and intelligent technology to keep you connected and safe while driving wherever you go. The price for the Ford EcoSport ranges from 7.91 lakhs to 11.70 lakhs. The EcoSport's petrol variant costs between Rs. 7.91 Lakh and Rs. 11.40 Lakh, and the diesel variant costs between Rs. 8.41 Lakh and Rs. 11.70 Lakh.
Let's discuss Ford EcoSport Models. There are 31 different EcoSport models. These 31 variants come in 28 Manual, 2 Automatic (TC), and 1 Automatic variation.
7. Volkswagen Polo
The Volkswagen Polo remains among the best vehicles available in the nation for families in the middle class. It is available with either a 1.5L diesel engine, which produces 90Ps of power and a 5-speed manual transmission or a 1.0L gasoline engine which produces 75Ps of power. In addition, the Polo GT has either a 1.5L TDI diesel engine that produces 110Ps of power or a 1.2L TSI gasoline engine that generates 105Ps of power for a more rich experience. Unfortunately, you can only get a 7-speed DSG automatic transmission with the petrol GT variant.
Conclusion
People purchase thousands of car models with a wide range of features daily. Before buying any car, buyers must carefully check the specifications. Many car manufacturing companies have designed MPV, SUVs, and hatchback models for people of the middle class. These vehicles are fully equipped with cutting-edge technology, enabling even middle-class individuals to take advantage of modern automotive technology. With the internet age, buying and selling have become easier and more accessible.
Santosh Kumar, He is a SEO + Blogger have 12 years of experience in writing tutorial, informative and product reviews topics.