Bags are necessary for every individual, be it a man or woman. Bags can be of different kinds from purses, wallets, backpacks, handbags to waist-bags. All types of bags are necessary to carry individual belongings, especially if you are an Indian who loves to travel, then bags are a must for you. Small items such as keys, cards, nail cutters, etc. get lost in bigger sized bags, in such situations, waist bags come handy.
Waist bags are not only useful but are also considered as stylish. For the past few years, waist bags have become a viable complement to the outfits in the streetwear space. Plus, waist bags are super practical. Don't have pockets on your denim? All you have to do is strap one of these waist bags around your waist (or maybe across your chest), and you are ready to go.
As well all know, Indian youngsters love to stay up-to-date in style and trends always; for them, these waist bags are like a boon. If you are someone who wants to get in on the trend but aren't sure where to begin, take a look at our picks for 10 of the best selling waist-bags available in the Indian market right now.
Best Buy Waist Bags Online In India
Below, in this article, we have listed some of the best waist-bags that can be purchased for women and men. Go through the information, and you can also use the links that we have provided to check-out any item that you want to.
1. AmazonBasics RFID Travel Money Belt, Khaki

The waist bag presented by Amazonbasics is a must-have for people who are looking for tear-resistant waist-bags. The bag is made up of unique RFID blocking material that protects from unwanted scans. The RFID material is specially designed to shield against all the unwanted scans. This material forms a barrier to protect the digital information present on your ID cards or credit cards from the hackers. Therefore, the bag reduces the chances of theft.
The waist bag has two zippered compartments, and each of them has an inner pocket that can be used to organize or separate the items inside the bag. The zippers are made of good quality, which ensures a smooth opening and safe closing; this allows you to quickly access your train ticket, passport, money, or other items.
The waist bag has a comfortable elastic strap that you can wrap around your waist. This waist strap is adjustable in length and can be made to fit different sizes of waists perfectly.
The waist bag features nylon ripstop, a woven fabric that is resistant to ripping and tearing. The back panel of this waist bag is made using a moisture-wicking and breathable mesh, which makes the bag wearable for more extended periods.
Things we liked:
The bag is durable and can be used for a long time.
The bag is sweat proof in nature.
The bag is handy and easy to carry.
Things we didn't like:
The front pocket of the bag is very narrow.
The belt is so elastic that it keeps slipping down the waist.
The bag is quite expensive.
2. K London Stylish Real Leather Black Waist Bag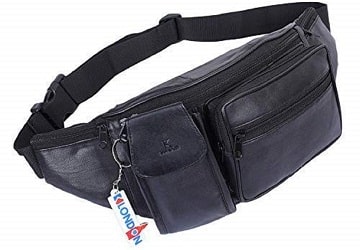 If you are someone who travels frequently, then this K London waist bag is made for you. This waist bag has a very stylish leather look. It is made using soft quality genuine leather, which is black. The black colour of this leather does not fade away quickly and can be used for a more extended period. Apart from being stylish, the bag allows you to keep all your relevant documents organized in one place. You can even place your small utility items such as keys, nail-cutters, lipsticks, earphones, power banks, mobile phones, medicines, and combs in the bag.
The waist bag comes with a waist strap to make your travelling convenient. The strap can be adjusted according to the size of the waist and fits perfectly without being slippery. The bag is suitable for waist sizes from 32 inches to 42 inches, which is a standard waist size in India.
The front portion of the K London waist bag has two big and two small pockets with zippers along with one pouch. The back portion of the bag has one zipper pocket, which is more than enough for travellers.
Things we liked:
The material of the bag has a good quality.
The zippers run smoothly.
Things we didn't like:
The waist bag is not resistant to water.
The waist belt is not elastic at all.
The size of the bag is quite big, and it looks odd to carry around the waist.
3. K London Stylish Real Leather Tan Waist Bag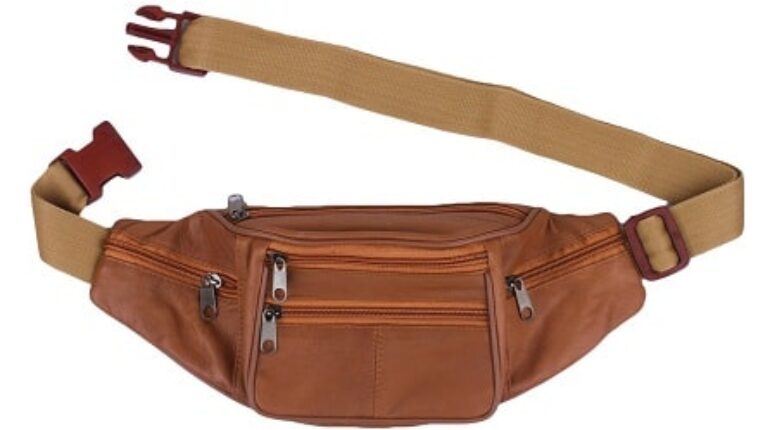 This low-profile waist bag is fantastic no matter where you travel in the world. It is another great bag from K London that you can afford, it is made using tan coloured leather which gives the bag an elegant and stylish look. The bag is very soft and can be comfortably carried on the waist. The bag provides you a secure and concealed space for your essential items.
The bag has compartments of different sizes so that you can keep your small belongings close to yourself wherever you are. Although the bag is not ideal for wearing during swimming, it can protect your belongings in rain showers. There is one main compartment for more significant necessities, such as phones, sunscreens, power banks.
The strap of this waist bag is compatible with different sizes of waists; it can extend maximum up-to 42 inches. If you have a waist size greater than 42 inches, then you can purchase an add-on strap to fit your required waist size.
Things we liked:
The bag is very soft and comfortable.
The tan coloured leather makes the bag attractive and elegant.
Things we didn't like:
The zippers are quite delicate.
The stitching of the bag is not perfect.
4. MADANYU Sporty Fanny Pack Waist Bag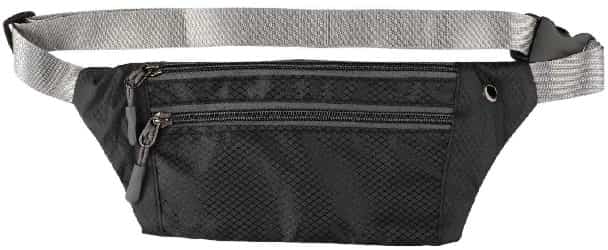 If you are looking for a sporty waist bag that is resistant to water, then the Madanyu sporty fanny pack waist bag is the best choice for you. This bag is prepared from intensely durable nylon fabric. The bag's inner side is very soft and smooth as it is made up of Dacron. A Dacron is a synthetic polyester that is elastic and tough.
The Madanyu waist bag has three different compartments. The first compartment is large enough to store your essential and heavy-weighted stuff such as mobile phone, passport, pen, credit cards, or Mp3 players.
The bag also has a hole for earplugs in the left corner; this allows you to enjoy the music of your choice while jogging, cycling, hiking, climbing, or performing any outdoor activity.
The belt of this waist bag is flexible in length and can be adjusted very easily. We can say that this bag is made for outdoor sporting activities.
Things we liked:
The price of the waist bag is affordable.
The bag is resistant to water.
There is a special hole in the corner for earplugs.
Things we didn't like:
The bag is a bit delicate.
The waist belt does not fit smaller waists perfectly.
5. Physiqo Waterproof Waist Pouch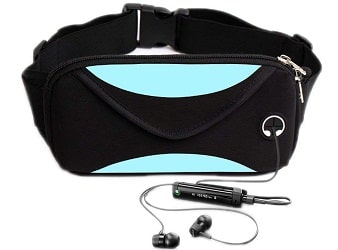 For the people who are searching for a waist bag to carry while jogging, running and cycling, or other physical exercises, Physiqo waist pouch is an excellent choice.
An essential feature of this waist pouch is that this pouch is made of neoprene material. This neoprene material is waterproof and keeps the valuable items inside the bag dry during rain. The neoprene material also increases the lifespan of this waist pouch. The pouch is perfect for storing necessary items such as passport, credit cards, keys, and smartphones.
The Physiqo waist pouch has an incredibly stylish and trendy design. It is suitable for both men and women. Even children can use this pouch. The pouch also has an earphone hole on the right side of the front, which means you can quickly answer all your calls without taking out the mobile phone from the pouch.
This pouch comes with a belt strap, which is very easy to adjust according to the size of your waist. The pouch fits all sizes of waists perfectly without slipping.
Things we liked:
The zippers made using high-quality metals.
The pouch is made using neoprene, which is not easy to tear and is waterproof.
Things we didn't like:
Few customers felt that the size of the bag is quite small.
The water-resisting quality of the bag is doubtful.
6. AmazonBasics Waist Pouch Bag with adjustable strap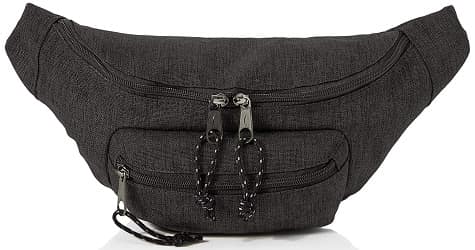 This product is rated continuously as a top-choice among cyclists. The pouch is low-priced compared to a lot of waist-pouches from various brands. The pouch is inherently spacious and has enough space to carry all the essential items of people.
As the pouch is made from a tear-resistant, light-weight fabric, its durability is trustable. Even the zippers are strong enough and would not break easily. People who ride bicycles during the rainy season have the fear that rain is going to destroy their valuable items. Need not to worry now, as this pouch is made using a fabric that is completely water-repellent.
The pouch is designed in such a way that it does not bounce on the hips or waist while running, cycling, or walking. The waist pouch has an adjustable belt which is compatible with different sizes of waists. The pouch even has a pocket in the back that can be used to keep precious items such as jewelry, cash, or debit cards safe.
Things we liked:
The pouch has a one year warranty.
The waist pouch is very spacious.
Things we didn't like:
The pouch becomes heavy after storing items in it.
The pouch becomes bulky when it is empty.
7. K London Stylish Canvas Dari Woven Multi Colored Ethnic Design Waist Pack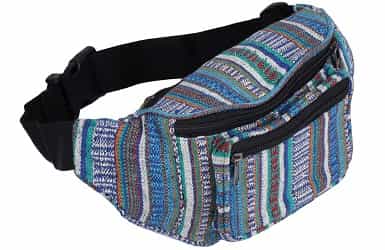 As we all know, K London bags are famous for their unique designs. This K London ethnic design waist pack has a very appealing and unique design. This waist bag made using woven canvas, which adds an ethnic touch to the bag.
This bag is not only liked by women but even want to carry ethnic bags with themselves. This pouch is perfect for your summer holidays with your family. The bag has standard measurements of length-11.8 inches, heights-5.1, and width- 1.7 inches.
It consists of two zippers at the front side and one zipper at the backside, the size of this pouch is more than enough to carry all the essentials of travelling. Just like other bags, the K London ethnic waist pack also comes with an adjustable belt. This belt is suitable for up to 42 inches of waists.
The bag can be used while trekking, camping, camel riding, or while performing other adventurous activities.
Things we liked:
The waist pack has an ethnic look that is liked by most people.
The material of the waist pack is light in weight.
Things we didn't like:
The waist bag is not resistant to water.
The quality of this product is not worth the price.
8. Swiss Military 2.25 Litres Black Waist Pack (WP1)

Black-colored and low-key, Swiss Military waist pack is an excellent pick for men (and women). The waist pack is made using polyester, which makes it resistant to tearing or ripping. This quality of the waist pack allows it to be used for a more extended period.
The Swiss Military waist pack comes with a detachable belt, which increases the convenience of its users. The belt is not only removable but is also adjustable and comes with a buckle lock technology, which makes it a good option for travellers.
As we have discussed above that the bag is made using polyester fabric, it can be cleaned very easily in simple steps. The inner portion of this waist pack is made up of mesh, and the zippers are robust and long-lasting, they are attached to a premium quality silicon zip puller that makes the zippers even more attractive. Additionally, the bag's storage can be expanded whenever there is a need for more space.
Things we liked:
The waist pack comes with one year warranty on manufacturing defects.
Silicon zip pullers make the zippers durable and easy to run.
Things we didn't like:
The pricing of the waist pack is a bit high.
9. Flapsule Travel Mobile Waist Pouch Bag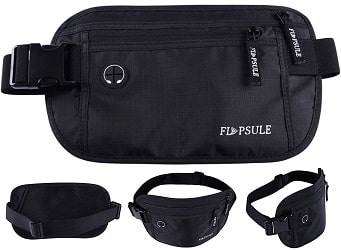 Flapsule's stylish take on a belt pouch is not just an ordinary waist pouch. It is multifunctional i.e., and the pouch has an earphone hole along with a key buckle, which makes the travelling more convenient for people.
The bag has a shiny patent black colour that gives the bag an elegant look. Everyone loves the black colour, be it a male or a female. The pockets present in the bag are large enough to carry multiple items such as passports, air tickets, medicines, room keys, earphones, mobile phones, and so on.
The bag has an elastic but thick strap for wrapping it around the waist. The strap can accommodate from 25 to 55 inches of waists which is quite appreciative. When using the Flapsule waist bag, you need not worry about the safety of your valuable items; this is because the bag is made using three layers of RFID materials. The multiple layers of RFID material can block the electric signals from hi-tech pickpockets and unwanted scans.
The bag is ultra-light in weight and utterly resistant to water because of the presence of nylon fabric. The nylon fabric also protects your cards or documents from spills of coffee or teas.
Things we liked:
The bag is multifunctional.
Size is compact and perfect to fit the waist.
Things we didn't like:
The size of the buckle is quite big.
10. Allextreme EXWBRB1 Waist Bag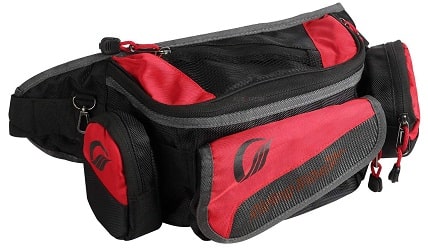 This pared-down canvas belt bag holds all the essentials but keeps things stylish with a gold-tone zip. It's also easily packable for trips, so you can tote your big, travel-day bag at the airport but have this ready once you're on the ground.
Allextreme EXWBRB1 waist bags are some of the best, thanks to the colour-blocked look that would not overwhelm your outfits. The waist bag has a high-quality construction that will see you through your festivals, travels, and your usual weekend errands.
This waist pouch is super light to carry and consists of multiple-pockets, making it an essential pack to store all your belongings. The bag is practical and can be used while cycling, hiking, and climbing. The size of this bag is perfect for people of all age groups, including children and adults.
This Allextreme EXWBRB1 waist bag has a unique dual waist-belt system that offers an easy and quick fit to the waist. The belt can accommodate up to 56 inches of waist size. It also consists of five outer pockets for easy and organized storage.
Things we liked:
The waist belt is detachable and adjustable.
Pockets are comfortable to access and spacious.
Things we didn't like:
The bag is a bit bigger.
The bags do not match the given picture.
How To Pick The Right Waist Bags
The waist bags have obtained a lot of popularity in a limited time. These bags are so much in use because of their convenient structure, portability, and sense of fashion that it provides. Let us look at a few tips to know before buying a waist bag:
Fabric of the bag
The waist or fanny bags are available in various fabrics. You can choose from nylon, cotton, plastic, satin/silk, and canvas. The different materials used to stitch the bag are on purpose; it helps you to pick according to your requirement.
Your purpose of use
A fanny bag can be used for various purposes. It includes traveling, hiking, modeling, biking, running, sports events, or any festive season. You can choose the correct one among a variety of fabrics for your purpose. Suppose if you are going for an adventure, pick a water-resistant material like plastic or nylon. If you are searching a bag for fashion shoot or fest, go for the satin or silk one.
Size and shape
Fanny packs are usually available in different sizes. Depending upon your convenience and requirement, you can select an appropriate size. It should be large enough to carry a few useful products. Do not select a too big size, or else it will hinder your activities. We entirely leave the shape selection on you.
Colors available
A wide range of colors are available in these bags. If you are looking for an event or shoot, go for the ones that match your outfit. The classic black/white or casual colors are best for traveling, sports, or gym use.
Weight of the bag
The weight of the bag is a vital aspect to consider. Some bags might look funky with compartments and zippers. However, if the weight is unmanageable, you cannot carry it with grace. Therefore, always go for a bag whose weight is comfortable enough to carry it throughout the day.
Adjustment present in it
Before buying a bag, it is a must to check the adjustment. Make sure to wear it on your waist and check the adjustment. A bag that fits right to your waist without slipping down is the best choice. Look for adjusting straps and chains.
Spacious or not
Space is the most important factor whenever you purchase any bag. A fanny bag also gives utmost priority to the expanse present in it. You should be able to keep your essential belongings inside it. Also, check the price; if you are buying a very costly bag with no space at all, for complementing the fashion, we would recommend going for a moderate price.
Stylish or casual
These bags are usually divided into two broad categories- stylish and casual ones. Look for your requirement and then select the appropriate one.
Number of pockets
Some people prefer to keep their belongings in various compartments. Doing this, assigns a particular pocket so every product. You will never have to search your things again.
Is it water-resistant?
A water-resistant waist bag is a great savior. It helps to keep the belongings inside your bag dry and safe. It becomes an inclusive concern when you have electrical appliances like mobile phones, or power bank inside it.
Conclusion
There are many names for a waist-bag. Some people call it a belt bag, bum bag, waist pack while others call it a waist pouch or fanny pack, depending upon the preference and geography. Waist bags are in current trends. If you are willing to buy a trendy waist bag, then this article is for you.
Above are some of the best quality waist-bags that are available in the Indian market for both men and women. We recommend you to go through the information that we have provided in this article. All the products that we have mentioned above have attractive designs. We hope this article will come in handy, and it will let you snatch the correct product of your choice.
Santosh Kumar, He is a SEO + Blogger have 12 years of experience in writing tutorial, informative and product reviews topics.