Welding Machine is an incredible tool needed in every fabrication business, architectural industry or automobile business. But if you have a portable machine in your hand, then without wasting time and waiting for a welding expert, you can do some repair work yourself. However, welding machines have numerous versions based on the specifications, features and purposes. Depending on your use and task requirement, you can choose a MIG welding machine, TIG welding machine, Spot Welding Machine, Shielded metal Arc Welding machine, or Thyristor Control MIG Welding Machines.
But, if you're looking for a lightweight, portable option for day to day repairing home tasks, the ARC Welding machine would be an excellent option. Here we have listed the best selling welding machine in India. Scroll down to keep reading!
List of Best Welding Machines in India
1. iBELL Inverter ARC Welding Machine (IGBT) 220A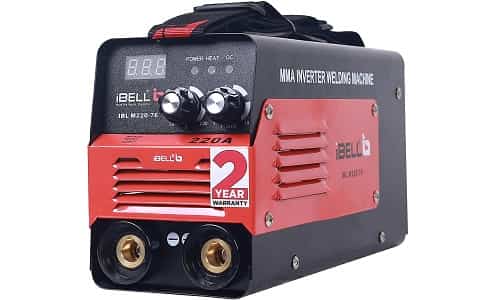 iBELL offers a plethora of single-phase portable arc welding machines. Welding machines made by iBELL uses the best technology and quality raw material to set the industry norms. This welding machine is a cost-effective option on this list that outgos the cost. Due to the portability, you're allowed to use it for both outdoor and indoor welding tasks.
It has a metal construction, lightweight design and comfortable handle so that you can take it along wherever you need it. When it comes to the rated voltage, this machine offers standard 160V to 250V power output at others mostly have 220V.
This is going to be an excellent machine for light welding tasks. It ensures better safety as it offers safety features like Anti-Stick functions, IGBT Protection, ARC Force Control, Overheat Protection, etc.
| | |
| --- | --- |
| Pros | Cons |
| It has a compact & lightweight design. | It requires high-cost maintenance. |
| Noiseless operation. | |
2. BMB Shakti Technology 200Amp ARC Welding Machine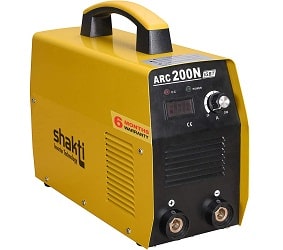 If you are looking for a machine that exceeds your expectation and is packed with many features, you should consider BMB Technology Inverter Welding Machine. The machine provides voltage input which ranges from 250V to 200V, which is quite impressive.
Welding machines by BMB Shakti are the most recommended product due to the budget-friendly. There are a lot of safety features in it, which includes a safety chamber for electrodes, overload protection, thermostat controls, etc. the machine is also equipped with fan controls that you cannot expect with other welding machines available in the market. The 200A ARC Welding machines come with self-adaptive arc force which makes welding easier, faster and hassle-free.
| | |
| --- | --- |
| Pros | Cons |
| It comes with a 1-year warranty. | Higher Energy Consumption. |
| It features a self-adaptive arc force for quick welding. | |
3. Shakti Technology MMA-200G Welding Machine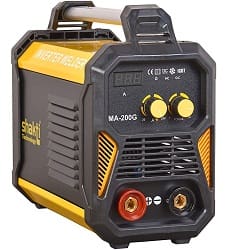 This welding machine is suitable for welding stainless steel, mild steel and other kinds of metal. It is an ideal option for maintenance, welding, heavy & light industry work, and repair. The machine can be worked into a 220V socket with a household current instead of high voltage. Also, it can be connected with Gensets. The welding machine by Shakti technology is suitably for 3.15 mm to 1.5 mm welding electrodes.
Furthermore, it has been equipped with IGBT inverter technology, which is known for excellent arc stability, hot start; eliminating electrode sticking, etc. Therefore, it is the most recommended welding machine by experts. The best part is, it is loaded with multiple safety features, such as over-voltage protection, over current protection, overload protection, etc. In the pack, you'll get an electrode holder, welding face mask, heavy earth clamp, hammer with hand gloves and brush.
| | |
| --- | --- |
| Pros | Cons |
| It comes with a 1-year warranty. | Not suitable for hefty welding tasks. |
| It is the highly recommended welding machine for day to day welding tasks. | |
How To Choose The Best Welding Machine
It doesn't matter whether you are a professional who welds metal or you just decide to have a welding machine at home for some personal projects, a BEST welding machine is a must-have in both cases. Let's talk about some important things to consider when buying a welding machine on your own.
Select the right type
There are many types of welding processes, so different welding machines exist, let's talk about some major ones. The first one is arc welding (SMAW). Electricity is passed through a stick electrode to create an arc with the material to be welded in this type of welding. MIG Welding machines (GMAW) are perfect for homeowners because it is easier this way to weld metals like stainless steel, nickel alloys, aluminium, steel, copper, and many more. TIG Welding (Heli-Arc) is another option that produces a high-quality weld by immersing an electrode in inert gas. TIG welds are neater and stronger than any other type of welding process. Flux-Cored Arc Welding (FCAW) is similar to MIG welding, but here no shielding gas is required. This is a gas-free, simple, efficient, and effective welding process that makes use of flux-cored wire to shield the arc when welding outside, in windy conditions, or on dirty materials.
Metal Classification
The best pick would also depend on the type of metal you'll be working with. People like to use MIG welding machines for the most part because you can easily weld metals like stainless steel, nickel alloys, aluminium, steel, and copper with such machines. In short, if you really want to find a perfect fit for you, consider the metal you'd be welding, and then head over to the market. This way, you'll have a better chance of finding the right type of welding machine for your needs.
Ampere Range
Keep an eye on the ampere range of a welding machine while looking for the best fit for yourself. It's a simple concept: the thicker the metal, the more amperes of current required to weld it. And yes, if a welding machine has a wider ampere range, that'd result in a higher cost, so be prepared for that.
Consider Genuine Sellers
You should always look for an authentic seller when buying expensive items such as welding machines. If you're buying it online, then make sure you buy it from a well-established brand because if something goes wrong with your welding machine, you can get it exchanged or fixed easily.
Conclusion:
Hopefully, after reading this article you will be able to choose the welding machine of your choice.
Santosh Kumar, He is a SEO + Blogger have 12 years of experience in writing tutorial, informative and product reviews topics.