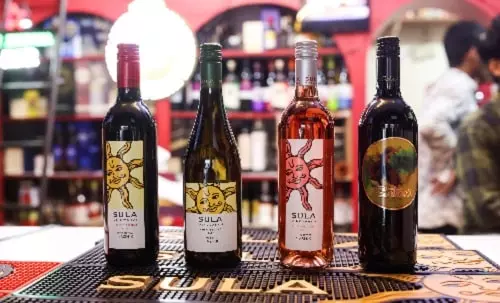 See, in India, wines aren't as popular as other alcoholic drinks like whiskey, rum, beer, etc. There could be many reasons for that like wines are a little expensive, not widely available, or simply because people in India don't want to have a fruity alcoholic drink. On top of that, white wine is even less popular in the country because people only consider red wine a proper or actual wine. However, the dynamics are changing now, and the wine sales in the country are slowly going up, year after year.
People are now realizing how good of a drink wine actually is, and there is certainly more awareness about it in the market. And if you are someone who's looking forward to starting your wine journey then getting to know about the type of wines and the top brands that sell the best wine in the country is a good way to start. To help you out with that, we are here with a list of the top 10 best white wine brands in India for 2024. So yeah, without wasting any more time, let's get down to the list of the popular and best wineries in the country. Here we go.
List of Top White Wine Brands In India
1. Sula Vineyard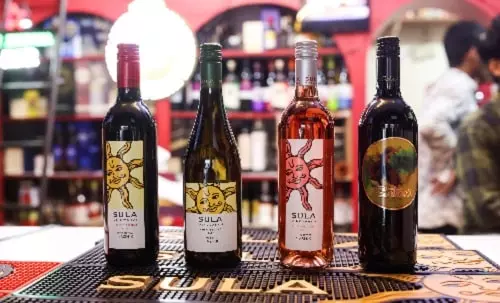 So, have you ever heard of Sula Vineyards? If you love wine and you live in India, you probably have! This wine giant started back in 2003 and, as of 2022, it's the biggest name in the Indian wine world. They've got a whole range of wines, with names like "RASA," "Dindori", "The Source," and many others. But, the star of the show is surely the "Sula" brand. Many say it was Sula that truly introduced India to the joy of wine. Guess what? They were the first in India to have a tasting room right at their winery in 2005. That's pretty cool, right? It helped people here get more familiar and fall in love with wine. Now, even though India drinks a lot of alcohol, wine is still a new thing for many. Like, the entire country drinks less than a small bottle of wine per person in a year! Yet, in this budding market, Sula Vineyards shines the brightest.
2. York Winery
Now, let's talk about another star in this particular scene, York Winery. Did you know a lot of India's wine comes from a place called Nashik in Maharashtra? It's like our very own wine capital! The weather there is just perfect for making wine. Days are sunny, making the grapes sweet, and nights are cool, keeping the grapes fresh. In this special place, Sula Vineyards might be the biggest player, but there are other champions too, like Grover Zampa Vineyards and Fratelli Wines. And yes, York Winery is right up there with them, helping wine become not just a drink but a symbol of style, success, and all the lovely feel in India.
3. Yellow Tail
Yellow Tail is this cool Aussie wine that's taken the world by storm, India included! Launched in 2001 by Casella Wines from New South Wales, this brand is surely one of the most popular ones in the country right now. This wine is just so easy to love. Its impressive packaging catches your eye, and once you take a sip, it's hard not to go back for more. On top of that, it's got something for everyone. If you're a red wine person, their Shiraz is iconic. If you lean more towards the white, their Chardonnay is as refreshing as a summer breeze. And yeah, Indians, especially the younger crowd, are loving it! All in all, Yellow Tail gets that wine isn't just about the taste but the vibe.
4. Four Seasons Vineyards
Four Seasons Vineyards, despite its establishment only in 2006, has stormed its way into India's wine spotlight. Literally, everybody in the wine community is talking about this vibrant entrant. When you think about the Indian wine sector, many names might come to mind, but Four Seasons stands out, even though it's relatively new to the party. See, their red and rosé wines are a literal trophy magnet. With a collection that boasts multiple grape varieties, from the robust Cabernet Sauvignon, Shiraz, and Merlot to the delicate notes of Sauvignon blanc, Chenin blanc, and Viognier, there's a flavor for every palate.
5. Fratelli Wines
Launched in 2007 in the quaint region of Akluj, Maharashtra, the name "Fratelli" channels the spirit of brotherhood, literally translating to "brothers" in Italian. Crafted by the hands of three brother duos from diverse backgrounds, their combined expertise brings a splash of Italy right to India. Now, here's the fun part, not only can you savor their exceptional wine, but you can also bask in the beauty of their vineyard, which is open for all, well, as of now. With a wine portfolio echoing the notes of French grapes and a touch of Sangiovese, Fratelli Wines has made waves, not just in India, but in over 50 countries. Especially during the hard times of the COVID-19 pandemic, Fratelli's essence of affordability and unmatched quality stood out.
6. Carlo Rossi
Here's another name that has been making waves, but this time it hails from sunny California, we are talking about Carlo Rossi. This brand, synonymous with affordability and elegance, has become a staple for wine lovers across the globe. From the classic Chardonnay to the bold Cabernet Sauvignon, they've got a flavor for every palate. And India? Oh, the nation has welcomed it with open arms. Carlo Rossi's fruity undertones seem to strike just the right chord with Indian taste preferences. And it's not just about being budget-friendly, Carlo Rossi ensures a consistent taste that keeps you coming back. Their mission is clear, make wines that are a treat to the palate without burning a hole in the pocket. And it's safe to say, they've got India's heart, especially those who've just started their wine journey.
7. Kamasutra Wine
Have you ever heard of Kamasutra Wine? With such a catchy name, it's made quite an entrance into the Indian wine scene. It borrows its name from the famous ancient Indian book on love, suggesting a mix of romance, sensuality, and pure enjoyment. Although not much is known about its beginnings, this wine has quickly gained attention, mostly because of its stand-out name and branding. When most wines go by traditional names, Kamasutra Wine dares to be different. And honestly, that's the vibe everywhere, more people are ready to taste new wine flavors and brands. That's where Kamasutra hopes to shine, blending taste, branding, and experience.
8. Big Banyan Wines
Under the expansive shade of John Distilleries Ltd, emerges Big Banyan Wines. Born from a company that has dazzled not just India but the world, this brand embodies purity, authenticity, and, yes, accessibility. Each pour from a Big Banyan bottle is more than just wine; it's an experience, a testament to John Distilleries' unwavering commitment to quality. While their crown jewel, Original Choice, reigns in the whisky world, Big Banyan has carved its indomitable space in the wine world. And trust us, once you've had a taste, there's no going back.
9. Grover Zampa
Speak of Indian wines and not mention Grover Zampa? That's kind of impossible. This iconic brand, a beautiful brainchild of Kanwal Grover and the renowned French winemaker Georges Vesselle, has been a pioneer in the Indian wine terrain. Decades might have passed since its inception, but Grover Zampa's passion remains unchanged. From crisp whites to bold reds, they've been the torchbearers of India's wine culture. If you are just a beginner, and you wanna start your wine journey with something that's delicate, rich, and incredibly flavourful, then you gotta start with Grover Zampa's wines.
10. Charosa Winery
Can you imagine a place where nature and wine-making craft come together in a perfect symphony? Well, that is exactly what Charosa Winery looks like, quite literally. Situated in Maharashtra's heart, this brand has been making waves with its unique offerings. The Reserve Tempranillo? A sheer masterpiece. But Charosa's magic doesn't end there. Their commitment to sustainable practices and their bouquet of wines, from the fruity Sauvignon Blanc to the robust Cabernet Sauvignon, speaks volumes of their expertise. However, Charosa Winery wines aren't quite popular in the Indian market, as of now. But they are surely catching up to the popularity, and giving tough competition to the top-tier brands within this niche.
Conclusion
That'll do it. Now you know which winery or brands to trust when it comes to buying the best white wine in the country. Right? See, these brands may be into other drinks as well, but their wines are the reason why we have listed them in today's post. So yeah, don't forget to check out their collection.
Santosh Kumar, He is a SEO + Blogger have 12 years of experience in writing tutorial, informative and product reviews topics.