Since two centuries, coal is mined in India. Developments in post-independence times have been tremendous, and the achievements achieved after the nationalization of coal sector are even more astounding. Power generating, steelmaking, locomotive powering, and cement, fertilizer, and household fuel manufacturing will all continue to rely on coal.
Around Rs. 100 billion has been invested in nearly 200 projects of varying sizes, with some of these projects estimated to be able to produce 14 million metric tons per year.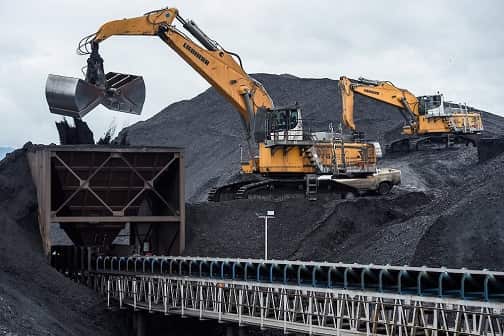 Coal industry in India
Indians rely heavily on coal, the country's most plentiful and essential fossil fuel. About 55percent of total of the country's power requirements are met by this source. A large part of the country's industrial history may be traced back to local coal.
In the previous four decades, commercial primary energy supply in India has increased by nearly 700 percent.
India now consumes 350 kg/year less commercial primary energy per person than wealthy nations
After China and the United States, India has the third-largest coal reserves in the world. India is the world's third-largest coal producer and importer.
Coal accounts for one-third of India's energy supply, with a production capacity of around 310 million tons & imports of over 25 million tons.
Coal-fired energy generation in India is expected to soar, according to official projections. Although it's not obvious whether these plans can be carried out, huge rise in coal supply will be necessary.
An Indian coal strategy should aim to increase the financial viability of the business by providing an open market for coal. Initiatives in the coal business will be impossible without a thriving energy sector.
As of 2023-24, India aims to produce 1,300 million short tons of coal.
Coal Production
In 2018-19 (Provisional), the All India output of coal reached 730.354 million tons, an increase of 7.9 percent over the previous year's production.
Regional and Sub-Sales Offices of Coal India Limited have been established in various parts of the nation in order to better serve customers in different locations.
Import of Coal
Importers may now bring in as much or as little coal as they like (under an Open General License) depending on demand and business prudence.
(SAIL) and other steelmakers are importing Coking Coal to fill the gap between demand and supply and to enhance production quality.
Non-coking coal is being imported by coal-fired power plants, cement factories, captive power stations, sponge iron factories, industrial customers, and coal merchants..
In the iron and steel industry, imports of coke are mostly made by big-iron producers and end users who use mini-blast furnaces.
Coal Reserves
A maximum of 319.02 Billion tons of Natural Resources of Coal so far have been calculated in the nation as a consequence of exploration to a maximum depth of around 1200 m.
More than two-thirds of the nation's hard coal deposits are located in the eastern and southern regions of the country, respectively.
A total of 36 billion metric tons of lignite deposits exist, with 90% of that quantity located in Tamil Nadu, a state in southern India.
The top 5 states known for having Indian coal reserves include Jharkhand, Madhya Pradesh, West Bengal, Chhattisgarh, and Odisha.
Resources Categorization
The Gondwana Units of Peninsular Indian Region and the younger tertiary levels of the north-eastern area include India's coal deposits.
Boreholes are typically positioned 1-2 kilometers apart in Regional/Promotional Exploration, and resources are classed as either "Indicated" or "Unconfirmed" depending on the findings.
When boreholes are fewer than 400 meters apart, the resources may be upgraded to the more dependable "Proved/Measured" category.
Coal Mining History in India
Commercial coal mining in India dates back approximately 220 years, when M/s Sumner & Heatly of the East India Company began mining in Raniganj Coalfield on the western bank of the Damodar River.
The arrival of steam locomotive in the year 1853 gave Indian coal mining a boost after it had lagged behind for roughly a century due to a lack of demand.
By 1900, India was producing 6.12 million metric tonnes per year, and by 1920, it could generate 18 million metric tonnes annually.
1st World War boosted manufacturing, but the early 1930s saw a decline in output. By 1942, output had risen to 29 million tonnes, and by 1946, it had risen to 30 million tonnes.
Immediately after the country's independence, the five-year development plans were put into place. A year into the First Plan, yearly output had increased to 33 million metric tonnes.
A pressing need to increase coal output via methodical and scientific growth of the industry was recognised during the first plan period.
When the National Coal Growth Corporation (NCDC), a Govt of India undertaking, was established as its nucleus in 1956, it was a significant step toward a planned development of the Indian Coal Industry.
Future
There are several advantages to the introduction of private players into the coal mining industry.
It is imperative that India shift from coal to gas, a cleaner source of energy in the long run.
We have a lot of opportunity to employ clean coal in India due to our older and less efficient coal plants.
There is a need for a "Vision 2030 for coal sector," which considers environmental factors like carbon footprint reduction and mitigation of global warming, in light of government efforts to promote renewable energy as a result of international climate change conventions, a rise in carbon cess and some other efforts for less use of coal
Santosh Kumar, He is a SEO + Blogger have 12 years of experience in writing tutorial, informative and product reviews topics.