Copper ore production is not self-sustaining in India. As well as importing copper concentrates, India produces its own ore and concentrate. Domestic production, scrap recycling, and imports all contribute to meeting the country's needs for copper and its alloys.
HCL, a government-owned enterprise, is the sole company in the nation with operations in mining and ore beneficiation, as well as smelting, refining, and casting of refined copper. HCL is a PSU.
Among the nation's private sector's largest copper producers, two stand out: Hindalco Industries Ltd. and Vedanta Limited. Copper mines in various nations are owned by these firms.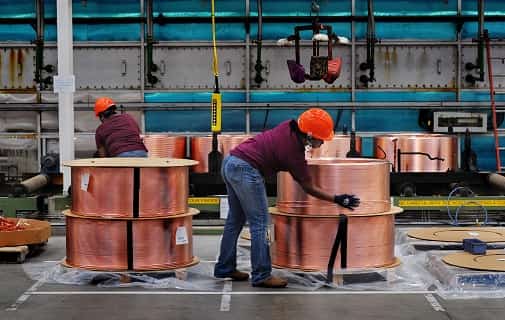 Copper Distribution in India
According to copper deposits and output, India isn't exactly blessed. It is predicted that 712.5 million tons or 9.4 million tons of metal may be found in-situ.
The Singhbhum district of Jharkhand, the Balaghat district of Madhya Pradesh, and the Jhunjhunu & Alwar districts of Rajasthan all have significant copper ore resources
Major Copper Industries in India
1. Hindustan Copper Ltd.
It is the Ministry of Mines' responsibility to oversee Hindustan Copper Limited (HCL), a government-owned enterprise. On November 9th, 1967, it was formally established.
If you're looking for a single company that can provide all stages of a copper production process—mine extraction to refinement to casting—then this is it.
This multinational conglomerate has mining and manufacturing facilities spread out over five states in India: Gujarat, Maharashtra, Jharkhand, Madhya Pradesh and Rajasthan.
2. Bhagyanagar India Limited
One of India's oldest and biggest copper producers is Bhagyanagar India Ltd. (BIL).
As a long-time partner to its clients—primarily original equipment manufacturers—the firm offers a variety of copper goods, such as copper rod and strips and pipes and busbars and sheets (OEM). Hyderabad, India, is home to the company's headquarters.
3. Arcotech Limited
It is a company that produces aluminum plates and bars as well as aluminum foils and rods. Copper & copper alloy goods are also manufactured by Arcotech Ltd.  Haryana is where you'll find it.
4. Sterlite Copper Industries
One of India's top copper producers, Sterlite Copper accounts for up to 36percent of the nation's refined copper consumption. Tamil Nadu is the state in which it is situated.
5. Hindalco
Aluminum and copper are manufactured by Hindalco Industries Limited, an Aditya Birla Group affiliate.
Mumbai, Maharashtra, India is home to the corporate headquarters of the corporation.
Government Initiative
Our country's per capita copper usage is 0.5 kg, compared to the world average of 3.2 kg, which indicates that there is a lot of opportunity for copper consumption increase in the future.
A decrease in the import tariff on copper trash from 5 percent to 2.5 percent was proposed in the India's Union Budget of 2021 in order to stimulate copper recycle in India.
Per capita use of steel is expected to rise to 160 kg by 2030-31, according to the National Steel Policy.
Challenges Faced
India's copper manufacturers have been struggling lately, despite the country's expansion, & state-owned Hindustan Copper, together with Hindalco and Vedanta, have warned the government of an approaching closure owing to cheap imported refined copper from ASEAN countries and Japan that have lower down the Indian makers capacity of operating to 75% and placing ten thousand jobs at higher risks and also the initiative of government of "Make in India" also at risk.
According to copper manufacturers, India might become outdated because of the government's trade deals that enable duty-free imports of the metal.
A reduction in output may be necessary as a consequence of India's own industries losing market share and, therefore, economic viability.
There is a shortage of copper concentrate in India, which requires enterprises to depend extensively on imports from other countries, mainly South Africa, in order to meet their needs.
As a result, manufacturing costs go through the roof. Working capital costs could pose a challenge.
In first quarter of 2021-22, the Indian copper sector had to deal with lower demand, at 118,000 tons, than the 161,000 tons it saw in the last 3 months of last year.
According to a latest financial call, the demand for Hindalco's products is likely to rise progressively to a normal level over the following several quarters because of diminishing Covid instances and the gradual unlocking of the country's infrastructure.
State governments have shown interest in hosting a 500,000-ton-per-year Vedanta smelter, viewed as a successor for the shut-down facility.
One MT capacity smelter will be built in Mundra in Gujarat by the Adani Company, which is expanding quickly in solar & wind energy. The remaining Adani smelting capacity will be fed by scrap rather than concentrate, since 90% of the smelter's capacity will be devoted to processing concentrate.
Import and Export
Copper may be acquired all over the globe, but the situation in India with respect to copper is especially intriguing.
Due to its poor output, India must import virtually all its copper ore regardless of the fact that it has its own copper mines.
In 2015-16, India imported 18, 86,199 thousand tons of refined copper from nations including Chile, Indonesia, Australia, & Canada.
Indian refiners Sterlite Industries, Birla Copper and Hindustan Copper Ltd have recently become net exporters of copper despite the fact that India does not have an excess of copper ore, with the production of copper around just 3,908 thousand tons in the same year
Santosh Kumar, He is a SEO + Blogger have 12 years of experience in writing tutorial, informative and product reviews topics.