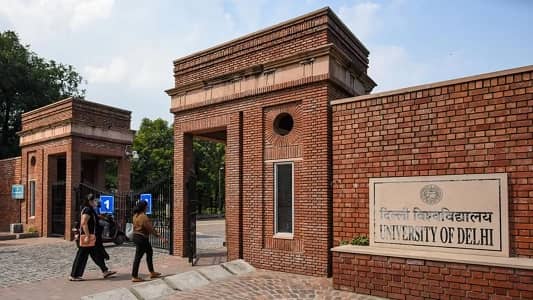 Students were unsure of what CUET scores counted toward admission to Delhi University last year after the results were released. Delhi University issued a press release in which it was stated that the normalised score would be taken into account during the counselling process.
Students were also given an in-depth explanation of how these scores were determined so there would be no misunderstandings during counselling.
New admissions requirements and procedures have been unveiled by Delhi University (DU) for the upcoming academic year. There were three stages to the CUET admissions process to DU, and officials have acknowledged how much simpler it is than merit-based admissions.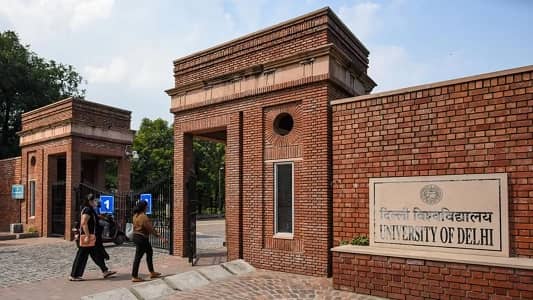 Let's dig deeper into DU's CUET-mediated entry requirements for freshmen.
Acceptance to DU via the CUET
Phase 2 is available to applicants with valid CUET scores who have already applied to DU for admission.
Admissions at Delhi University are anticipated to happen in three stages.
Step One: The Signup Procedure
The admissions process begins with you submitting some basic information.
Step 2: Filling Out an Application
For the purposes of seat allocation and the merit list procedure, CUET scores must be uploaded.
Step 3: Seating Assignments
Seat allotment lists and admissions merit lists are being released as the final step.
Choose Your Programs and Fill Your Preferences for DU Admission in 2023
To access the CSAS programme, please log in.
Make sure you've checked off all the undergrad courses that interest you.
You can apply to as many programmes as you like.
Validation of schedule
Verify that each selected programme has a corresponding CUET score.
Preferences in Colleges and Degree Programs
The sequence in which you choose the programmes and colleges will define your preferences.
You can change the priority order by rearranging the preferences.
The order in which your preferences were entered will be used to assign seats.
When deciding on a set of Bachelor of Arts courses
Numerous DU schools provide a total of about 200 unique BA programme permutations.
The BA programme combinations you choose will determine how well you do in school, so it's important to think carefully about your choices and rank them in order of preference.
Checking the preferences
If you want to change the order of your preferences, you need to click "submit" before the deadline.
Prioritisation of the chosen permutations is also flexible up until the deadline. If you miss the deadline for submitting your choices, the order in which they were last saved will be locked.
Instructions for Completing the Second Stage of DU Admission
To move on to CUET's second phase of admission to DU, please follow the instructions below.
First, click on the link below to access the University of Denver's Admissions Portal, Class of 2023.
The second step is to enter the DU 2023 CSAS portal.
Third, enter your CUET Application Number and password (which you created in Step 2) to access the system.
Fourth, use the provided link to input your desired percentile, scores, and selections.
Fifth, fill out the fields with your percentile and CUET score.
Sixth, indicate your preferred major and educational institution by submitting your application.
To be considered for admission to an undergraduate programme at a college affiliated with Delhi University, applications must be submitted during the specified application period.
Submittal Fees for the CSAS
UR /OBC-NCL / EWS – Rs. 250/-
SC /ST/ PwBD – Rs. 100/-
Exactly what factors go into determining who makes it onto the DU Merit list?
Admissions at DU are handled in three stages using the CSAS system:
Formal CSAS 2023 Application Submittal
Making a choice of which shows to watch and filling up your personal preferences
Admission and seating assignments
It is recommended that students sign up for as many courses as they can. It is recommended that candidates select the largest number of programmes and program+college combinations possible.
Candidates are strongly encouraged to carefully complete the CSAS (UG) application.
The institution will produce a merit score tailored to each programme based on your application and eligibility; review this score and make any necessary adjustments before making your selections.
Calculation:
When compiling its merit list, DU counselling will only use "normalised scores" from the NTA.
The following is an illustration:
| | | | |
| --- | --- | --- | --- |
| UG Programs | Student A subjects | Student B subjects | Normalisation score |
| BA (Hons) Political Science | Hindi, Chemistry, Physics, Biology | English, Physical Education, History, Sociology | 662.15 |
| BA (Hons) Economics | Hindi, Maths, Chemistry, Physics | Not eligible | 583.32 |
| BA (Hons) Spanish | Hindi, Chemistry, Physics, Biology | English, Physical Education, History, Sociology | 662.15 |
Delhi University Undergraduate Courses
See the list of introductory undergraduate degrees (UGDs) that Delhi University now offers below.
Some examples of available classes and concentrations are as follows:
1. B.A. (Hons.)
Languages and fields of study – (Arabic, Bengali, English, French, German, Hindi, Italian, Persian, Punjabi, Sanskrit, Spanish, Urdu, Applied Psychology, Psychology, Economics, Geography, Hindi) Patrakarita, Bachelor of Science (Honors) in History and Humanities; Bachelor of Science (Honors) in Journalism; Bachelor of Science (Honors) in Multimedia and Mass Communication;
2. B.Sc (Hons)
Biological Sciences, Botany B.Sc. (Hons. ); Zoology, Biomedical Science B.Sc. (Hons. ); Biochemistry, Chemistry B.Sc. (Hons. ); Anthropology B.Sc. (Hons (Hons.) Physics, Polymer Science B.Sc (Hons) (Hons.) Engineering in Computer Science, Electronics, Instrumentation, Environmental Science, Food Technology, Geology, Mathematics, Statistics, Microbiology, Home Science, B.Tech. Information Technology and Mathematical Innovations (IT & MI), Home Science, Mathematical Sciences, Applied Physical Sciences with Analytical, Methods in Chemistry & Biochemistry, Applied Physical Sciences with Industrial Chemistry, Physical Science with Chemistry, Phys (PE, HE&S)
B.Com (Hons)
Bachelor of Business Administration, Majoring in Management (BMS)
A Four-Year Degree in Financial Investment Analysis from an Accredited College or University (BBA-FIA)
Degree in Business and Economics (BBE)
B.A. (Hons)
Vocal or Instrumental Sitar/Sarod/Guitar/Violin/Santoor), Bachelor of Arts (Honors) in Karnatak Music-Vocal/Instrumental (Veena/Violin), Bachelor of Arts (Honors) in Hindustani Music-Percussion (Tabla/Pakhawaj).
A Degree in Primary Education
Find out if you meet the requirements for admission to an undergraduate programme at Delhi University
Class 12 completion or its accepted equivalent is usually cited as one of the requirements for admission.
One must be of Indian descent to apply.
Class 12 completion, as validated by AIU, is required.
No consideration should be given to the applicant's year of absence.
In order to encourage international participation, we have set aside 10% of these extra seats specifically for non-Americans.
Sikh and Christian applicants can use the minority quota to get entry. These individuals are still required to take part in CUET.
Admittance to SOL and NCWEB programmes is determined by students' performance on the senior year examinations.
Miranda House
Hindu College
Lady Shri Ram College for Women
Atma Ram Sanatan Dharm College
Kirori Mal College
Stephens's College
Shri Ram College of Commerce (SRCC)
Hansraj College
Sri Venkateswara College
Lady Irwin College
Acharya Narendra Dev College
Deen Dayal Upadhyaya College
Gargi College
Bhaskaracharya College of Applied Sciences
Deshbandhu College
Daulat Ram College
Maitreyi College
Dyal Singh College
Shaheed Rajguru College of Applied Sciences for Women
Sri Guru Tegh Bahadur Khalsa College
Kamala Nehru College
Ramanujan College
JMC – Jesus and Mary College
Maharaja Agrasen College – MACDU
Indraprastha College for Women
Sri Guru Gobind Singh College of Commerce, Delhi
Ramjas College
Institute of Home Economics, Delhi
Shyam Lal College, Delhi
Keshav Mahavidyalaya, Delhi
Applying to CUET at Delhi University
Registration for CUET can be completed at https://cuet.samarth.ac.in by anyone seeking admission to the University of Delhi's undergraduate programs, including those seeking supernumerary seats.
Candidates interested in enrolling at the School of Open Learning (SOL) must first submit an application through the website, www.sol.du.ac.in. In order to be considered for admission to the Non-Collegiate Women's Education Board (NCWEB), prospective students must first create an account on the University of Delhi's admission website, accessible at http://admission.uod.ac.in.
Policy on Seat Priority at Delhi University
Policy on reserving seats for members of the Scheduled Castes (SC) and Scheduled Tribes (ST): If there are more applicants than available seats, candidates from the Scheduled Caste and Scheduled Tribe categories will be given priority.
Candidates belonging to the Other Backward Classes (OBC – Non-Creamy Layer, Central List) are allotted 27% of the available seats as part of the government's quota system.
According to University of Delhi notifications (Reference No. Aca. I / Reservation of EWSs / 2019/ 63 Dated 28th March 2019 and Reference No. Aca. I / Reservation of EWSs / 2019 / 101 Dated 15th May 2019), University Departments / Centres / Colleges have reserved 10% seats for admission for candidates belonging to Economically Weak Sections (EWSs).
Conclusion
Changes to the admissions policy at DU have made it possible for each year's worth of high school graduates to attend the university.
Without looking at 12th grade grades or conducting interviews, all DU colleges admit students based only on their CUET scores.
Santosh Kumar, He is a SEO + Blogger have 12 years of experience in writing tutorial, informative and product reviews topics.