In the year 2014, on 21 August, the celebrity couple Fahad Fazil and Nazriya tied the knot. The most anticipated wedding in Malayalam cinema took place 8 years back. The 'Nikkah' ceremony for Malayalam star Fahad Faasil and Nazriya Nazim took place at the Al-Saj Convention Centre in Thiruvananthapuram.
The wedding was attended by a small group of celebrities and film industry friends.
Fahad, the most lovable actor, was dressed to impress in a stylish Sherwani pattern and a sophisticated Nehru jacket. In contrast, the peach-hued bridal lehenga worn by the lovely Nazriya took center stage as the cameras flashed. In addition, Fahad, an actor and devoted husband, recently presented his wife with a sparkling diamond necklace.
Only invited guests were allowed to attend their wedding, while the public and media had to wait for their first look. The pair made a quick appearance for the cameras and fans after the event. On August 24th, there was a reception for the film community in Alleppey.
What is the age difference between Fahad Fazil and Nazriya?
Fahad Fazil and Nazriya, is a famous couple shares an age difference of 13 years. When they got married, Nazriya was 19 and Fahad was 32.
On the set of the Malayalam movie Bangalore Days, Nazriya Nazim & Fahad Faasil crosses paths. Soon later, the two of them begin dating. In a letter with a ring, Fahad Faasil asks Nazriya Nazim to be his wife, and she agreed.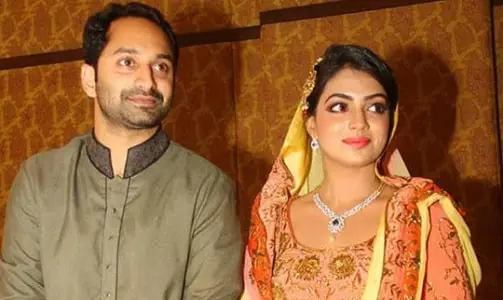 The couple then tied the knot in the year 2014.
During a press conference, the actress's age was naturally brought up after she revealed that she is just 19 years old. Fahad has argued that the age gap between him & Nazriya is not significant because she loves her the most, and age doesn't matter.
More details about Fahad Fazil and Nazriya
The cutest new generation actress, Nazriya Nazim, wed Fahad. Fahad's father, the film director Fazil, announced their engagement to the public. This marriage had been predetermined. They shared screen time in the hit film Bangalore Days. Fans were immediately intrigued by the large age difference between them.
Fahad is the son of Fazil, a famed Malayalam director who helped begin the careers of several actors in the 1980s and 1990s, including superstar Mohanlal, Sobhana, & countless others.
While, Indian actress, former TV host, and producer Nazriya Nazim was born in 20 December 1994 is most known for her roles in Malayalam films, however she has also appeared in Hindi and Tamil films.
For the press, where she fielded the majority of the questions and left her fiance, Fahad, feeling awkward. In an interview with the media, Nazriya stated that she and Fahad's family come first, and that the decision to continue acting is contingent on that.
Santosh Kumar, He is a SEO + Blogger have 12 years of experience in writing tutorial, informative and product reviews topics.