Attaining freedom was not an easy task for Indians and it took a lot of struggle for the people to witness the day when the Indian Flag was hoisted at the Red Fort on 15 August 1947. The journey was never easy and several patriotic people laid their lives in this freedom struggle. We can never thank them enough and the sad part is that there are many such freedom fighters who are not known to us. We are heading towards the 71st Independence Day and we should certainly remember the innumerable contribution of these Freedom Fighters as we owe them a lot.
There are many freedom fighters whom we do not know much about but their name is still written in the history with the golden letters. Here, in this article, we have listed some of the information about top 15 Famous Freedom Fighters in India & Their Role in the Freedom Struggle.
List of Famous Freedom Fighters of India
15. Sukhdev
Our list begins with Sukhdev and he was one of the most feared Freedom Fighter. Sukhdev was associated with Hindustan Socialist Republican Association and he played a major role in Lahore Conspiracy Case along with Bhagat Singh. The plot was conspired to avenge the death of Lala Lajpat Rai and he had to face execution for the conspiracy. This event left a significant remark in history and it helped in adding fuel to the fire of Independence.
14. Sarojini Naidu
Sarojini Naidu had been closely associated with Mahatma Gandhi and she played a pivotal role in Indian history. She walked along with Gandhi Ji in all his struggles so as to attain Swaraj and she encouraged people by delivering speech and lectures about nationalism. Sarojini Naidu has also worked towards women empowerment and she authored many popular books like The Golden Threshold, The Indian Weaver and many other books.
13. Dr. B R Ambedkar
Next on our list is Dr Bhimrao Ramji Ambedkar and he was not just a freedom fighter but he was also a social reformer who helped in bring the status of equality for Dalits. He was also the first law minister of India. Apart from this, Dr. B. R. Ambedkar also helped in drafting the constitution of India. Dr. B R Ambedkar helped the country by education people about their political as well as social rights which was really important to bring in awareness during the freedom struggle.
12. Udham Singh
We can never thank Sikhs for their contribution and they also play a very important role in Indian Army. Udham Singh was one such Sikh personality who will always be remembered in the history because he avenged the Jallianwala Bagh Massacre by assassinating General Dwyer. He was later hanged to death but he certainly bought justice to the people who were murdered in a cold-blooded encounter with British Force. He was called Shaheed-i-Azam because of what he did for the country.
11. Gopal Krishna Gokhale
Gopal Krishna Gokhale was another such person who stood against the British Empire. It is also known that Gopal Krishna Gokhale served as a mentor to Mahatma Gandhi in later years. Gopal Krishna Gokhale also founded Servants of India Society which basically campaigned and demanded for self-rule in India. The society also helped in bringing in several social and political reforms in India and his contribution in Indian Freedom Struggle can't be ignored.
10. Sardar Vallabhbhai Patel
One of the most admired personality in Indian history is Sardar Vallabhbhai Patel. He not only led India to freedom but he also helped in integrating the country by merging all the princely states in India. He played the role of Commander in Chief during the integration and also during the Indo Pak War of 1947. Sardar Vallabhbhai Patel was also a key personality during the Quit India Movement and he is often addressed as Iron Man of India because of his commitment towards the national integration.
9. Lala Lajpat Rai
Lala Lajpat Rai is also known as Punjab Kesari and he joined Indian National Congress at a very young age. He took part in several agitations and demonstrations against the British Rule. Lala Lajpat Rai also played an important role during the boycott of Simon Commission during one such silent protest, he was charged with a Lathi by a police officer. This led to the death of Lala Lajpat Rai but it left behind a rich legacy which encouraged the future freedom fighters in India.
8. Dr. Rajendra Prasad
Dr Rajendra Prasad was not only a freedom fighter but he was also the first president of Independent India. He had been associated with many national movements and he supported Mahatma Gandhi is all his endeavours. He also played a major role during Salt Satyagraha as well as during Quit India Movement. Dr Rajendra Prasad was also the part of Non-Cooperation Movement and he wrote many articles so as to encourage people to take part in the Freedom Struggle.
7. Rani Lakshmi Bai
Rani Lakshmi Bai needs no introduction as every kid and every adult in India knows about her. She was the queen of Jhansi and she was one of the most prominent personality during the revolt of 1857. She fought with Britishers till her death and she had been one of the most feared lady in Indian history. Today, she is seen as an example of women strength because of her fight against the British Empire.
6. Bal Gangadhar Tilak
Next on our list is Bal Gangadhar Tilak who is also known as the father of Indian Unrest. He received a title of Lokmanya which basically means a leader. Bal Gangadhar Tilak had always been in favour of Self Rule as he could see the problems faced by the people in British Raj. One of the most popular quote by Bal Gangadhar Tilak was "Swaraj is my Birth Right and I shall have it". He passed away in 1920 but his dream of Independent India came true in 1947.
5. Chandrashekhar Azad
Chandra Shekhar Azad was an Indian Freedom Fighter who was an apart of Hindustan Socialist Republican Army. He was known for his aggressive approach towards the British Rule and he played a major role in Kakori Train Robbery. He also avenged the murder of Lala Lajpat Rai. Chandrashekhar Azad worked closely with Bhagat Singh his contribution can never be forgotten. It is known that Chandrashekhar Azar was killed in a gunfight after police surrounded him. He shot himself with the last bullet in his gun because he never wanted to be held by British Forces.
4. Mahatma Gandhi
Mahatma Gandhi, also known as Mohandas Karamchand Gandhi had been the face of Indian freedom struggle. He believed in non-violence and he helped India in attaining freedom with Satyagraha. He led many peaceful protest and movements. He also led Champaran Protest, Dandi March, Non-Cooperation Movement and Quit India Movement. MahatmaGandhi was assassinated in 1948.
3. Mangal Pandey
Mangal Pandey was a sepoy in British Forces but he is known for leading the Revolt of 1857. This was an important point in Indian History as this was the first ever large-scale revolt against the British Empire. The things were escalated quickly and it could have been the end of the British Empire in India but things didn't work out as per the plan. This did setup a strong foundation for the future freedom struggle. He had always been a major motivation for the freedom fighters in India.
2. Netaji Subhash Chandra Bose
Netaji Subhas Chandra Bose also played a major role in struggle and he was leading Azad Hind Fauj. Netaji played an important role in Azad Hind Movement and he is known for his popular quote "Tum Mujhe Khoon Do, Mai Tumhe Aazaadi Dunga" which translates to "Give Me Blood and I Shall Give you Freedom". He gained a lot of support but he died in a plane crash in August 1945. This was a major blow to India but he still remained to be a hero for Indians.
1. Bhagat Singh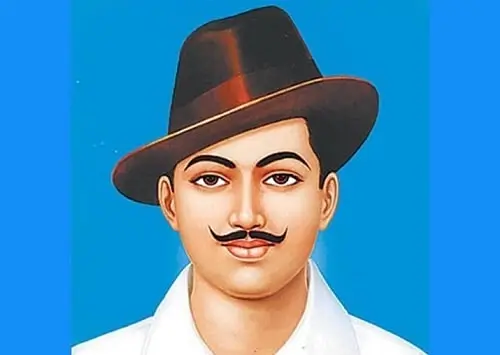 Bhagat Singh is certainly the most influential freedom fighter in Indian History and he is often known for his contribution is freedom struggle along with Shivaram Rajguru. He was involved in the 1929 Assembly Incident where Bhagat Singh bombed the Assembly with smoke bombs. He had an iconic trial and India stood by him during the trail. He was later hanged for protesting against the British Empire.
These are some of the freedom fighters that every Indian should know about and you should also feel proud of these brave people of India who sacrificed their present for our future. We can never forget their contribution because we are living a respectable and free life because of all the freedom fighters who fought for our right. We certainly inherited the rich culture of India from our brave Freedom Fighters.
Santosh Kumar, He is a SEO + Blogger have 12 years of experience in writing tutorial, informative and product reviews topics.