On the set of their 2002 film "Tujhe Meri Kasam," Riteish and Genelia first crossed paths. After dating for 9 long years, they finally tied the knot in 2012 on 3rd February.
Everyone's hearts just skip a beat just by staring at this stunning couple.  The way they have supported one other through thick and thin despite vast cultural differences is nothing short of a love story penned by Cupid himself.
They are the picture of true love after nine years of dating and nearly ten years of marriage. The real beauty of their connection is that they have yet to find an answer to the question "when love between them officially' happened?" because the transformation from strangers to buddies and love happened so gradually.
Age Difference between Genelia D'souza and Riteish Deshmukh
Despite the fact that Riteish is 9 years elder than his wife Genelia D'Souza, the happy pair has never been apart for very long and is constantly seen together with their two beautiful children. They complement one other so well that their age difference hardly matters.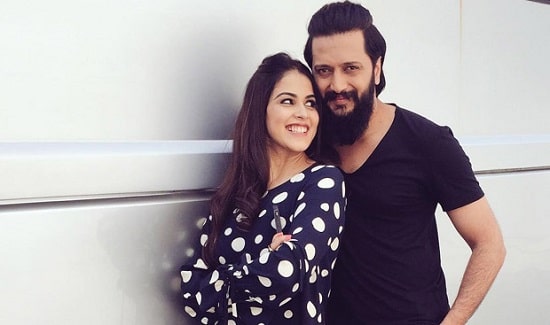 There are also many Bollywood actors and actresses who are a living proof that age is merely a number; when it comes to finding a life partner.
They met in college, fell in love, and kept their relationship a secret for years until finally getting married in 2012.
The couple honored the traditions of both their Christian and Maharashtrian families by holding a Christian ceremony as well as a traditional Maharashtrian wedding.
First, they had a traditional Hindu wedding, complete with all the necessary Marathi ceremonies. The following day they held a traditional Christian ceremony.
Their wedding must have been a spectacular event. Everyone from big politicians to Bollywood stars to business moguls was present at this spectacular event.
More about Genelia D' Souza and Riteish Deshmukh
Genelia was born in the year 1987 on 5th august in Mumbai, while Riteish in 1978 on 17th December in Mumbai.
We may all take inspiration from this couple's story of growing from young love to a happy marriage.
Riaan Deshmukh, a healthy and handsome baby boy, was born to them on November 25, 2014, exactly two years after their wedding. Rahyl Deshmukh, their second son, was born on the first of June 2016. They are not only a cute pair, but also wonderful parents.
They have remained faithful to each other through thick and thin, and now they share their lives out of a deep well of love and respect. You may discover lots of adorable images and PDA videos of them on their social media accounts. Their followers are entertained by the humorous videos, posts, and tales they share.
Santosh Kumar, He is a SEO + Blogger have 12 years of experience in writing tutorial, informative and product reviews topics.