The Sri Aurobindo Ashram is a popular tourist attraction in Pondicherry. The world-famous Sri Aurobindo Ashram provides a peaceful haven away from the hustle and bustle of daily life, and it actively encourages its visitors to take some time for them.
The Sri Aurobindo Ashram is a famous tourist destination in Pondicherry for good reason: the tranquil atmosphere makes it ideal for meditation and spiritual reflection.
The magical interior of this shrine will take you away to another universe, while the breathtaking surroundings of the ashram will astound you and add a sense of majesty to the experience.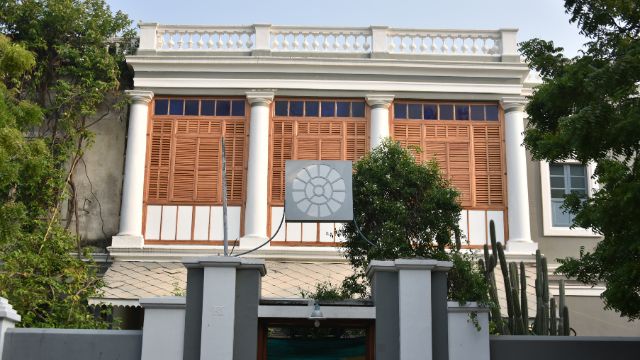 It is one of a kind when compared to other ashrams since it is a buzzing hub of activity and exudes an air of modernity. As a result, it receives tens of thousands of guests from all over the world each year. You shouldn't miss out on seeing what is widely considered to be the most important historic site in the city.
The Sri Aurobindo Ashram may be found in Pondicherry, which is a small beach town located around 160 kilometers southern of Chennai in the southern India. It is most likely that visitors visiting Pondicherry will first need to make a stop in Chennai, regardless of the mode of transportation they choose to use to get there. From Chennai, it is a three-hour drive to Pondicherry.
More about Aurobindo Ashram
The Indian theorist, yoga master, & poet who ultimately went on to establish this amazing ashram was born on August 15, 1872 in Kolkata. He is credited with founding the ashram.
Following the passing of Aurobindo Ghosh in 1950, Shri Mira Alfassa, commonly referred to as "The Mother," took complete authority of the ashram that he had founded.
The operations of the ashram are overseen by a public charity trust, which is responsible for ensuring that the monastery's original mission & ideals are upheld.
Procedure & eligibility to be a part of Aurobindo Ashram
It is possible to join the Aurobindo Ashram by submitting an application either online or through the mail. Because they need a minimum of fifteen days to fulfill the request you made, they beg for your patience in the interim.
If after 20 days you haven't gotten your membership card, or if you have additional concerns regarding your membership, send an email to them at membership@aurosociety.org.
When you become a member of this ashram, you are committing to bettering yourself in some way.
You will have access to all of their publications and member-only messages once you become a member. Additionally, you will be able to get occasional updates on our progression.
Whoever subscribes to this service will have the option of having either the monthly publication, All India Magazine, or the weekly newspaper, Hindu, delivered to their home. They can also choose to receive both publications.
Becoming a part of the ashram is only the first step towards joining the organization. It is strongly suggested that new members begin by going through the fundamental training.
Make sure you give yourself enough time every day to read anything from Sri Aurobindo and the Mother's works, and pay attention to what comes to aid you in your own personal inquiry while you do so.
Spend some time solo every day to think about your place in the world
Give the Society's cause your whole attention and support for one hour every day without asking anything in return.
Santosh Kumar, He is a SEO + Blogger have 12 years of experience in writing tutorial, informative and product reviews topics.