Get ready to experience paradise on Earth at Art of Living Ashram without leaving your home. You may experience a best adventure on the Art of Living Global Center's 250 lush acres.
The Art of Living Worldwide Center offers a number of programs designed to help you unlock your full potential, and they also provide Bus Tours of their breathtaking facilities.
The members of the Art of Living group appreciate everyone's visit. The Sanskrit term shram implies "effort," while the term ashram depicts a place where life is easy.
There is only one rule at this ashram, and that is to bring all your troubles with you and then leave them behind.
The ashram provides its occupants with the strength they need to face the great obstacles of daily life.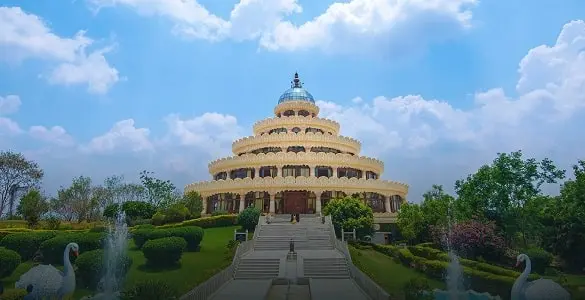 The Art of Living ashram was founded in 1986 in the suburbs of Bengaluru, Karnataka, southern India, at the Bangalore Ashram. This ashram is a model for the Art of Living since it combines traditional and cutting-edge methods.
Residents can choose from a variety of residential courses of study, from a foundational course to the internationally renowned Sudarshan Kriya to a more extensive study of one's own internal world in the Higher Course, not to mention weekly contemplative walks as well as exploration inside the ashram.
The nighttime Satsang is a must-attend; it has revolutionized the way majority young people view satsang by getting them together to perform, dance, & meditate to songs honoring a diverse range of oddities and deities.
Participate in the ashram's (volunteer work), from making and serving meals to cleaning the grounds, and experience the sense of accomplishment that comes from helping to maintain the place we all call home.
Procedure and eligibility to join Art of Living Ashram
Get in touch with the Art of Living by visiting their website and calling the number indicated for the local beginning course (Sahaj Samadhi Dhyan Yoga, happy program, wellness program Silence retreat, and Sri sri yoga deep dive, etc.).
This is how you can be a member of Art of Living Ashram.
Get in touch with registration desk
The Registration/Housing Desk is located within the building's main entrances (Gates 4 and 5). After signing in at the desk, participants will be allowed access to the venues where the courses will be held.
There will be no onsite signups permitted. Your room assignment in a shared residence will be determined by the number of current residents and your choices for roommates.
The ashram will offer a relaxing and uncomplicated setting for your vacation. All the basics are provided: a bed, a blanket, a pillow, & clean sheets. Each room has its own attached bathroom. Hot water is provided between the intervals of 5:00 – 7:00 in the morning. Monday – Saturday, 9 a.m. to 7:30 p.m. and again from 9 p.m. to 10 p.m. Its gets Open between 9 AM – 4:30 PM & 6 PM to10 PM on Sundays.
For additional assistance, contact at their official number 8067262626 or visit their website at www.artofliving.org
Santosh Kumar, He is a SEO + Blogger have 12 years of experience in writing tutorial, informative and product reviews topics.