The controversy behind the effectiveness of a slimming belt remains a mystery for many people. Various top brands featuring slimming belts claim that it helps you to drop weight at home. What is the truth behind this? Can these instruments help to overcome obesity? If you are someone who's looking forward to purchase a slimming belt then keep reading this article. We are going to deliver all the relevant information about slimming belts. The effectiveness of a slimming belt is a questionable remark! Are you using these belts from ages yet cannot find any difference in your weight? The major fault prevails in the technique of utilizing these belts. Let us briefly discuss a few points that enhance the productiveness of a slimming belt-
1. Getting familiar with the mechanism of slimming belts
Expecting too much is wrong unless you don't know about its accurate action. Getting familiar with the mechanism of body slimming belt will make you aware of your body. It will help you to use it more effectively. Expectations always lead to disappointment therefore work more expect less. Slimming belts are made from thick fabric. When this is wrapped around your waist, it generates heat. This heat is generated from fat cells which ultimately show as sweat in your skin. The best way to know about the efficacy is to check the amount of sweat generated. The sweat generation and weight loss go hand in hand. Don't forget that this weight loss is temporary; you can easily gain the same amount within a day.
2. Know your BMI score
Use a Fat scale, BMI plays an important role in detecting your body weight. It has several ranges that classify you under the following category; malnourished, underweight, healthy, overweight, obese, and very obese. Once you get to know your body weight, you can easily set up a regimen for yourself and work on it. People who fall under the category of overweight and obese must include diet chart and exercise in their plan along with the slimming belt. People with a healthy weight can opt for moderate exercise with a slimming belt on. This allows you to shed more calories during a single workout session.
3. Focus on body shaping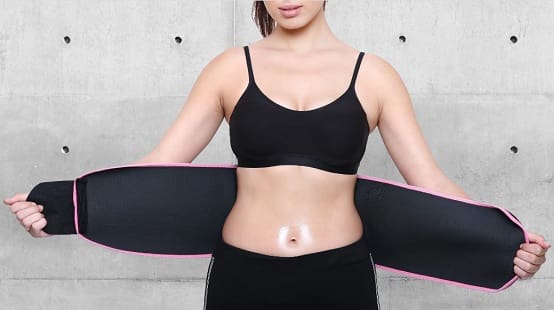 Body shaping is a hyped topic among present-day youths! Everyone wants to be fit and healthy but one cannot achieve it merely by sitting with a slimming belt on. For instance, if we take two women who weight 60kg, one of them has more fat on thighs and hips while the other has an apple figure. The second female needs to shed weight from the belly region. Therefore you must know the target area. Wrap the slimming belt around the belly area when performing exercise to see better results.
4. Proper technique of wearing the belt
The belt should properly fit around the target area. Some belts come with Velcro while others have hooks. When the abdomen area is focused, make sure that the ends of the belt meet at navel.
5. Check the fabric of the belt
Make sure to select a non-irritable fabric when buying a slimming belt. The irritation caused to your skin while wearing these belts makes you remove it. This causes hindrance in the slimming process. Choose a soft and wearable fabric so that your skin remains healthy and safe.
6. Clean it after every use
Slimming belts should be cleaned after every use. If not done properly, the sweat accommodated in the inner section of the belt will irritate your skin on the next use.
7. Read the manual carefully
Slimming bands of every brand comes with a reading manual. This manual should be read thoroughly as it has various important instructions about the use and side effects of the product.
8. Your diet play 70 percent role
Wearing the belt alone is not sufficient to lose weight. If you are looking for a permanent weight loss solution, know that diet plays a major role. Every successful weight loss story has a balanced diet in their daily regimen.
Using a slimming belt extra efficaciously makes you lose more water from the body. This leads to a loss in body weight and causes detoxification of the body. Judicious use of slimming belts show results more expeditious than vague use. We hope you are ready to use a slimming belt now. Happy shopping!
Santosh Kumar, He is a SEO + Blogger have 12 years of experience in writing tutorial, informative and product reviews topics.