When it comes to safety, step ladders are considered as the safest and most reliable ladders for the homeowners. Even if you haven't used the ladders before, the step ladders can be considered as the most comfortable ones to consider.
However, if you are using step ladders for home purposes, there are a few safety measures that you shouldn't overlook. We are listing some of these points that can help you use the ladder properly and safely. So, let's get started.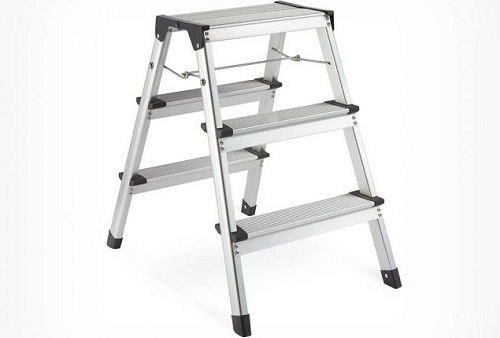 Make sure that the locks are in place
Locks are the most important things for step ladders. The different brands and models have different types of safety locks that not only make the steps more stable, but also help them to stay in their place.So, before start using the step ladder we will suggest you check the user manual of your step ladder so that you can easily know how you can use the step ladders safely by using the locks and right locking and unlocking mechanism.
Don't use it on wet floor
Another important to consider while using the step ladder is to avoid using it on slippery surfaces and wet floors. Even you have the best quality step ladder for your home, but if you are using it on the wet floor, there are chances that the ladder will slip while working. So, if you are looking for better performance without any major safety concerns, you should use it prefer it used on the dry and grippy ground.
Similarly, avoid using the ladder with wet hands or legs. It is essential that you avoid any situation that can lead you to slip from the ladder.
Place the ladder in a stable ground
Apart from using the ladder in a dry place, it is also an important thing that you use the ladder on stable ground with a better grip. By this, you can keep your ladder safe and if you are looking for a perfect performance without compromising with the stability and usability.So, be sure to keep the ladder on stable ground and get the perfect usability and assurance ofsafety.
Be sure of getting a ladder with a better grip on the ground
Another important thing to notice while purchasing a step ladder that is safe and completely reliable is its grip on the ground. Several step ladders have an additional rubber grip on legs to ensure better grip and stability. So, if you haven't purchased the step ladder yet and want to buy a reliable one for yourself, we will suggest you to do research and buy a better ladder with a reliable grip.
These were the four most important tips to follow if you are looking to use the step ladders safely. So, be sure that you follow them, and if you haven't purchased the step ladder yet, we will suggest you to go with a ladder that is easy to use, lightweight, and is extremely durable for everyday use.
Santosh Kumar, He is a SEO + Blogger have 12 years of experience in writing tutorial, informative and product reviews topics.