The jute rugs are basically prepared from the stems of the jute plant and they have a very soft feel. The fibres of jute are highly durable, soft and natural. Jute requires vacuum cleaning but it is a friendly material also. It doesn't matter what kind of home decor you already have, jute blends with every decor in the most perfect way. The jute rugs offer a kind of natural beauty and they are prepared from the dried plant fibres that are left outside for getting the perfect tan shade. Moreover, jute is a material that doesn't require high maintenance.
Advantages Of Having Jute Rugs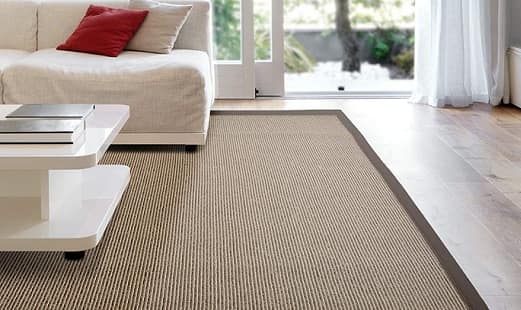 Jute rug is an eco-friendly material. These rugs are prepared from various types of natural fibres and create a soft and warm feel in the room. Moreover, it gives a modern and fresh outlook to the home. Raw jute is basically an industrial item that is used in the manufacture of various products. The colour of this material varies from off brown to white colour and the length varies from 1-4 meters. It has an amazing tensile strength and is also known as the golden fibre. This fibre is renewable and is also quite flexible. The material is woven into rugs that can either be kept indoors or on the porch. It adds on to the beauty of the house. However, it is better to keep it indoors. It helps the home to look even more beautiful and can be made into shiny, soft and long string threads.
What Are The Various Features Of Jute Rugs?
Jute fibre is not very expensive rather it is easily affordable and one of the cheapest materials that are available. Moreover is completely environmentally friendly as it is completely biodegradable. It is also one of the most versatile fibres that are used to prepare the top quality fabric, industrial yarn, net or sacks. It is also suitable for packing agricultural commodities. Also, it has the best tensile strength, better fabrics and the best breathability. It has always been used for the packaging of raw materials, agricultural sectors, textiles, and non-textile constructions.
Jute rugs are beautiful and give a feeling of warmth to the place where they are kept in. These are inexpensive and better than the rugs of any other material.  These rugs are however available in different types, shapes, and patterns. These rugs also serve the purpose of floral beddings, pillow covers, and curtains. Anesthetic sense is captured when you use jute rugs at your home. The jute rugs are also resistant to stains and water. They bring the best texture and warmth to the room.
What Products Can Be Made Of Jute Rugs?
Although jute offers a versatility of products but the carpet, chair coverings, hand-woven curtains, bags, and other stylish indoor-outdoor decors are best made from jute rugs. Bedding, pillows, doormats, jute runner, etc can be prepared from the jute rugs and these can be used as a part of home decor.
Santosh Kumar, He is a SEO + Blogger have 12 years of experience in writing tutorial, informative and product reviews topics.