Kaamnaa is an Indian TV serial that has been premiered on 15th November, 2021. This serial's genre is daily soap opera, and anyone can watch it on the channel named Sony TV. This serial's production company is Cockrow and Shaika entertainment.
Rajesh Ram Singh, Pradeep Kumar, Pai Bajpa are producers of Kaamnaa. This TV serial came upon with a different idea of forecasting love. When the first trailer Promo of this serial was released it got lots of love from the audience and even before the start of the serial so many internet pages were talking about it.
Wiki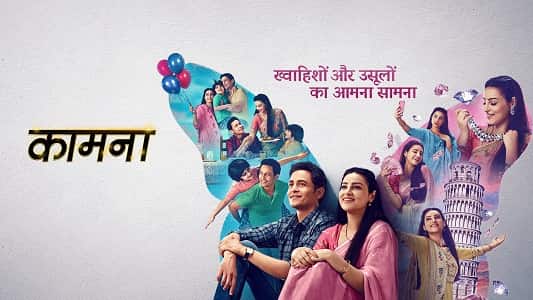 Abhishek Rawat and Chandani Sharma are the lead roles in Kaamnaa playing characters Manav and Akansksha. The ideology of this whole serial is about the middle class married couple who are totally like South and North magnets. This derives that they are totally opposites but still attract each other. Manav Gohil, Tasneem Ali, Tanmay Rishi Shah are another two big names who plays the major role in this TV serial.
Story
In this serial it is showed that how Manav and Akansksha are different from each other and how that affects their relationship. This serial is known to be one of the greatest dramas among all the other dramatic serials. The character Manav is a kind of person who like to be in peace, and he is not greedy, grounded person who revolve around calmness. On the other hand, Akanksha is greedy and thinks money can solve every problem in life.
In the episodes, day by day Akanksha tries to manipulate Manav by saying unnecessary things and butters him to do things that he has never done. Akanksha– a character known for manipulating Manav. Hence Manav is a good hearted human being who is against disputes and fights, perhaps believes in peace so there are many things Manav has never liked doing but he does it anyway to make his wife and family together, happy and to avoid disputes.
But somehow even after doing everything for his family, they keep having bad days and fights. This case makes his mental state worse and his state of mind never happened to be stable since he did the wrong deeds. So to sum it up it's something like this: The show concentrates on the sentimental journey of Manav, an ordinary, affectionate caring and loyal spouse of Akanksha and a doting dad of a 6-year-old, Yatharth Bajpayee. Well on the other hand Akanksha, a greedy woman opposite to Manav. Manav and Akanksha have distinct points of view on beliefs and preferences.
Timing
This show telecasts at 08;30pm on Sony TV every day except the weekends. Running time for Kaamnaa is 22 to 25 minutes. An OTT platform where you can watch Kaamnaa is Sony Liv App. Also, some other apps telecast or upload daily episodes of this serial. You can watch this serial free on some of the platforms but some of them will require membership.
Cast
Abhishek Rawat seen as Manav Bapjpayee
Chandani Sharma seen as Akanksha Bapjpayee
Manav Gohil seen as Vaibhav Kapoor
Tanmay Rishi Shah as Yatharth Bajpayee (Manav and Akanksha's son on Kaamnaa)
Supportive role
Naina Birthareseen as Leena
Ashwin Kaushalseen as Kaushal
Komal Sharma seen as Kavita
Divya Sehgal seen as Suman Manchanda
Khushboo Sawanseen as Ekta
Apart from these actors, there are many actors who play different roles in the serial Kaamnaa.
Hence this serial has been going in very good flow since it is aired. A great amount of audience watches this TV show and reviews are also quite good among all the operas.
Santosh Kumar, He is a SEO + Blogger have 12 years of experience in writing tutorial, informative and product reviews topics.