You must have heard about the Kukke Subrahmanya temple located in Karnataka. This temple is dedicated to Lord Subrahmanya. People from other corners of India come to this temple to offer prayers to the lord. The famous Sarpa Samskara Pooja is performed in this temple. It is well-known for this pooja. If you glance at the idol of the lord in this temple, you will see that Lord Subrahmanya is standing above serpents, Vasuki and Shesha. The idol has a different power which is hard to describe in simple words.
Puja timings of Kukke Subramanya temple
If you want to offer pooja to this temple, you must have a good idea about the pooja timings. Let us try to find out the pooja timings.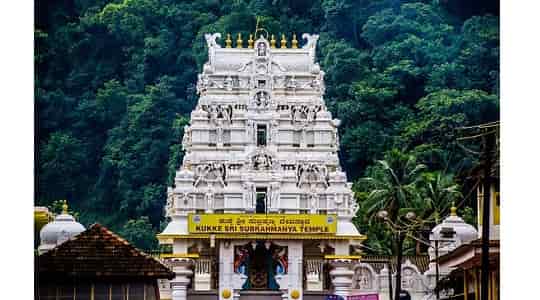 | | | | | |
| --- | --- | --- | --- | --- |
| SL.No. | Temple rituals | | From | To |
| 1 | Morning darshan | | 6.00 AM | 1.30 PM |
| 2 | Evening darshan | | 3.00 PM | 8.00 PM |
| 3 | Ushakala Pooja | | 5.30 AM | 6.00 AM |
| 4 | Noon Pooja | | 10.00 AM | 12.15 PM |
|  5 | Theertha Prasada | | 12.30 PM | 1.30 PM |
| 6 | Annadanam | | 11.30 AM | 2.00 PM |
| 7 | Hannukai Seva | | 3.30 PM | 6.00 PM |
| 8 | Nisha Pooja | | 6.00 PM | 7.45 PM |
What pooja's are performed in the Kukke Subramanya temple?
This temple will offer you with a lot of pooja options. The first and foremost essential pooja performed in this temple is Ashlesha Bali pooja. The pooja is done in two slots, one at 7.30 am, and another at 9.15 am. You can come in any of the slots. Most devotees firmly believe that month of Shravan and Karthikai is ideal for this pooja. During this time, the temple remains crowded with devotees from various parts of India.
Mahapooja is done in this temple on behalf of all the devotees. It takes a lot of time and effort. Panchamritha Abhishekam is done in this temple by the priests. If you are interested, you must try to catch this moment. The idol is given a bath with five amrits milk, ghee, honey, sugar and curd. It is a beautiful moment. You can also come to have a glance at the Karthik pooja done in this temple. The whole temple is filled with lights. The entire temple gets filled with the recitals of hymns from Karthik Purana. It is an auspicious moment for the devotees present in the temple.
What is unique about the Kukke Subrahmanya temple?
It is a renowned temple of southern India. Kukke Subrahmanya is one of the seven sthalas in Karnataka. The devotees of this temple strongly believe and think that the land of the temple belongs to Parashurama. A group of Lingas named Kukke is still to reside in Karnataka. The ancient scriptures of Lord Subrahmanya state that it installed three Shiva lingams in three parts of the temple.
Similarly, many Gods and Goddesses also followed it and installed Shiva Lingas in various parts. With time, they were collected and put in one place at Kukke Subrahmanya temple. This temple has played crucial role in various Yugas. People who are strict followers of Lord Vishnu come to this temple to offer prayers.
Santosh Kumar, He is a SEO + Blogger have 12 years of experience in writing tutorial, informative and product reviews topics.