One of the most popular Indian cartoon series is Sab Jholmaal Hai. Kids just love this funny series. The best thing that attracts a lot of kids is it is available in five different languages – Telugu, Hindi, Bengali, Tamil, Marathi and Malayalam. It is also popular with the name Honey Bunny ka Jholmaal.
The story is all about four different pets – two cats, one parrot and one dog, and they live with Miss Katkar. They always go on funny adventures and spend time together. As part of these adventures, they also try to save their town in many ways and help the poor.
Some important characters of Sab Jholmaal Hai: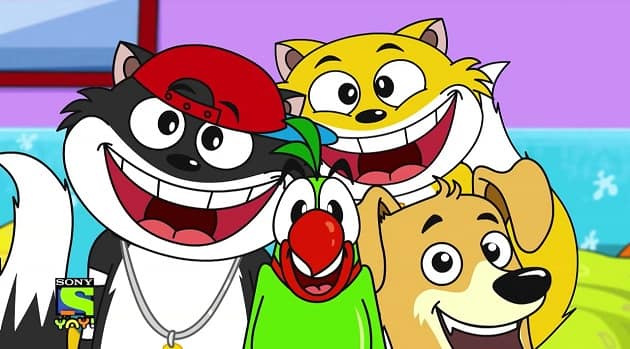 Honey
Out of the two cats in this cartoon series, Honey is one. It has yellow and white fur and looks very cute. The other cat is the twin brother of Honey. Sometime Honey is also called as Gadha as he is a little dumb. He cannot decide what is right for him or what is wrong. He cares a lot for this brother and friends. Honey never lets any hurt his brother or friends.
Bunny
The next character in this amazing series is Bunny. Bunny is also a cat and he is the twin brother of Honey. It has white and black fur. He is one of the most active characters in this movie. It is very smart and also loves to play pranks with his friends and others in the town. He is also very much interested in saving people and helping them.
Zoordar
Zoordar plays the role of the friendly dog in the house. He always takes care of work at home and helps Miss Katkar in completing house chores. It loves all his four friends and tries to help everyone. He has the best brain and always comes up with good plans that help the four friends get out of any trouble.
Popat
Popat is the parrot and is green in color. He always assumes that he is the most smart person among all four people. He just hates to eat chilies and it is a fun-filled character. He loves to go on adventures along with friends and have a lot of fun.
Miss Katkar
The next main character in this cartoon series is Miss Katkar. The house in which these four characters live belongs to Miss Katkar. She loves these pets a lot and treats them like their own children. She works in the day time and hence she is not aware of all the mischiefs done at home.
Mr. Khanna
Another important character in this series is Mr Khanna, who is the neighbour of Miss Katkar. He always does shayari and keeps disturbing people around him. He is a fun-loving character and works as a bank manager.
This is one of those very interesting comedy cartoon series that keeps the kids busy and entertaining. All the characters are fun-loving and have a lot of fun.
List of Other Cartoon Shows
Santosh Kumar, He is a SEO + Blogger have 12 years of experience in writing tutorial, informative and product reviews topics.