Keymon Ache is one of the reputed cartoons serial that is famous in the animated world. Most kids love to watch this serial. It is so exciting and lovely that your kids will fall in love with it. This serial is one of the first non-mythological cartoons serial in India. The story is based upon an ordinary boy. The boy received a bag from his father that changed his life forever. The story is all about the little boy and his various phases. Your child will love to watch it. Keymon ache is the main character of this serial. He arrives in the form of a school bag from Japan. He comes to a Toyland and gets mixed with other toys. The main thing is that he speaks only toyish languages. He always uses a vocabulary like Appal Pappal Chappal Chaat that means Sunlo Meri Baat.
Keymon Ache Cartoon Characters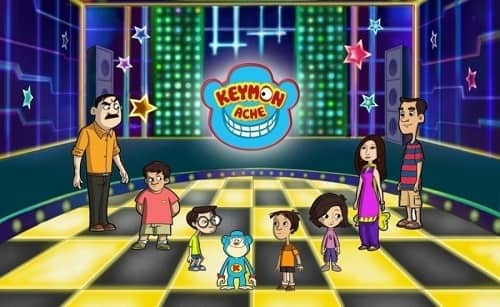 In this part, you will learn about the main characters of this serial. It will be a fun-loving event to know about their characters.
Rohan Tendulkar:
He is the principal character of this serial, which is an ordinary boy. He consistently misuses the magical powers of Keymon. He always wears  black pants and a yellow T-shirt. He has three main friends who are named as Rahul, Mini, and Sid. They all live in the same apartment as Rohan. His teachers always punish Rohan because of the various notorious acts of Keymon. He is average in his studies. But he is good at sports.
Rohan's Mother:
She is the mataji or mother of Rohan and Keymon. She loves Rohan more than anything. However, she gets angry when Rohan does anything wrong. Rohan's father and mataji overlooked Keymon as a living being. Her name is Radha Tendulkar.
Rohan's father:
The name of Rohan's father is Shyam Tendulkar. He is a good person. He gifted his son Rohan a magical bag. But he was unaware of the truth of the magical bag.
Rahul:
He is another friend of Rohan who lives in his apartment. He is physically weak and wears a glass as he has poor vision.
Mini:
Mini is a friend of Rohan who also resides in the same apartment. He is a Tomboyish character girl. Both Rahul and Rohan have a crush on Mini. She loves to play various types of games.
Sid:
Sid is a naughty boy who always makes a fool of Rahul. He is a smart and notorious guy. Sid is strong and significant.
Mishra Sir:
He is the teacher in Rohan's school. He always teaches the student with great care and attention. Everyone loves to do Mishra sir's class.
Thus these are the principal character of the Serial without whom the serial appears to be incomplete. Each of the characters has a unique role to play. All of them are so interesting that the little ones would always love to watch the serial. You can try it once for your kid.
List of Other Cartoon Shows
Santosh Kumar, He is a SEO + Blogger have 12 years of experience in writing tutorial, informative and product reviews topics.