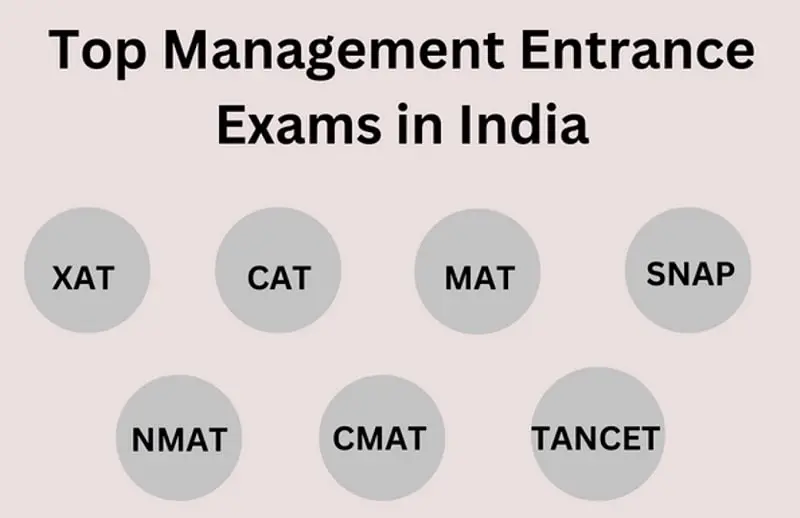 Getting admission into the top B-schools is a dream come true for many candidates who aim to secure their careers in the management fields. To be eligible for admission into prestigious management colleges, candidates should appear for at least one national or state-level entrance exam. Many institutes consider marks/cutoffs obtained in the benchmark exams set by them, while many others consider the scores obtained in multiple exams. For instance, IIMs consider scores obtained by the candidates in CAT only, whereas some prestigious universities may consider scores of CAT / MAT / XAT. Hence, candidates are advised to have a deeper insight into the entrance exams conducted for admission to an MBA.
Latest Updates on MBA Admission 2023:
CAT exam will be conducted on November 27, 2022.
Last DATE to apply for NMAT is 31st October 2022.
SNAP exam registrations have begun and the last date to apply for the same is November 24, 2022.
Registrations for XAT are open now and will last until November 30, 2022.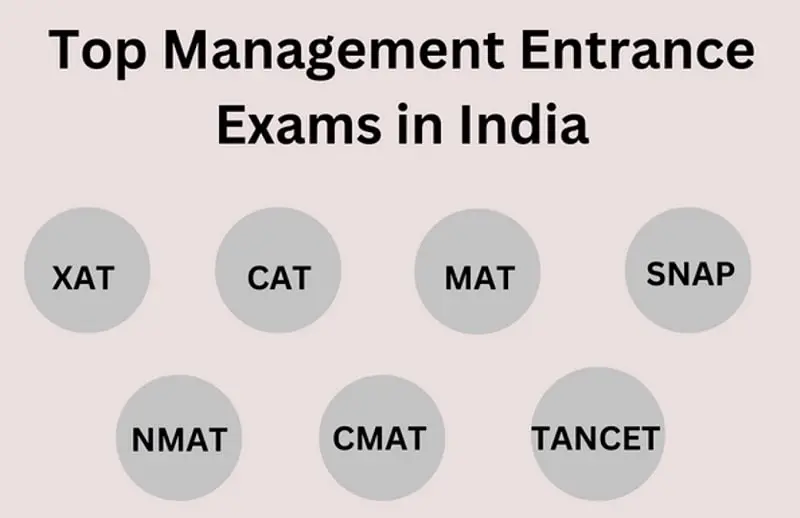 XAT 2023
XAT Registration 2023 begin shortly after the official notice for the exam was given by the conducting authorities on August 10, 2022, and will go on until November 30, 2022. XAT 2023 is scheduled to be conducted on 8th January 2023. Top colleges according to NIRF rankings accepting XAT 2023 scores are – XLRI Jamshedpur, Xavier Institute of Management, Bhubaneshwar, MICA Ahmedabad, S. P. Jain College, Mumbai, FORE – Delhi, K. J. Somaiya Institute of Management, Mumbai.
MAT 2022 – December session
Management Aptitude Test (MAT) is a National Level test conducted by the All India Management Association (AIMA). The exam is conducted 4 times a year in 3 different modes i.e. Computer Based Test (CBT), Internet Based Test (IBT), and Pen Paper Based Test (PBT). The MAT Question paper comprises 200 questions in total and the paper is divided into 5 different sections.
MAT 2022 Registration for the December session will begin on 21 November to 14 December 2022 and the exam will be conducted on 24 Nov, 3, 10 and 17 December 2022. Candidates need to apply for the exam online and download the admit card before appearing for the exam.
The top 5 Institutes as per the NIRF ranking accepting MAT scores are – Amity University, Noida Dr D. Y. Patil B school, Pune; ITM University; Christ University; and GITAM Institute of Management.
CAT 2022
Common Aptitude Test (CAT) is organised by the Institute of Management (IIMs) at a National Level for candidates seeking admission into top Management Institutes across the country. The exam is conducted in online mode for 2 hours. CAT 2022 Registrations have been closed and the exam is set to be organised on November 27, 2022.
CAT is universally accepted by a major chunk of Top B-schools. The top 5 B-schools in India accepting CAT 2022 scores are IIM Ahmedabad, IIM Bangalore, IIM Calcutta, IIM Lucknow, and IIM Kozhikode. CAT is a tough exam to crack, and in order to do so one should solve CAT Question Papers. Candidates should do thorough research about the cutoffs for their desired stream and the admission process post clearing the cutoff as many of the top institutes have different rounds before finalising the admission of a candidate.
SNAP 2022
SNAP or Symbiosis National Aptitude Test, conducted by the Symbiosis International University at National Level. SNAP is considered to be a little tricky but at the same time has a difficulty level lesser than other MBA entrance exams and is accepted by over 15 top Management institutes in the country.
The last date for SNAP 2022 Registration is 24 November 2022. SNAP 2022 is set to be conducted on December 10, 18, and 23, 2022, while the final merit list for the same is expected to be released in the month of March, 2023. The question paper comprises 3 sections and candidates are expected to avail the minimum qualifying scores in each section.
SNAP is accepted by over 15 institutes, the top 5 institutes that accept SNAP are Symbiosis Institute of Business Management Pune, Symbiosis Institute of Computer Science and Research Pune, Symbiosis Center for Management and Human Resource Development, Symbiosis Institute of International Business and Symbiosis Institute of Operations Management, Nashik.
NMAT 2022
NMAT is a National Level Management Entrance Exam conducted by the GMAC – Graduate Management Aptitude Council every 4 months i.e. 3 times a year. NMAT Registrations 2022 will be closed on 31 October 2022. NMAT exam is conducted over a period of time and not on a single day i.e. the exam can be conducted from October 10 to December 19, 2022.
Candidates will receive updates regarding their exam dates on their registered email addresses and phone number. The exam is conducted in online mode only and the duration of the exam is 2 hours with 108 questions to be answered.
NMAT scores are accepted by over 40 institutes across the country and about 16 institutes located overseas. The top institutes as per the Times ranking accepting the NAMT 2022 scores are XIM Bhubaneshwar, VIT Vellore, SRM University Chennai, K. J. Somaiya Institutes of Management and Shiv Nadar University Noida. Candidates should go through the websites of the institutes individually to check their cutoffs and any other updates. Also, there are various rounds such as GD, PI, and the overall scoring based on all the 3 rounds to calculate the final list of students.
CMAT 2023
CMAT is conducted by the National Testing Agency (NTA). CMAT 2023 is expected to be conducted on March 26, 2022, i.e. the morning shift (9 am to 12 noon) and the afternoon shift (3 p.m. to 6 p.m.). The questions paper comprises 100 questions in total and 5 different sections. CMAT 2023 registrations tentatively be begin on 26 December 2022.
Out of all the participating institutes, some of the top institutes that consider CMAT scores while providing admissions are JBIMS Mumbai, SIMSREE Mumbai, Great Lakes Institute of Management Chennai, GIM Goa, SIMSR Mumbai and PUMBA Department of Management Sciences.
TANCET 2023
Tamil Nadu Common Entrance Test (TANCET) is a state-level entrance test conducted to provide admissions to candidates in the Management schools located in the state of Tamil Nadu. The exam is conducted to provide admission priority to the candidates resigding in the state and give them more opportunities. TANCET 2023 will be conducted on February 25 and 26, 2023 and the registrations for the same will begin by the end of the year 2022 and will last until the end of January 2023.
All the Management institutes located in Tamil Nadu state accept the TANCET scores to offer admission. A few of the institutes that top the list as per their rankings by NIRF are SRM University Chennai, College of Engineering Guindy, Loyola College Chennai, NIT Coimbatore, ITM Business School Chennai, St. Joseph's Institute of Management, and Jamal Mohammed College.
Top 10 Management Colleges in India
The table below provides details about the entrance exams accepted by the Top 10 Management institutes in the country and the courses offered by them:
| | | | |
| --- | --- | --- | --- |
| College | NIRF Management Ranking 2022 | Management Courses Offered | Accepted Management Entrance Exam |
| IIM Ahmedabad | 1 | MBA, E-PGP, PGPM, PGPX | CAT |
| IIM Bangalore | 2 | PGPM, PGPEx, MBA, PhD | CAT |
| IIM Calcutta | 3 | PGP, PGPEx, PGPEx-VLM, PGDBA | CAT |
| IIT Delhi | 4 | Certificate, PGDM, MBA, PGPEx, M.Sc. | GATE, CAT |
| IIM Kozhikode | 5 | PGP, PhD Management, PGP-F, MBA, MDP, FDP | CAT |
| IIM Lucknow | 6 | MBA, PGDM, PGPEx, FPM | CAT |
| IIM Indore | 7 | PGDM, MBA, PGPEx, IPM | CAT |
| XLRI | 8 | MBA, GMP | XAT |
| NITIE Mumbai | 9 | PGDIE, PGDIM, PGDSM, FPM, PGDPM | GATE |
| IIT Madras | 10 | EMBA | GATE |
Santosh Kumar, He is a SEO + Blogger have 12 years of experience in writing tutorial, informative and product reviews topics.