Mixer grinders and hand mixers are two important house appliances that are meant for blending items but differently. They certainly perform a different mixing process. They are often mistaken as the same, and it is considered that they perform the same tasks. Mostly the grinder is used for grinding substances into a smooth and powdery item. On the other hand, mixers are used to combine or blend two different substances.
Now, let's see in detail about the mixer grinder vs. hand mixer and also its respective and pros and cons.
Mixer grinder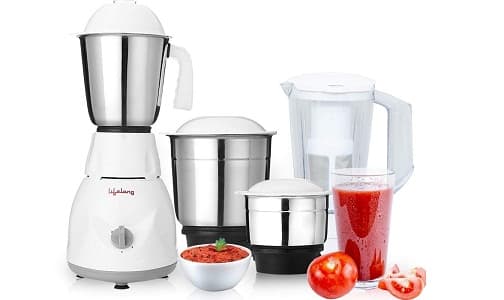 The core of any grinder is a powerful motor. A mixer grinder is a versatile appliance that fulfills all your grinding requirements. Several mixers are specifically designed for grinding both wet and dry items. Anything can be made into a powdered substance with the help of a mixer grinder. For example, you can grind two different coffee seeds in a mixer to make one single coffee powder.
Pros of mixer grinder
Mixer grinders are available with high-speed motors. The customer also gets to choose the power of the motor that ranges from 500 to 750 W. The high-speed motor enables excellent grinding performance.
The sharp stainless steel blade is the most important advantage of any mixer grinder. You can grind items in any consistency you want, such as coarse, paste, and powder. The blade helps to chop, whip, whisk, knead, and slice items.
Another great advantage of a mixer grinder is that they are available in different models and designs. This helps you to choose a mixer that is of great design with excellent performance.
Cons of mixer grinder
The grinders are bulky and may need a large space in your kitchen to fit it.
Grinders are very noisy than any other blenders, so this is the main drawback of using it.
Hand mixer
The handheld mixers provide great convenience to the modern-day kitchens. This device helps to beat, cream, and dough, chocolate, and blends the items. It saves your time and energy that is used to beat items. Hand mixers are one of the popular appliances today.
Pros of hand mixers
Beating dough, cream, chocolate with bare hands is a tough task. For busy lifestyles, the hand mixers are a perfect choice. Therefore, the hardest of substances can be blended with the help of hand mixers.
The hand mixers are easy to lift and light to shift in any place you want. The hand mixers are sleek and compact in design, which helps you to find a spot to keep it in your kitchen easily.
Hand mixers are energy and time-efficient. They save energy, electricity, and space in your kitchen. Hand mixers are also available at affordable rates.
Cons of hand mixers
As it uses less energy, the device may not be flexible. The high-end models can be expensive.
Some of the hand mixers can be noisy. This sound may be troubling for some users.
The main purpose of both these appliances is to mix stuff. Therefore, it can be said that a hand mixer is a handheld appliance that is used for blending purposes, and the mixer grinder is a solid appliance to grind items. Depending upon your requirement, any one of the devices can be purchased.
Santosh Kumar, He is a SEO + Blogger have 12 years of experience in writing tutorial, informative and product reviews topics.