The people who want to get an Indian Passport to travel in foreign countries with the Indian government's protection should have a passport. No one is allowed to travel in foreign countries without owning a passport. If you are planning to get a passport, then, first of all, you will have to book your appointment to the Regional Passport Office/Passport Seva Kendra. You can do this by visiting the online website of Passport Seva from where you can fill up your application form and then you can also pay the fee for it.
After booking of an appointment, you will get your ARN receipt which you can take to the RPO as per your scheduled date.
Easy process to apply for New Indian Passport
These days, it has become effortless to apply for your passport due to the presence of the internet. You can go to the official website from where you need to go to the 'Apply' tab. If you are not an existing user of the site, then you have to create your account. You have to add the place where you want to register your passport, and it will depend on your current address. There can be four reasons to apply for the passport, and you need your application according to it. You can choose from the Fresh passport, diplomatic passport, identity certificate, and PCC. Here are the steps after choosing your application form:
Fill up your application form with correct details, or you can also download the form from this site https://portal2.passportindia.gov.in/AppOnlineProject/online/procFormSubOnl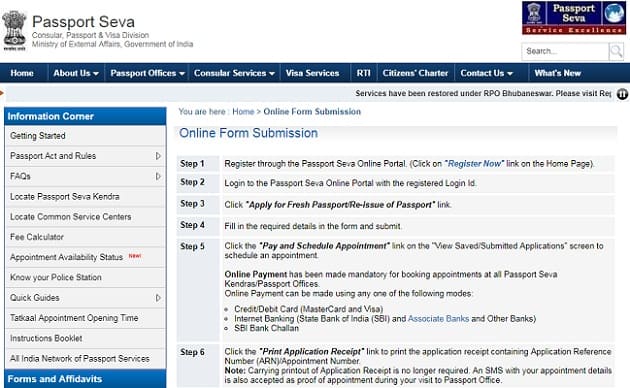 You will be required to choose a passport type according to your requirements.
On the passport application, you will be required to add your family details, passport type, three present addresses, emergency contact, self-declaration, and previous passport(if you have any).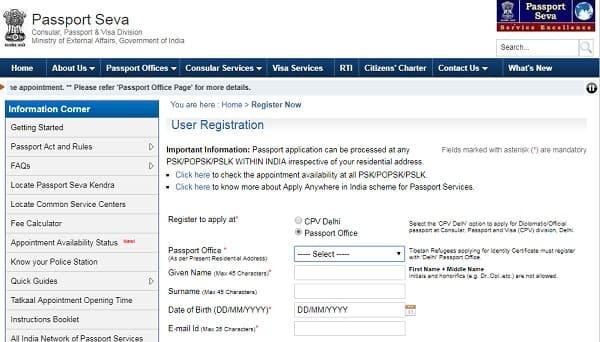 You will be required to book your appointment at Passport Seva Kendra, where you need to be available on the given date and time.
After filling up your form, you will get your ARN receipt, and you can also print your submitted application form. You can also track your application status after the form has been submitted along with the fee. If someone wants to make a tatkal application, then the person has to hand over the payment in cash at PSK.
How many fees do you need to submit to get a passport in India?
Regular passport application fee
The candidates who are applying for the ordinary passport can get a new passport by paying a fee of Rs.1500/-. If someone needs 60 pages of the booklet, then he/she has to spend several Rs.2000/-. The minors have to pay Rs.1500/- to get their passports.
Tatkal passport application fee
If someone is looking forward to making a tatkal application, then that person can get a fresh passport valid till ten years for Rs.3500/- with 36 pages of the booklet. To get the 60 pages of booklet in tatkal, the applicants need to pay several Rs.4000/-. The minor applicants will be required to pay an amount of Rs.3500/.- to get the passport with 36 pages booklet.
Necessary documents to get a passport
While applying for the Indian Passport, you need to submit your application form along with some essential documents. You might apply for the new passport through the tatkal or standard application, and the age proof and address proof needs to be submitted by everyone. The evidence of address can be the current bank passbook, voter ID card, water bill, gas connection proof, Aadhar Card, rental agreement, or electricity bill.
The applicants need to provide age proof in the form driving license, Aadhar card, birth certificate, or Voter ID card. The PAN card is also accepted as the age proof when you are submitting your passport application.
Santosh Kumar, He is a SEO + Blogger have 12 years of experience in writing tutorial, informative and product reviews topics.