Oppo K10 5G was launched in the middle of this year, which was quite late but Oppo kept the pricing of this smartphone really aggressive, and that's the prime reason it has been performing quite well in the Indian market. When Oppo K10 5G launched in the month of June, the hype for this smartphone was at its peak, and people were waiting for this to launch in India at a good price point. And that is what Oppo did, now people had a much more affordable option with good specifications, and 5G connectivity.
In the performance department, you won't have any issue using it regularly as well as if you prefer moderate gaming. That's because Oppo K10 5G comes with the Mediatek Dimensity 810 processor, 8GB RAM, and 128GB ROM. Along with that, other specifications and features are pretty decent, which ultimately makes it a good deal under a 20k budget. Therefore thousands of people bought this smartphone within the first month of its launch.
However, there are some people complaining about their Oppo K10 5G not charging. And possibly there could be many reasons behind that. Therefore we came up with this detailed post on the root causes behind your Oppo K10 5G not charging properly and their possible fixes. So let's get down to it and find out what you should do to resolve this charging problem with your Oppo smartphone.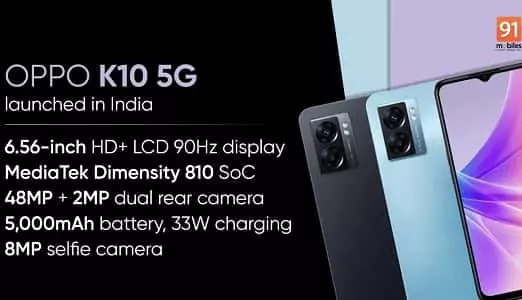 Troubleshooting Oppo K10 5G not charging issue
The following could be the reasons why your Oppo K10 5G is not charging:
Issue With The Type-C Port
Ruptured Charging Cable
Broken Charging Adapter
Software Issues
Issue With The Type-C Port
It is possible that you are facing a charging issue with your Oppo K10 5G because there is something wrong with the type-C port of your device. In most cases, people have charging issues with the type-C port when the charging port is blocked because of dirt buildup. And to resolve that, just use a metal needle to clean it carefully or pay a mobile repair professional to do so. However, if you have been using Oppo K10 5G with a case that comes out of the box, then the chances of the type-C port being clogged or blocked are pretty slim. That's because the clear case of Oppo K10 5G is designed in a way to prevent dirt from going inside the charging port of the device.
Ruptured Charging Cable
If you found out that there is nothing wrong with the charging port of your device, then it could be the ruptured charging cable that is causing the problem. To verify that, simply try to connect your Oppo K10 5G to a PC/Laptop using the same USB cable. If the PC or laptop fails to detect your Oppo K10 5G, then for sure the problem is with the charging cable itself. That means you have to buy a new USB to Type-C cable, but we'd recommend investing in a braided one.
Broken Charging Adapter
Oppo K10 5G's charging adapter/brick is a little heavy and big in size, and it could be that you may have accidentally dropped it and that's why it is malfunctioning. To check whether it is the charging adapter that is causing the problem, just use another similar output adapter to charge your smartphone, and you'll know it instantly. Again, in the case of a broken charging adapter, you just have one option, which is to buy a new one. But don't buy a cheap one, always invest in an original phone charger, or buy a decent one with the same power output.
Software Issues
People usually don't realize but sometimes it happens when the charging issues like not charging, slow charging, and disconnecting issues could be related to software problems. And if you have already tried everything else that we have mentioned in today's post above, then there is a higher chance it is a software-related problem. To resolve this issue, just follow the steps given below, and you'll be good for the most part.
First things first, reboot your device and try to charge it again. If that doesn't work, then just go to the settings of your Oppo K10 5G and search for the "System Update" option. See if there is any newer operating system update available or not, if yes then simply update your device OS to the latest version and this should fix the charging problem.
In case you are still having the same issue, we'd suggest you factory reset your smartphone by using the option Factory Reset from the settings menu. Or you can press the power and volume down buttons together to open up the BIOS of your device, and from there you can hard reset your device.
Things and fixes mentioned in today's post would work just fine in most cases. But if you are having the same charging issue over and over again, we'd recommend you to visit the nearby Oppo store for the solution.
Santosh Kumar, He is a SEO + Blogger have 12 years of experience in writing tutorial, informative and product reviews topics.