The basic requirement of modern homes is a pressure cooker. Without it, people cannot make delicious food items at home. However, a range of numbers in pressure cookers might confuse people about which one to buy.
To make yourself sure about purchasing a pressure cooker beforehand, you must examine several parameters.
If you are buying the pressure cooker for the first time, buy the latest model or upgrade to a newer one. The essential qualities you must look for before purchasing a pressure cooker are the material, appearance, safety features, avoid nonstick options and pick the safest option.
The two major types of pressure cookers are aluminium and steel. So without any further ado, let's begin with the primary comparison between them.
Types of Pressure Cookers –
1: Aluminium pressure cooker
2: Steel pressure cooker
Parameters to compare pressure cooker –
Do you know the basic features you must pay heed to before purchasing a pressure cooker? The best pressure cooker is which includes several features besides great in appearance. After all, it's responsible for making your food on time.
Do not get your hands on the pressure cooker that can't be used for an extended period. Investing in a pressure cooker takes a lot of money, so make it worth it. Here are the major feature of the pressure cooker to check –
Prize – The cost is the major component. First of all, make your mind prepare for the budget you can spend while buying the pressure cooker. Compare the price of aluminium and stainless steel pressure cookers and purchase the convenient one. However, a steel pressure cooker is expensive as compared to aluminium.
Health effect – Many people overlook this feature. It is one of the most pivotal factors you can't skip while purchasing a pressure cooker. More broadly, steel has no negative health effect, whereas aluminium has.
Heat conductivity – The product is convenient if it distributes the heat eventually. So check out this factor that prepares your food well. Also, check out the fuel the pressure cooker is consuming. Aluminium pressure cooker consumes less fuel as compared to steel.
Durability – It is pivotal. The durable utensils can be used for an extended period and are worth buying. The durability of steel is excellent, whereas aluminium is okay.
Nonstick coating – This property is important while buying the pressure cooker. So, do not forget to check this one out. The surprising fact is none of the pressure cooker coatings are available.
1. Aluminium Pressure Cooker
Aluminium is considered  One of the most abundant materials on the planet. It is the common type of cooking utensil that people majorly demand. It is an excellent conductor of heat in an evenly distributed heating effect.
The food is cooked quickly as compared to other materials. That means people can save fuel while cooking food in an aluminium cooker. These are the faster mode of cooking that includes a lot of benefits –
Quick food making
The cost of buying the cooker is less expensive than other versions.
The aluminium pressure cooker is easy to use and handle due to its lightweight.
The fuel for making food is less, and heat is distributed perfectly.
2. Steel Pressure Cooker
The stainless steel pressure cooker is highly demanded due to several features. The shiny appearance of the cookers makes them look attractive. The material used for making the pressure cooker is heavier stainless steel. People might find it difficult to make use of lifting. Also, stainless steel is not much good conductor for heating.
So, do not make the food quickly as compared to other versions. That results in more time for making food. However, a steel pressure cooker or durable. They can withstand the conditions, and there is no threat to their health. The benefits of buying steel pressure cooker our –
Durability is the spot-on factor.
They are made of great stainless steel.
It does not affect health adversely.
Even if it is used for an extended period, The cooker will not lose the shiny texture.
Which pressure cooker to choose? Aluminium vs Steel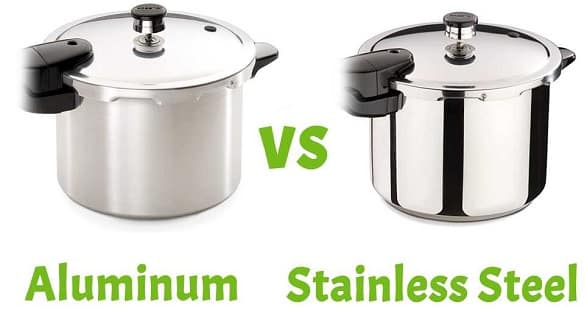 There are a lot of factors on which the comparison between aluminium and steel pressure cookers can be made. For instance, it is maintenance, durability, heat conductivity, healthy effect, budget, etc. Let's look at them in brief –
Weight – The weight of the pressure cooker matters since you have to use it frequently. Comparing aluminium and stainless steel pressure cooker, aluminium is light in weight. On the flip side, a pressure cooker is heavier.
Maintaining – The maintenance of a steel pressure cooker is a breeze. It can be sort of with soap water. Whereas it is challenging to clean the aluminium pressure cooker.
Cooking time – The best part of the aluminium pressure cooker is it takes less time to cook the food. Whereas steel pressure cooker takes longer to prepare. This is the major concern of many.
After reading all these aspects of aluminium and steel pressure cookers, making a decision is not challenging.
A steel pressure cooker is a great option in terms of various aspects. It might be expensive but has a negative impact on health. It does not get easily damaged, eroded or stained.
Manoj Kumar, is a Service Manager at Rakesh Electronics, New Delhi. Manoj has 8 years of experience in dealing with home electronics products. Manoj is a freelance writer and share his knowledge at IndiasStuffs.com