STYLISH KUNDAN JEWELLERY DESIGN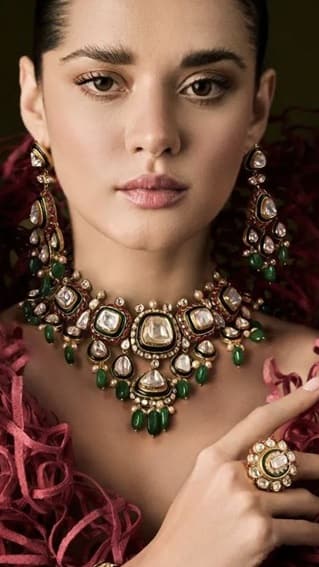 Kundan Jewellery is a popular type of Indian Jewellery consisting of special gemstones. Polki diamonds and polished precious or semi-precious stones are delicately arranged in gold foil between the stones and their mount. Kundan means refined gold and is a Persian word for pure molten gold foil used as the mount for the stones.
Kundalini Jewellery is still a popular choice in brides' traditional wedding trousseau. While once it was often available as a set of necklace, bangles, bracelets and earrings, nowadays you can buy each item separately or as one set. Kundan rings and hair ornaments are also available. Many rani haars, chokers, Kundan pendants, bangles, earrings, and other accessories will be displayed. These statement pieces are quite ornate, with exquisite and detailed craftsmanship. Because it is traditional and substantial, it is ideal for life's most important occasions. Imitation Kundan Jewellery is an excellent choice for those on a tighter budget.
KUNDAN JEWELLERY SETS FOR DIFFERENT DRESSES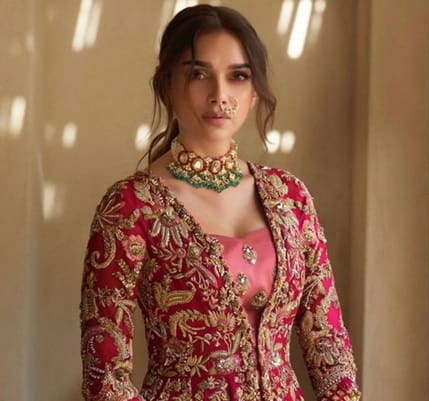 Kundan Jewellery is very versatile. It uses a variety of gemstones of different colors, like rubies, emeralds, sapphires, amethysts, etc. This makes it suitable for both Indian and western outfits. As already mentioned, Kundan Jewellery is an excellent option for bridal Jewellery. It goes breathtakingly well with bridal lehengas and gowns. Even for occasions like festivals or parties, where lavish Indian outfits are to be worn, Kundan Jewellery sets look exquisite. But that is not all. You can pair these gorgeous sets of Jewellery with western outfits, whether it is dresses, gowns, tops, shirts, etc. Kundan Jewellery can look as elegant and classy on a western outfit as on an Indian dress. Such is the versatility and adaptability of this wonderful piece of Jewellery.
The selection of motifs for Kundan Jewellery does not follow any predetermined rules. Nature and architecture are the most typical sources of inspiration, nevertheless. The motifs are built using various components, with florals being a recurrent favorite. In most cases, floral motifs are preserved within the components. For inspiration, you can check out the styling of various Bollywood actresses like Kareena Kapoor, Alia Bhatt, and many more, who have adorned gorgeous Kundan Jewellery sets for their red-carpet events.
VARIETY IN KUNDAN JEWELLERY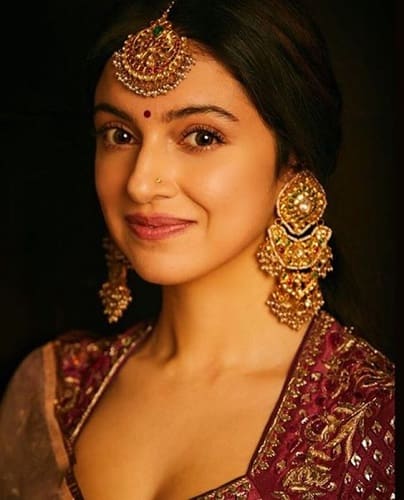 The first thing to come to your mind upon hearing "Kundan Jewellery" is Kundan necklaces. And that is for good reason since Kundan embroidered chokers and necklaces are magnificent and luxurious. These necklaces have exquisite colored gemstones, which add so much class to your outfit. They are also available in many lengths to wear Kundan chokers or multilayered necklaces. All of these assure a level of sophistication that no other Jewellery does.
Kundan Earrings:
But Kundan Jewellery is not just limited to necklaces. It expands to various types of Jewellery. Kundan earrings have recently become popular due to their lightweight and elaborate designs. Look out for beautiful carvings and elaborately placed gemstones. These will certainly add a wow factor to your outfit. These come in a variety of sizes and colors, which leaves a lot of options for you.
Kundan Bracelet:
Kundan bracelets and bangles are another Jewellery type that is surging in popularity. Bangles are very important in Indian culture. And what better to choose than grand Kundan bangle sets? These intricately designed Jewellery pieces make a woman's hands look beautiful and elegant. These certainly provide a very charming aesthetic. Kundan adds a delicate, ethnic touch to Jewellery that is difficult for any other Jewellery type to match. These bangles are ideal when you don't feel like wearing a lot of Jewellery. They go well with a gorgeous choker and Kundan earrings.
Maang Tikka:
Maang tikkas are another Jewellery item where Kundan has managed to make its way to the top with beautiful and stylish designs. Maang tikkas are the showstopper accessory for any Indian bride. So, they must be the most beautiful in a wedding trousseau. And Kundan maang tikkas help you do exactly that. You can find a lot of size variations, depending on your preference. As for design, you can go for classic Polki work, pearls, stylish gold designs, etc. The colors can match the rest of your outfit to make it look more beautiful.
As apparent, Kundan Jewellery is the ultimate go-to Jewellery design. Everyone's favorite and first preference, and you must own at least one Kundan Jewellery item in your collection.
Santosh Kumar, He is a SEO + Blogger have 12 years of experience in writing tutorial, informative and product reviews topics.