16th October marks the marriage anniversary of Saif Ali and Kareena. In the year 2012, the couple got married to each other. Kareena Kapoor Khan and Saif Ali Khan are one of Bollywood's most influential couples.
After meeting on the set of the 2008 film Tashan, the couple quickly started dating. They met on the set of a movie and have been together for almost 14 years.
What is the age difference between Saif Ali and Kareena?
In 2012, Saif and Kareena tied the knot. Taimur Ali Khan was born in 2016, while Jehangir Ali Khan followed in 2021. Their age difference of 13 years drew the attention of the internet at large, despite the fact that many followers adore them.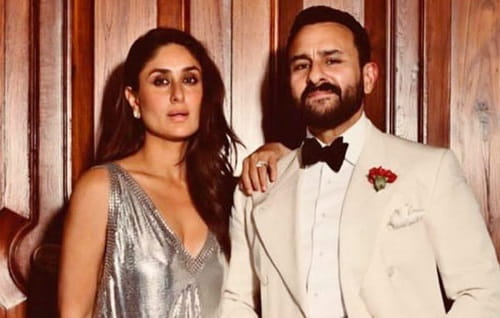 Here's how Saif & Kareena overcame their age difference to become a successful Bollywood couple.
The 13-year age gap between Saif and Kareena has never been a barrier for them. They understand that it is one's character, not one's chronological age that ultimately matters. They are a great match because of their mutual maturity and attractiveness. Because of this, they are likely to form and sustain a satisfying relationship.
More about Saif and Kareena
It seems love was destined for two royals all along. Both Kapoor Khan and Ali Khan are members of families that may be considered Bollywood's aristocracy; Kapoor Khan has appeared in more over 60 films, while Ali Khan is indeed a Pataudi prince.
Kareena was eager to marry Saif and became the Begum of Pataudi, but she always to have a wedding with Hindu religion rituals and was unlikely to convert to Islam in order to do so.
The best part, Saif Ali's mother was also from Hindu religion and married legendary cricketer Mansoor Ali Khan, but never converted to Islam.
The couple has done it all: performed in films together, lived together for five years, arranged their own wedding, and had the generation's most celebrated kids, Taimur Ali Khan and Jehangir Ali Khan.
The pair first met on the set of the 2008 film Tashan, despite having previously worked together on the films LOC Kargil (2003) & Omkara (2006). Saif went public with his relationship with Kareena that same year by getting her name tattooed in Hindi on his forearm.
Kareena Kapoor Khan has not only given us couple goals, but also parenting goals. From being the first Bollywood actress to publicly announce her pregnancy to fully embracing motherhood, she has set a new standard.
 The entire country looked up to Kareena, who served as a fashion icon for pregnant women and continued to work until the very end of her pregnancy.
The duo fans always wait for their live glimpse or their interesting social media posts that go viral like crazy.
Santosh Kumar, He is a SEO + Blogger have 12 years of experience in writing tutorial, informative and product reviews topics.