Tea is indeed that one beverage that half the world cannot live without. Even though there are not many tea drinkers around the globe, you are still going to find a lot of people who swear how tea saves them every morning. From people who play sports to the people who have the most hectic life, tea surely becomes their lifesaver in India. You can prepare tea in many ways. While black tea will wake you up with a kick, milk tea will give you a warm hug and make your brain feel active.
The common method to prepare tea is by putting tea leaves into the boiling water along with a little sugar and milk. Some choose to use tea bags to prepare tea at a faster rate. The only issue with such a method is, you can't get all the benefits that you can get from the tea leaves. Instead of using tea powder or tea bags, you can shift to tea leaves. But, how to prepare tea? Well, a tea strainer or a tea infuser is one of the adequate alternatives to get rid of all the issues effectively.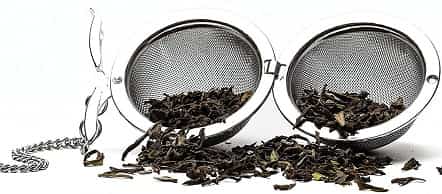 A tea strainer is also called a tea infuser due to its method of use. It is a round-shaped ball made of stainless steel net which can open and close from a small clip. You can open it and put tea leaves inside. Now, dipping this tea strainer into the hot water will prepare tea at a faster rate.
Advantages of a Tea Strainer/ Infuser
With the use of a tea strainer, you can get a huge number of advantages during the use. Here we quickly made a list of some key advantages that you must learn about –
Perfect Blend – As the name suggests, a tea infuser help in providing the perfect tea by blending the tea leaves adequately. You can expect a perfect blend and quality tea.
Easy to Use – Opening the infuser and putting tea leaves inside to make a perfect tea is easy and requires fewer efforts than putting tea leaves directly into boiling water and removing it later. The ease in making an excellent tea using a tea infuser makes it a highly reliable choice over the other ones.
Environment Friendly – A tea infuser is environment friendly as you are not wasting paper for the manufacturing of tea bags, easy to remove, and simple at the same time. It will be a small step to save the environment, but it indeed is the best option to begin.
Better Taste – If you make tea using a tea strainer, you will be blending all the essentials and essence of tea leaves into the boiling water. The stainless steel net will allow boiling water inside and get you a better taste.
No Need to Filter – When you are using a tea infuser, there is no need for filtration after preparing a tea. You can expect the same from tea bags but they end up harming the environment as trees are cut for making tea bags.
Affordable – Making a tea using a tea strainer reduces the cost of making a tea. How? Teabags are comparatively expensive and it directly affects the cost.
Highly Durable – The tea infusers are available for a wide range of price points. If you choose a genuine tea infuser, you can expect excellent durability. Stainless steel is a highly durable material and it is also corrosion-resistant.
These are surely the benefits that you can't expect from the regular method of making tea. Keep in mind that these benefits are based on the use of a quality tea strainer.
Disadvantages of a Tea Strainer/ Infuser
Meanwhile using a tea infuser seems advantageous, there are certainly a few disadvantages that you can find during the use. Here are a few disadvantages that we noticed during the use –
Limited Variety – If you look for tea strainers in the Indian market, there are a limited number of options available in the market. If you want a particular size and shape, then it is difficult to find something which meets your desire.
Expensive Alternative – If you make tea by putting tea leaves into boiling water, then you can use a tea filter which comes for an affordable price point. If you compare the price of the same tea filter with a tea strainer, there is a huge difference in the price point. So, you might be spending a higher amount on a tea strainer.
In case you are choosing a quality tea-infuser, you can expect better durability. It might seem expensive but it is a one-time investment over the other options and you can gain many other benefits for sure.
Conclusion
Tea is that one friend that helps you go through a tiring and stressful day. It energizes you so that you can bring the best out of yourself. As there are many tea drinkers now in India, we thought it would be safe to suggest some good tea-making methods like using a tea strainer and its key advantages.
All the above-mentioned advantages and disadvantages will help you figure out the need of buying a tea strainer. Most people are shifting to the new style of making tea using tea infusers and you can also consider going with the same option. We hope this guide will help you figure out the reason to buy a tea strainer.
Santosh Kumar, He is a SEO + Blogger have 12 years of experience in writing tutorial, informative and product reviews topics.