Tera Yaar Hoon Main is a Comedy and drama Indian Television Show. The show was released on 31 August 2020 only on our favourite SAB TV Channel. The channel has given so many big hit shows like FIR, Jeejaji Chatt Par Hain, Taarak Mehta Ka Ooltah Chashmah and many others. Now, the channel brings a new show Tera Yaar Hoon Main with a unique storyline, made under the banner of Sumeet Mittal's Production House Shashi Sumeet Productions. The lead roles of this show are Shweta Gulati, Sudeep Sahir, and Ansh Sinha. If you're searching for getting more information about the show, check out the following details.
Wiki
Tera Yaar Hoon Main is a complete family show, produced by Shashi Mittal and Sumeet Hukamchand Mittal. The concept of the show is itself unique and inspires all three generations. The makers believe in encouraging youngsters to treat their parents as a friend instead of making a comedy show. Through this show, every kid can share everything with their parents without any fear; re-marriage is also encouraged in the story. The popular Television actor and actresses are casting for the show.
Story line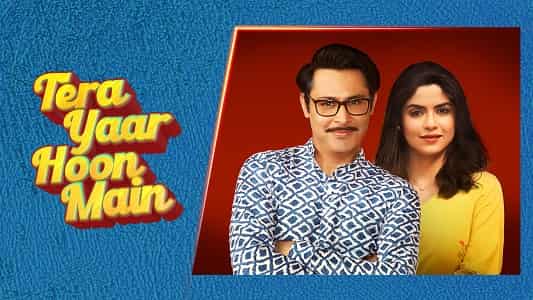 The story of Tera Yaar Hoon Main revolves around the relation between father and son. The whole Bansal Family lives in Jaipur; the concept is based on the father and son due Rajeev and Rishabh. Out of which, Sudeep Sahir as Rajeev Bansal is a progressive, understandable and responsible father who wants to be the real-life hero of his son's life. On the other hand, Ansh Sinha who plays the role of Rishabh is a moody teenager and energetic of today's generation. The storyline teaches the true bond between father and son.
Timing
Tera Yaar Hoon Main was aired on SAB Television Channel from Monday to Friday sharp at 9 PM. The show is replaced by Shubh Labh in the time slot. If you have planned to watch the episode on the internet, you can watch it through Sony Liv OTT App anytime. In case, you missed watching the fresh & new episodes, you can watch the episode at 11:00 Am and 4:30 PM from Monday to Friday on the same channel. The running time of the show is between 20 to 22 minutes. The timing is perfectly suitable for Indian families to come together and watch the show.
Cast Names
Here is a full Cast list & actors real names of SAB Sony Serial Tera Yaar Hoon Main. Let us discuss:
SundeepSahir as Rajeev Bansal – Father ( lead Role)
Shweta Gulati as Jhaanvi Bansal – Lead Role
Ansh Sinha as Rishab Bansal – Lead Role
Rajendra Chawla as Rishab's Grand father
Jaya Ojha as Rishabh's Grand mother
Meghan Jadhav as Swapnil
Vibhuti Thakur as Rishabh's Aunt or Chachi
Ansh Sharma as Rishabh's Uncle or Chacha
Divya Bhatnagar as Rishabh's Aunt Bhuaji
Gautam Ahuja as Rishabh's Cousin
SukeshAnand as Rishabh's Uncle or Fufaji
Neeharika Roy as Trishala Bansal
Rishina Kandhari as Chandini
Raghav Dhir as Shubham ( Rishabh's Friend)
Santosh Kumar, He is a SEO + Blogger have 12 years of experience in writing tutorial, informative and product reviews topics.