Many patients suffer from brain-related diseases; the main reasons for such issues are stress and unbalanced professional and personal lives. Stress due to work or personal issues leads to neurological orders. The number of cases has increased drastically after Covid 19.
Due to the number of patients, the demand for doctors also increased gradually. The hospitals focussed on setting up separate units or hospitals for neurological disorders.
The national capital of Delhi is home to many advanced hospitals for treating neurological disorders. The following is a list of the top 5 best hospitals in the field of neurology.
List of Top Neurology Hospital In Delhi
1. Indraprastha Apollo Hospital
Indraprastha Apollo Hospital is a 710 bedded multi-speciality hospital in Delhi. It is a part of the Apollo Group chain of multi-speciality hospitals across India. The Apollo Centre for Neurosciences housed in this hospital provides specialised treatments encompassing neurological, neurosurgical, neuro-anaesthetical and neuropsychological fields.
Best-quality treatments using advanced facilities are available for stroke, movement disorders, and epileptic seizures. This hospital also performs Deep Brain Stimulation Surgery to treat Parkinson's disease, tremors, and dystonia. Apollo has also branch in mumbai.
Address: Sarita Vihar, Delhi-Mathura Road, Delhi- 110076
2. BLK Super Speciality Hospital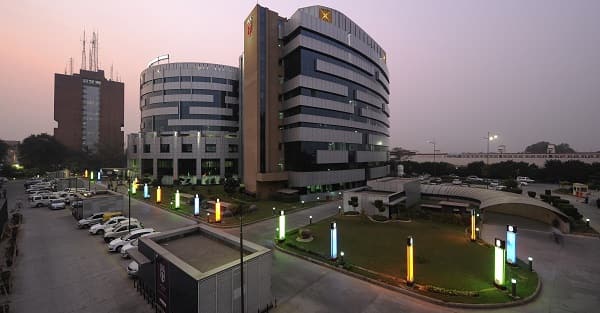 BLK Super Speciality Hospital is a 650 bedded hospital established in the 1950s. It is one of the most popular hospitals for treating neurological disorders. This hospital specializes in both neurology and neurosurgery. Facilities include endoscopic neurosurgeries, cyber knife technology to remove brain and spinal tumors, a stroke unit to treat stroke patients, and separate operation theatres for brain and spinal cord surgeries.
Physiotherapy is provided to patients suffering from disabilities caused by brain disorders. Pediatric neurologists and orthopaedists are also available in this hospital. Diagnostic facilities for EEG, EMG, and others are also present in this hospital.
Address: Building No. 5, Pusa Road, Rajinder Nagar, Delhi- 110005
3. Fortis Escorts Hospital
Fortis Escorts Hospital was established in the year 1988. It is a 285-bed hospital with a good reputation for effective treatments of neurological disorders. The department of neurology, neurosurgery, and spine present in this hospital provides premium quality clinical, surgical, and rehabilitation services for neurological ailments.
Advanced neurosurgical procedures such as minimal access, image guiding, and microsurgery are performed in this hospital. Surgeries are also performed to treat various spine disorders and peripheral nerves. Other facilities include 24 hours neuro emergency and trauma care, advanced neuro critical care units, and round-the-clock acute stroke management.
Address: Fortis Escorts, New Friends Colony, Delhi- 110025
4. Max Super Speciality Hospital
Max Super Speciality Hospital is a 400 bedded hospital having 20 specialized departments. The neurology department is staffed by expert neurologists and neurosurgeons assisted by the latest technologies. There is an advanced operation theatre called brain suite to perform neurosurgeries.
24 hours emergency services are available to treat conditions such as cerebral stroke, brain hemorrhage, and cerebral contusion. There are separate centers to treat spinal cord disorders and stroke.
Address: 108 A, Indraprastha Extension, Delhi- 110092
5. Moolchand Medcity
Moolchand Medcity was established in 1952 and is a major hub for neurological treatments in Delhi. The neurological center housed in this hospital specializes in treating over 500 types of neurological disorders. Alzheimer's disease, dementia, and other kinds of brain damage are also treated in this hospital.
This hospital has NABH accreditation and has also received accreditation twice from Joint Commission, USA.
Address: Lajpat Nagar III, Near Moolchand Metro Station, Delhi- 110024
Conclusion
Patients from all over the country come to Delhi for advanced neurological treatments. The hospitals mentioned above figure high in the preferences of the patients. A blend of the latest technologies, expert neurologists, and neurosurgeons make these hospitals stand out among others.
Santosh Kumar, He is a SEO + Blogger have 12 years of experience in writing tutorial, informative and product reviews topics.