The popular landmark, the Gateway of India, is situated in the city of Mumbai, India. This massive structure was constructed in 1924. The Gateway of India is fenced by the Arabian Sea in the Colaba district, overlooks the city harbour, and is located at the tip of Apollo Bunder.
The major purpose behind the construction of the Gateway of India was to honour the appearance of King George V and Queen Mary in Mumbai. Sir George Sydenham Clarke, the Governor of Bombay, laid the first foundation stone for the construction of this memorial on March 31, 1911. The model of the monument in cardboard form was presented to Royal visitors, and the final design by George Wittet, a Scottish architect, was approved in 1914.
In 1915, preliminary work to reclaim land for the construction of the Gateway, and a new sea wall, was undertaken. After the completion of the land reform in 1919, the actual construction began later completed in 1924. In 1924, The Gateway of India was inaugurated by the Viceroy of India, Rufus Isaac.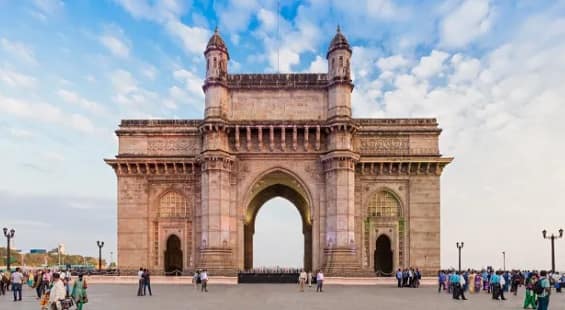 This monument was a symbol of the magnificence of the British Raj in India before independence. The cost is around 21 lakhs spent by the Government of India on the construction of the monument. In the present day, it is one of the favourite tourist attractions, and it attracts food stalls, vendors and photographers. Some other facts about the Gateway of India are as follows:
Architect
George Wittet is the architect who designed the structure of this monument in the Indo-Saracenic style. It is a blend of Hindu and Muslim architectural styles. The mid dome is approx 83 feet high at its highest point and 48 feet in diameter. It is designed using reinforced concrete and yellow basalt.  Behind the monument, stairs have been constructed to reach the Arabian Sea. The Gateway to India is designed in such a way that one can see the vast expanse of blue colour right ahead.
Tourist Attractions
There are many tourist attractions near the entrance of India, one such is the Elephant Caves, which you can reach via motor boat.  Sculptures of India's popular fighting leaders like Maratha leader Shivaji and Swami Vivekananda are also located at the entrance of the elephant caves. The best part is the Taj Mahal Hotel, considered to be the most luxurious and prestigious hotel, located near the Gateway of India.
Best Time to Visit
The duration between November to March is the best time to visit the Gateway of India, as the post-monsoon season is very attractive.
Mumbai itself is the biggest tourist attraction, which is known as a major tourist centre in the country.
Santosh Kumar, He is a SEO + Blogger have 12 years of experience in writing tutorial, informative and product reviews topics.