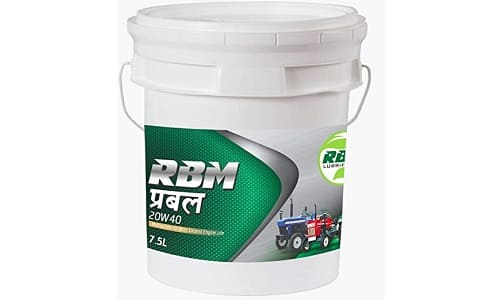 Any fieldwork is incomplete without tractors for farmers; meanwhile, investment in the tractor is a lifelong asset. A single time servicing of a tractor is more than that of a car and scooter, not only is the additional cost but also the cost of one-time pouring engine oil is high. But just like a body needs air, food and water, similarly a vehicle must maintain the engine.
Ultimately, the performance and operability of the tractor are based on the engine and internal parts of the tractor. For the long-term operation of the engine, you need the right engine oil from reputed manufacturers.
A good quality engine oil protects the metal surface from corrosion, ensures the dispersal of soil & prevent their setting, seal the combustion chamber, dissipate the heat caused by friction, and enable operating during tremendous temperatures. To prevent the engine from being useless, you should check out the top three engine oil option available online.
Best Engine Oil for Tractor in India
1. RBM OIL CORPORATION 20W40 Engine Oil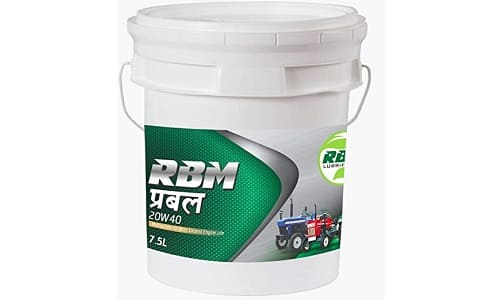 RBM Oil Corporation is a leading brand for formulating one of the best Engine Oil. The 20W40 Engine Oil is exceptional diesel engine oil prepared to provide outstanding engine protection to provide by eliminating friction at higher engine temperatures & eventually extending engine duration and performance. Being one of the premium quality oil, it has a great demand in the Indian market.
The RBM Engine Oil also maintains firm lubricant film even in serve operating process conditions which offers protection to the engine components from tear and wear. Moreover, it contains thermo-oxidation stability that helps reduce the rate of oxidation, so provides a long-lasting drain period. This engine oil improves the quality, performance and quality of your tractor engine. Moreover, it prevents the build-up of harmful varnish, deposits and sludge. And corrosion under a wide range of driving conditions.
| | |
| --- | --- |
| Pros | Cons |
| It provides a longer drain period. | Not suitable for Mahindra Jeep & new vehicles. |
| It is affordable engine oil. | |
2. DEEMOIL D-Force 20W-40 CF-4 Engine Oil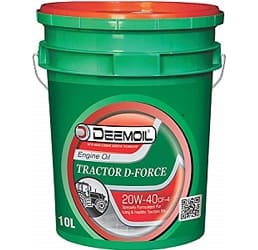 DEEMOIL D-Force Engine Oil is premium quality heavy-duty engine oil specially formulated for use in farm tractors. This oil is developed from highly selected additive and refined base stocks to provide phenomenal wear protection, lower oil consumption, reduced engine deposits, enhanced engine life, and eliminate maintenance costs.
Its excellent dispersancy & detergency helps tractors operate under a wide range of weather conditions. The oil has good anti-corrosion and anti-wear properties, making it one of the finest Engine Oil. Moreover, it keeps the engine clean and safe from sludge. The multifunctional additives are makeable for tractor work in extreme temperatures. Also, the oil helps the engine start even at low temperatures.
| | |
| --- | --- |
| Pros | Cons |
| The oil is prepared from refined ingredients. | This product is rated 2 out of 5 stars. |
| It keeps the engine clean and maintains durability. | |
3. GULF XHD S Tractor Engine Oil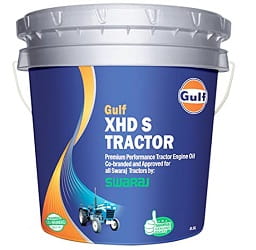 Gulf XHD S Tractor Engine Oil is specially formulated for Sawarj Tractors. It is thoughtfully formulated for high-temperature performance. It assures proven field performance across various tractor models. It consists of superior deposit control and improved Engine Protection, helping stabling the life of a particular tractor. By using GULF Oil, you can expect cleaner engine parts for better performance and compatibility.
| | |
| --- | --- |
| Pros | Cons |
| It is premium quality engine oil. | Not Found. |
| The engine oil is perfect for all Sawarj Tractor models. | |
How to choose the best engine oil for a tractor in India?
Feeding engine oil to a tractor is vital to extend its life span. Changing the oil on a vehicle will keep costly repairs away and help save a lot of money. The tractor will run smoothly and perform well if supplied with good quality engine oil. Keep scrolling to check out the aspects listed below that you need to consider.
Types of Engine Oil
There are three types of Engine Oil for tractors: Conventional Oil, Hybrid Blend, and Synthetic Oil.
This is the most popular type of engine oil for tractors. These oils contain natural ingredients, such as mineral oil. However, the major source of such oil is crude. They have low molecular reliability and leave behind residues because they are organic in most of their structure. Unfortunately, they do not have a high level of cleanliness, but they work well in vehicles and off-road equipment. Also, it is an economical option as compared to synthetic oil.
A hybrid blend is the popular substitute for synthetic oils and is made from synthetic and conventional components. This type of oil is often used for the least temperature because it doesn't tolerate high heat.
Synthetic oil is the major type found in the Indian market. But sadly, it contains a synthesized blend of base oil with additives and is completely synthetically produced. Synthetic oil packs also contain additive mixes, which are sometimes based on the type of oil you choose. A significant advantage of synthetic oil is that it does not contain crude formulas, thus they do not leave behind dust. Plus, they have a neat texture.
Additives
The real truth is that not all diesel oils are completely pure; most of them contain a mix of additives that speeds up the overall presentation of the tractor. When it comes to tractor oil, it is important to choose an oil with few additives. Before choosing, make sure the oil will not be too thick on cold days and not too thin in summer. However, some additives act as detergents to eliminate mud or dust from the engine.
Reliability
To check whether or not the diesel oil is reliable, you should look for quality certification. A country like United State believes in quality if approved by the API.
Durability
The life span of diesel is the most underrated aspect. Therefore, it advised you to seek a premium grade seal package or opt for the opaque container for the diesel.
Conclusion
It is necessary to change the oil filling at prescribed intervals so that the engine or the whole tractor works correctly for a long duration. With long use, the engine oil degrades the percentage of unwanted particles build-up due to the access of impurities from the outside.
Santosh Kumar, He is a SEO + Blogger have 12 years of experience in writing tutorial, informative and product reviews topics.