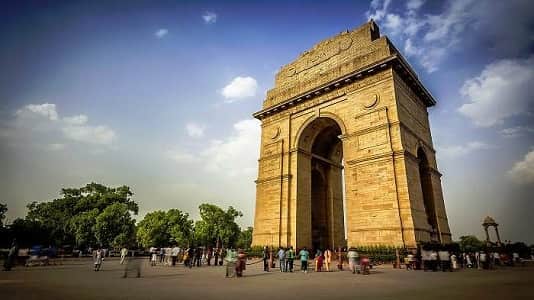 The renowned India Gate is indeed a war memorial that can be seen in the Rajpath neighborhood of Delhi. It is an arch gate that is fashioned out of sandstone.
It was constructed as a memorial to the troops of the British India Army, also known as the absolute British Army, who gave their lives in service of their country during First World War and also the 3rd Anglo-Afghan War in 1919.
This enormous building is amongst the greatest war memorial in India, and it bears the 13,000 service members names inscribed on its walls.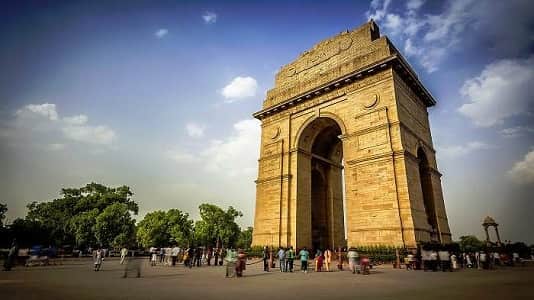 India Gate is a popular destination for residents of Delhi, who like to bring their family and friends here for picnics on Sundays and summer evenings to enjoy the lush greenery and well-kept gardens that surround the monument.
When you arrive in Delhi and settle into city's hotels, one of the first places you should go to see is the India Gate, which was formerly known as the All India War Memorial.
History of India Gate
The Imperial War Cemeteries Commission, often known as the IWCG, was founded in 1917 with the purpose of constructing war memorials & graves for troops who lost their lives during First World War. This spectacular edifice was one of the projects that the IWCG worked on.
A well-known English architect called Sir Edwin Lutyens was responsible for the design of the memorial, and Duke of Connaught, the third child of Queen Victoria, was the one who set the cornerstone for the memorial on February 10, 1921.
After what seemed like an eternity, on Feb 12, 1931, Lord Irwin finally opened and dedicated this building to the people of the nation as well as those who would come after them.
 A total of over 13,000 service members who gave their life for their country throughout the conflict have their names engraved on the memorial.
In 1972, a new building was erected to India Gate in order to commemorate the Indian and Pakistani military personnel who gave their lives during the Indo-Pakistani War in 1971.
 This was first lit by Indira Gandhi, who served as Prime Minister of India at the time. It was given the name Amar Jawan Jyoti, which translates to "Flame of the Immortal Soldier."
India Gate At Present
Presently, the India Gate is an important landmark not just because it is a popular tourist destination but also because it is a sign of Indian nationalism.
 The annual Republic Day march begins at the Rashtrapati Bhavan on the 26th of January and continues through the India Gate as it makes its way through the streets of New Delhi.
 On that particular day, the Indian Prime minister would visit its Amar Jawan Jyoti for laying wreaths at its base.
Parkash Singh is a PGT Teacher in Kendriya Vidyalaya Rohini, New Delhi. Parkash completed his starting education from Bihar Board and graduated from Babasaheb Bhimrao Ambedkar Bihar University. He regularly writes educational and informative articles at IndiasStuffs.com