Singapore, a vibrant city-state nestled in Southeast Asia, is a treasure trove of captivating sights, rich history, and culinary delights. This dynamic island nation, often referred to as the "Lion City," offers a perfect blend of modern infrastructure and natural beauty, making it an ideal destination for travelers from around the globe. In this article, we will delve into ten must-visit places in Singapore that will leave you awe-inspired and craving for more. From iconic landmarks to lush green gardens, let's embark on a virtual journey to explore the wonders this city has to offer.
SEA Aquarium Singapore: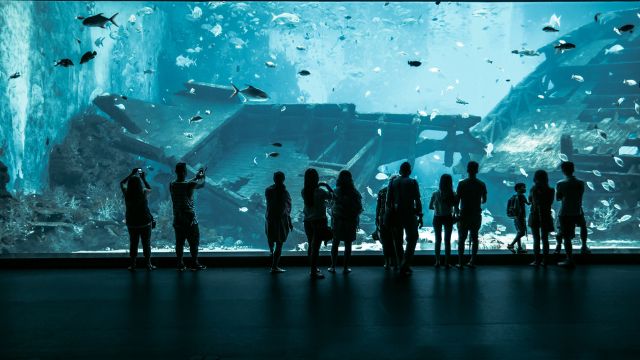 Book your SEA Aquarium Singapore tickets to get a chance to delve into the enchanting world beneath the waves at the SEA Aquarium Singapore. Home to over 100,000 marine creatures from around the world, this expansive aquarium offers a captivating journey for visitors of all ages. Walk through immersive tunnels surrounded by vibrant coral reefs and encounter majestic sharks, graceful manta rays, and a diverse array of underwater life. Don't miss the opportunity to witness feeding sessions and learn about marine conservation efforts. The SEA Aquarium Singapore is a mesmerizing experience that will deepen your appreciation for the wonders of the ocean.
Gardens by the Bay:
No visit to Singapore is complete without immersing yourself in the awe-inspiring beauty of Gardens by the Bay. This iconic attraction showcases a seamless fusion of nature and technology. As you wander through the sprawling gardens, you'll encounter the towering Supertrees, vertical gardens that come alive with a stunning light show in the evenings. Step into the Flower Dome, the largest glass greenhouse in the world, housing an incredible array of exotic blooms. Then, venture into the Cloud Forest, where mist-shrouded vegetation transports you to a lush, tropical wonderland. Gardens by the Bay is a must-see marvel that will leave you breathless.
Snow City:
Experience the wonders of winter in the tropical city of Singapore at Snow City. Step into a winter wonderland and escape the heat as you frolic in the snow. Enjoy exciting activities like snowboarding, snow tubing, or building a snowman. Marvel at the intricately carved ice sculptures and feel the thrill of the sub-zero temperatures. Ensure a hassle-free entry by checking the Snow City ticket price Singapore and book your tickets in advance for best deals & discounts. Snow City offers a unique and thrilling experience for both children and adults, allowing you to experience the magic of winter regardless of the season.
Marina Bay Sands SkyPark:
For a panoramic view of Singapore's impressive skyline, head to the Marina Bay Sands SkyPark. Perched atop the iconic Marina Bay Sands Hotel, this observation deck offers a 360-degree vista of the city's bustling metropolis, the glistening Marina Bay, and the surrounding islands. As you soak in the breathtaking scenery, you'll understand why the SkyPark has become a popular spot for capturing stunning photographs and enjoying a moment of serenity. If you're feeling indulgent, take a dip in the rooftop infinity pool, the world's largest rooftop pool, which provides a truly unforgettable experience.
Sentosa Island:
Escape to Sentosa Island, a tropical paradise that promises fun and relaxation for all. This idyllic retreat offers pristine sandy beaches, thrilling theme parks, and an array of leisure activities. Adventure seekers can explore the exhilarating rides and attractions at Universal Studios Singapore or embark on an aquatic adventure at Adventure Cove Waterpark. For those seeking tranquility, unwind on the sun-kissed beaches, take a leisurely stroll along the Sentosa Boardwalk, or indulge in a luxurious spa treatment. Sentosa Island is a haven of entertainment and relaxation.
Chinatown:
Immerse yourself in the rich cultural heritage of Singapore by exploring Chinatown. As you wander through its vibrant streets adorned with colorful shophouses and traditional markets, you'll be transported to a world of captivating sights and enticing aromas. Marvel at the intricate architecture of the Buddha Tooth Relic Temple, a magnificent structure that houses sacred relics. Discover traditional Chinese medicine shops, sample delectable street food, and browse for unique souvenirs at the bustling street markets. Chinatown is a vibrant neighborhood that showcases the city's multicultural tapestry.
Little India:
Step into the vibrant district of Little India and experience the sights, sounds, and flavors of India in the heart of Singapore. This lively enclave is a sensory feast, where bustling streets are filled with aromatic spices, intricate temples, and vibrant markets. Explore the colorful streets lined with shops selling intricate textiles, jewelry, and traditional Indian crafts. Visit the ornate Sri Veeramakaliamman Temple and witness its stunning architecture and intricate carvings. Indulge in the rich flavors of Indian cuisine at the local eateries and savor authentic dishes like biryani and masala dosa. Little India is a vibrant tapestry of Indian culture.
Singapore Botanic Gardens:
Seek tranquility amidst the bustling city by visiting the Singapore Botanic Gardens, a verdant oasis that offers respite from urban life. This UNESCO World Heritage Site boasts lush greenery, vibrant flowers, and serene lakes. Take a leisurely stroll through the meticulously landscaped gardens, enjoy a picnic under the shade of towering trees, or simply unwind and connect with nature. Don't miss the National Orchid Garden, a breathtaking showcase of orchid species from around the world. The Singapore Botanic Gardens is a haven for nature lovers and a perfect spot for relaxation.
Orchard Road:
Indulge in a world-class shopping experience on Orchard Road, Singapore's premier shopping destination. This bustling street is lined with luxury boutiques, trendy malls, and department stores, offering an unparalleled retail therapy experience. From designer labels to unique local brands, you'll find a wide range of options to satisfy your shopping desires. Take a break from shopping and recharge at one of the stylish cafes or restaurants that dot the area. Orchard Road is a shopper's paradise that caters to all tastes and budgets.
Singapore Zoo:
End your Singapore journey with a visit to the renowned Singapore Zoo. This award-winning wildlife park is renowned for its immersive and naturalistic animal habitats. Encounter a wide variety of animals, from playful orangutans to majestic lions, as you explore the different zones of the zoo. Be sure to catch the world-famous Night Safari, where you can observe the nocturnal animals in their element. The Singapore Zoo provides an opportunity to connect with nature and witness the beauty of the animal kingdom up close.
Santosh Kumar, He is a SEO + Blogger have 12 years of experience in writing tutorial, informative and product reviews topics.