The United Arab Emirates (UAE) is synonymous with towering skyscrapers, opulent hotels, and luxurious shopping malls. However, beyond the glitz and glamor, the country is also home to a collection of breathtaking gardens that offer a serene retreat from the fast-paced urban life. These enchanting green spaces provide a haven for nature lovers and those seeking respite amidst the bustling cityscape. From vibrant floral landscapes to mesmerizing light displays, the UAE's gardens stand as a testament to the country's commitment to preserving and celebrating the beauty of the natural world. In this article, we embark on a virtual journey to explore the 10 best gardens in the UAE, each with its own unique charm and allure. From Dubai's iconic Miracle Garden, with its stunning floral sculptures, to Abu Dhabi's tranquil Corniche, where beautifully landscaped gardens meet the azure waterfront, these carefully curated spaces offer a delightful blend of art, nature, and cultural experiences. Join us as we discover the hidden gems that showcase the UAE's natural beauty and provide an oasis of tranquility amidst the bustling urban landscape.
Dubai Miracle Garden, Dubai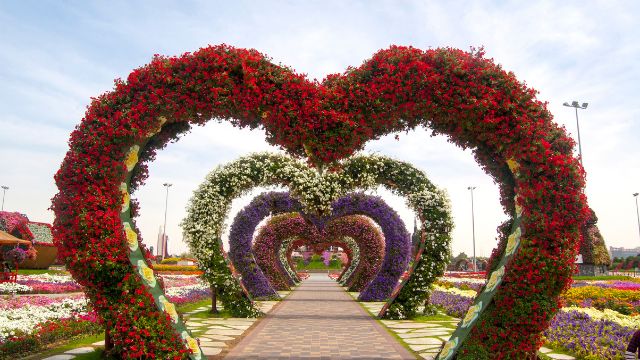 Dubai Miracle Garden stands as a remarkable horticultural marvel, proudly holding the title of the world's largest natural flower garden. Sprawling over an impressive 72,000 square meters, it boasts a mesmerizing collection of over 50 million flowers meticulously crafted into stunning sculptures and intricate designs. Visitors are greeted by a sensory feast, strolling along vibrant walkways adorned with heart-shaped arches, resplendent rose displays, and delightful floral pyramids and houses. Capture the enchanting moments with your camera as you involve yourself in this engaging wonderland. To plan your visit, take note that Dubai Miracle Garden ticket prices range from 42 AED to 77 AED. Be sure to keep an eye out for any available Miracle Garden ticket offers to enhance your experience.
The Gardens of Al Ain Paradise, Al Ain
Nestled in the charming city of Al Ain, the Gardens of Al Ain Paradise offer a serene sanctuary of natural beauty. Sprawling across 7,000 square meters, this enchanting garden captivates visitors with its diverse collection of over 300 vibrant flower varieties and meticulously crafted landscapes. It serves as a tranquil escape where one can soak themselves in the splendor of nature and find solace from the bustling world. To experience the Gardens of Al Ain Paradise, admission ticket prices typically range from AED 10 to AED 15 per person, providing affordable access to this enchanting floral paradise. This allows visitors of all ages to appreciate the tranquil ambiance and revel in the stunning floral displays that make this garden a true haven of beauty and tranquility.
Dubai Garden Glow, Dubai
Dubai Garden Glow mesmerizes visitors with its enchanting light and art exhibition, turning Zabeel Park into a captivating luminous wonderland. This unique experience weaves together the magic of glow-in-the-dark art, breathtaking light installations, and engaging interactive displays. As twilight descends, the park transforms into a vibrant spectacle, with illuminated structures illuminating the surroundings. Guests are treated to dazzling flower beds and awe-inspiring replicas of iconic landmarks, making it a truly unforgettable journey. When planning your visit, keep in mind that Dubai Garden Glow ticket prices generally range from AED 65 to AED 105 for adults and AED 55 to AED 95 for children. Ensure you secure your tickets and immerse yourself in this remarkable attraction.
The Capital Gardens, Abu Dhabi
Nestled in the heart of Abu Dhabi, The Capital Gardens offer a tranquil escape from the bustling cityscape. These meticulously maintained gardens enchant visitors with their lush greenery, vibrant flower beds, and serene ambiance. Whether you're seeking a peaceful walk, a spot for a picnic, or a moment of relaxation, The Capital Gardens provide a serene haven in the midst of the urban landscape. As for the ticket prices, entry to The Capital Gardens is free, allowing visitors to enjoy the natural beauty and tranquility of the gardens without any additional cost. It's a wonderful opportunity to overwhelm yourself in nature without breaking the bank.
The Green Planet, Dubai
Situated in the heart of City Walk, Dubai, The Green Planet is an extraordinary indoor garden that immerses visitors in the fascinating world of a tropical rainforest. This enchanting attraction faithfully recreates the mesmerizing ecosystem of a rainforest, complete with a rich diversity of flora and fauna. Visitors can marvel at the vibrant colors of exotic birds, encounter the gentle nature of sloths, and appreciate the fascinating presence of reptiles up close. To embark on this enthralling journey through nature, visitors can purchase tickets for The Green Planet. Ticket prices for this enchanting experience at The Green Planet generally range from AED 65 to AED 105 for adults and AED 55 to AED 95 for children, offering an accessible and engaging adventure for all.
Sharjah Desert Park, Sharjah
Sharjah Desert Park is a compelling destination that seamlessly combines the wonders of nature with educational experiences, making it a must-visit for nature enthusiasts and families. The park comprises three distinct gardens: the Geological Garden, the Botanical Garden, and the Zoological Garden. Within these gardens, visitors can involve themselves in the rich diversity of plant life, marvel at intriguing geological formations, and encounter indigenous wildlife. The park offers an enriching and interactive experience for all ages, with opportunities to learn and appreciate the unique desert ecosystem. Plan your visit to this remarkable park, where ticket prices for adults range from AED 15 to AED 25 and for children from AED 10 to AED 20, ensuring an affordable and memorable exploration of Sharjah Desert Park.
The Ripe Market, Dubai
The Ripe Market is a vibrant and bustling community event that showcases local artisans, farmers, and entrepreneurs in Dubai. Offering a diverse range of products, from fresh organic produce and homemade goods to handmade crafts and unique fashion items, it's a haven for those seeking something special. With live music, food stalls, and a lively atmosphere, it's the perfect weekend destination for families and friends. Ticket prices for adults range from AED 10 to AED 30, ensuring that everyone can enjoy the festivities and support local businesses.
The Heritage Garden, Dubai
The Heritage Garden is an alluring cultural attraction that overwhelms visitors in the rich heritage and traditions of the region. Located in a serene and picturesque setting, it showcases beautifully landscaped gardens, traditional architecture, and interactive exhibits. From ancient artifacts and historical displays to traditional performances and demonstrations, the Heritage Garden offers a glimpse into the vibrant past of the local community. Ticket prices for adults range from AED 20 to AED 40, depending on the season and any ongoing special exhibitions or events. It's an ideal destination for history enthusiasts and those seeking to connect with the cultural roots of the region.
Abu Dhabi Corniche, Abu Dhabi
The Abu Dhabi Corniche is a stunning waterfront promenade that stretches along the coastline of Abu Dhabi, offering breathtaking views of the Arabian Gulf. This popular attraction is perfect for leisurely strolls, family outings, and outdoor activities. The Corniche features well-maintained walking and cycling paths, beautifully landscaped parks, and designated beach areas for swimming and relaxation. Additionally, there are numerous cafes, restaurants, and recreational facilities available along the stretch. The best part is that entry to the Abu Dhabi Corniche is free of charge, allowing visitors to enjoy its natural beauty and vibrant atmosphere without any ticket fees.
Al Ain Oasis, Al Ain
The Al Ain Oasis is an absorbing UNESCO World Heritage site located in the city of Al Ain, UAE. It is a lush and expansive oasis, boasting more than 147,000 date palm trees, traditional falaj irrigation systems, and a serene atmosphere. Visitors can explore the oasis through its well-maintained pathways, discovering its rich agricultural heritage and the harmony between nature and human intervention. The Al Ain Oasis also features a visitor center where you can learn about the history and significance of the oasis. The ticket prices for adults range from AED 5 to AED 10, providing an affordable opportunity to experience this remarkable natural and cultural treasure.
Santosh Kumar, He is a SEO + Blogger have 12 years of experience in writing tutorial, informative and product reviews topics.