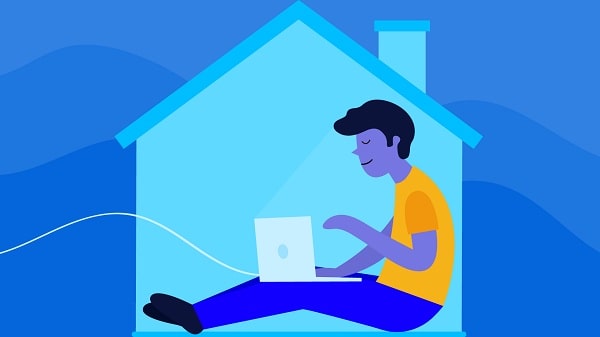 Doing a job from home can be a bit easier, as it eliminates the wastage of time, saves on various hidden costs like car expenses, refuelling, parking, cabs expenses, parking, etc.No doubt, going physically to the office enhances the work capacity and covers work timing. But, unnecessary social interaction can lead to disturbance and loss of focus.
However, the advantages & disadvantages of working from home will vary depending on the job profile.Working from home can either be the right decision for you or worst, it depends upon your priority and skills.
The rapidly evolving technology today encourages one to adopt smart working methods. But it also has various drawbacks. If you're interested in doing work from home, check both advantages and disadvantages, asit may not be suitable for everyone.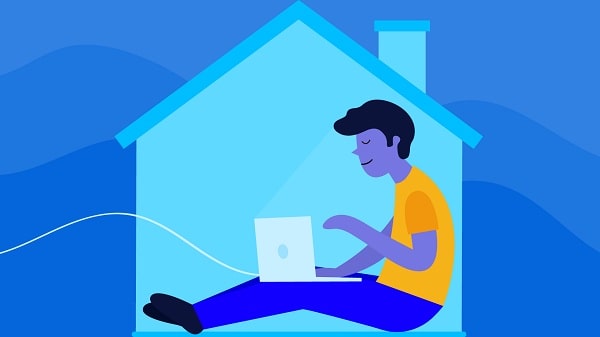 Working From Home – Advantages
Here we are going to discuss a list of advantages of working from home. Let's take a deep dive:
1. It helps you to save expenditures
The very first benefit of home-based work is that it allows you to work independently without spending money on transportations, rents, and even meals. In the case of office work, the regular physical appearance requires various costs like clothes according to events & meetings, cab or car expenses, and so on. Depending on work location, you also have to spend extra to buy clothes for meetings, events and parties. Therefore, it is hard to save money. On the other hand, a home-based job helps you to store hefty savings.
2. It offers flexibility
Job from Morning 9 Am to evening 6 Pm reduces the productivity level. While in home-based working you can manage your working period. It offers you to organize the tasks and schedule as per your requirement and time. Some people like to work early in the morning and many invent ideas late at night.
With flexible working, you can give your best to projects and tasks. While working from home, you may spend extra time with your family & friends; also plan a trip in your free time. If you are not in the mood or stressed at work, you can also lay down on the bed comfortably for taking a power nap. Some people may feel creative when sitting alone. Home-based work is an ideal option for parents with small kids, as they can easily adjust work time with baby care.
3. It keeps you focused & reduces distraction
Generally, phone rings, the noise of co-workers and discussion between members can be the reason for distraction & disturbance in almost every office. In home-based work, you need not tolerate such kinds of problems. Sitting in the noise-free corner of the room can produce creativity and new ideas in the mind.As a result, better growth of career and promotions within less time.
4. It provides various opportunities
Working from home for a specific company or sector doesn't mean being limited. You can search for better job options by representing your skills and knowledge. One more benefit of doing the job, you can join two different job profiles at a time as a part-time. A distant job can open up vast options for you worldwide. Having the ability to work from home can offer different job opportunities in various sectors like education, healthcare and technology.
5. It promotes independent working
Physical working allows work to be postponed because many co-workers are sure to help.For home-based work, you must be responsible for completing job tasks. It can provide independence and self-reliance in your work. It requires motivation and dedication and a proper schedule.
6. It improves your technical and communication skills
Internet helps you to develop technical skills and that is possible when you used technical applications. For attending and meetings, you often require team collaboration and a communication platform. Communication skills can also enhance working from home, as it requires steady communication between co-workers and managers. Through e-mails, video calls, messaging platforms, phone calls; you can learn more about advanced technicalities. Regular use of e-platforms and internet tools will improve your communication skills and technical knowledge.
Work from home – Disadvantages
1. Burden of work
The remote job brings with it the stress of work and the burden of getting the job done. In online jobs, you start working so much that you have to rest too. Whereas in office jobs, you know that there is work time from morning till evening.
2. Internet and Other Costs
In an online job, you have to take the best means of communication such as an internet connection for the conversation. And the cost of every month enhances your expenses. A complete set-up has been required to do regular office tasks and presentations.
3. Domicile distraction
Working from home might sound like a great idea, but if you have kids, a pet or many members at home, it is a painful job. You've plenty of domicile distraction which reduces your concertation at work. The quality of the job starts getting poor and you might end up failing deadlines.
4. Isolation
When you are working from home, you are working alone sitting in a room. Offices offer a great working environment that enables you to communicate with like-minded people. It is also helpful in growth. So, isolation might be a major concern as if you can't work alone.
5. Lack of productivity
When you're working next to a colleague, there is a feeling of competition. You'll give your best to compete and it will help with productivity. Working from home begins to reflect in terms of your productivity. You work slowly with laziness and it affects your ability to work.
Bottom Line
When it comes to working from home, you may see various advantages & disadvantages of it. Home-based work gives you ease to enhance productivity level and various skills. Some people loved to sit in their office seats and attend the meeting physically; some showcase their creativity when sitting alone at their home. It doesn't matter where you work from, the thing that matter is self-satisfaction and career growth.
Santosh Kumar, He is a SEO + Blogger have 12 years of experience in writing tutorial, informative and product reviews topics.