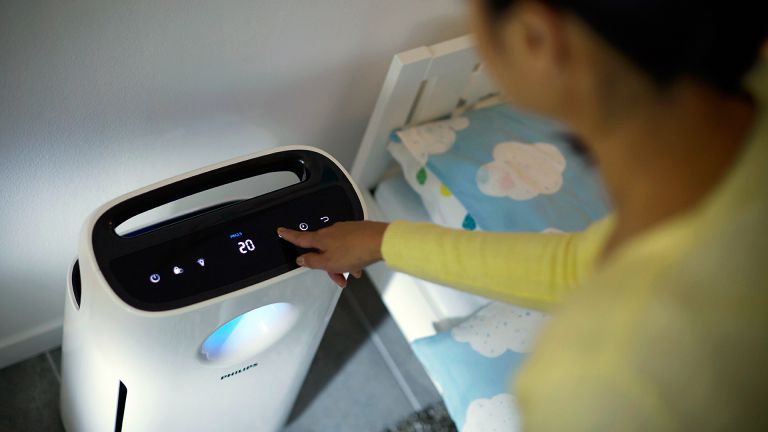 An air purifier for room is a type of appliance that helps in eliminating pollutants that may be present indoors. These appliances are also useful in filtering out allergens, antigens, pet dander, and foul odor from your room. Nowadays, pollution has become a leading cause of respiratory and skin problems. In India, if you check there are many cities that are ranking top in the list of most air polluted cities around the world. Due to this reason, investing in an air purifier will help decrease your chances of exposure to such pollutants and make you fit and strong.
Many of these purifiers are costly and cannot be afforded by the common man. But don't get disheartened as there are affordable options in the market as well. However, we have seen buyers struggling to find these options, which is why we have come up with this list. Our list below includes our top ten picks of air purifiers in India that cost below INR 10000. Also, all of these air purifiers are from brands that are loved by customers.
Best Selling Air Purifiers Below 10000 INR
Here, we have described each product separately. We have also mentioned what we liked and did not like about the air purifier. Lastly, at the bottom of our list, we have provided a buying guide. This guide will help first-time buyers of an air purifier in many ways. Without further ado, let us discuss these products in detail –
1. Mi Air Purifier 3 with True HEPA Filter and Smart App Connectivity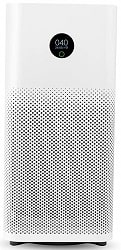 On number one of our list, we have the Mi Air Purifier that comes with a HEPA filter. This purifier is available in three styles, which are – generation 3 style, without eco-dot style, hands-free with eco-dot style. There are also a couple of patterns of this purifier that is made available. These patterns are – air purifier and air purifier + eco-dot. We have chosen rank 1 for this product for many reasons described here.
This filter of this air purifier provides you with composite filtration of three layers. It can deliver clean air at the rate of 380-meter cube per hour. This air purifier can also be controlled with an application that you can easily download on your smartphones and tablets. Its design is very innovative and helps the airflow to be consistent. Additionally, this purifier is certified by many testing centers that detect the relevance of an air purifier.
It has an OLED touch screen that helps you in determining the pollution in the air at any time. You can also know the temperature and humidity of your room with it. Moreover, this air filter works well with Amazon Alexa and Google Assistant. It intakes air in 360 degrees to provide the best service. It also comes with a warranty of one year from the date of your purchase. The power consumption of this appliance is only 38 Watts. It only weighs 4.8 kg, and its dimensions are – 24 X 24 X 52 cm.
What we liked:
This product by Beijing Technology Ltd. has a long lifespan.
It can cover up to 484 square feet of air cleaning area.
It also has a laser particle sensor and an easy-to-clean design.
What we didn't like:
The warranty does not cover the filter of the purifier.
The replacement of the air filter is a bit difficult and requires professional help.
---
2. Philips AC1215/20 Air purifier, with 4-stage filtration, removes all airborne pollutants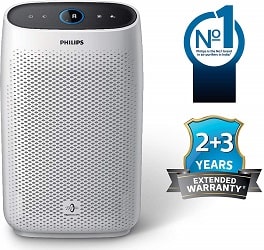 You may buy this air purifier from three patterns that include carbon as well as the standard filter. It has a four-stage air filtration feature that can remove 99.97% pollutants from the air. This series 3000 air purifier has professional-grade sensing that helps in monitoring and purifying the air effortlessly. You can best use this product in the bedroom as it has Night Sense Mode. Due to this feature, the purifier does not make much noise while you are sleeping peacefully.
This purifier can also reduce gases, odors, and allergens from rooms. It can clean up to 63 meter square of the area around it and has four manual settings. It also consumes a meager amount of electricity and is very efficient in giving air quality feedback. Additionally, the purifier has a child-lock feature that prevents the change in its settings. HEPA filter of the purifier has nano-protect technology that makes it superior to other purifiers.
Also, this purifier can remove ultra-fine particulate matter (0.02 um). The particulate matter inside homes can jeopardize cooking and cleaning. Due to this reason, this purifier has a smart sensor that can detect PM 2.5 levels in the air and boost its speed. This appliance also lets you know when the filter needs a replacement, which ensures the safety of you and your family. Additionally, this purifier is certified by Airmid and ECARF and comes with two years of guarantee. The dimensions of this product are – 541 X 325 X 211 mm.
What we liked:
It can eliminate harmful gases, which include formaldehyde and TVOC.
The delivery rate of this product is 270-meter cube per hour.
The product has a control panel that is touch type.
What we didn't like:
You cannot use this filter in large rooms as it will decrease its efficiency.
It can only operate in the voltage of 220 Volts.
---
3. KENT Aura Room Air Purifier HEPA Technology with 45-Watt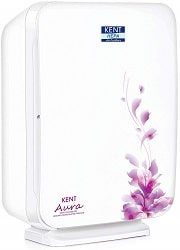 The Kent Air Purifier comes at a very affordable price and consumes only 45 Watts of power. It is available in white colour and has HEPA purification technology. The HEPA purifier helps in cleaning the indoor air from harmful pollutants and makes the air healthy to breathe. The contaminants are removed from the air by employing a three-stage elimination mechanism. The purifier also has an in-built ionizer. This ionizer releases negative ions that help in freshening the air.
The negative ions push the pollutants, which then lead to them sticking to surfaces and be wiped away from air. The purifier can remove PM 2.5 pollutants from indoor air. The filter of the purifier is treated with activated carbon to help it in absorbing the foul smell and odour from the room. The product has a user-friendly design and is easy to install. This purifier also comes with a timer of 8 hours that increase the convenience of users.
Additionally, it has a light sensor that is very intelligent and monitors air quality very well. The purifier can also remove – cigarette smoke and formaldehyde from your room. It has a coverage area of 290 square feet that is equivalent to 27 square meters. This purifier is suitable for living rooms and bedrooms. The appliance can work well in the voltage range of 200-240 Volts. This product also comes with a warranty of one year. The product only weighs 5 kg and has the dimensions of 35 X 18 48.2 cm.
What we liked:
The filter has special pallets that make the absorption better. It also helps the purifier in eliminating oxides of Sulphur and Nitrogen.
This purifier is handy in removing odour from the rooms.
What we didn't like:
You can use this appliance in your living room if the room is of medium size.
The design of the purifier may vary.
---
4. Havells Freshia AP-20 40-Watt Air Purifier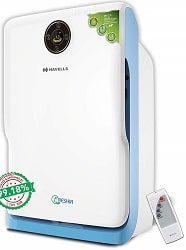 This 40 Watt Air Purifier comes with a remote and has two colours in its design, which are – white and blue. It is made using true HEPA technology and works with an AC motor. The appliance has a five-step filtration protocol that makes it very efficient and reliable. The removal efficiency of this appliance is almost 99%. This purifier by Havells can clean PM 2.5 from the air. It can even clean pollutants sized at 0.02 microns.
The efficiency of the appliance is fantastic as it provides you lifetime protection from airborne particles. It has a delivery rate of 180-meter cube per hour. It can serve the area up to 480 square feet. Additionally, this purifier is also reliable in the removal of smoke, cooking odour as well as pet smells. Due to this, the air is even fresher to breathe. Additional features of this purifier include – cold catalyst, activated carbon, and anti-bacterial element.
This purifier also has manual settings and a sleep mode feature. The appliance is very efficient in reminding when the filter needs a replacement. This purifier has colour indicators as well. These colour indicators are – green for good air quality, orange for moderate air quality, and red for poor air quality. The coverage area of this purifier is equivalent to 20 square meters. Also, this purifier is most suitable for bedrooms. It comes with three levels of fan speeds and can remove allergy-causing particles as well. This appliance only weighs 5.59 kg and has the dimensions of – 37.8 X 22.6 X 56.6 cm.
What we liked:
Buyers of this product get a warranty of two years with this product.
It comes with a user manual and runs well on a voltage of 240 Volts.
What we didn't like:
The product does not come with an information panel that displays air quality.
Sometimes the indicator of the product starts malfunctioning.
---
5. Daikin MC76 Room Air Purifier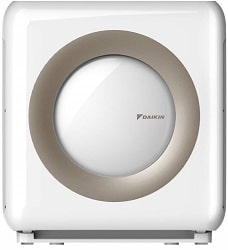 This room air purifier is available in white colour and has a very sleek design. It is very efficient in cleaning the air of large rooms that have the area up to 540 square feet. It has a true HEPA filter electrostatic technology that is highly efficient. At half-speed levels, the purifier is exceptionally silent. Also, this purifier can gear up to speed level-three for covering large areas. It also has an LED indicator that helps you to check the current pollution levels of the room.
Moreover, this air purifier has an eco-mode feature that increases the lifespan of the purifier as well as saves energy. Buyers are provided with a warranty of one year from the date of purchase. Daikin has a friendly customer care service. You may call them at any time and receive a quick response to your queries and doubts. This purifier can remove 99.97% of pollutants as well as fine particles from the air.
There are three colours of indicators on this purifier that help you to determine the level of pollution. You also get a manual will this appliance to start using the product quickly and conveniently. The air purifier only weighs 5.6 kg and has the dimensions of 46.5 X 42.7 X 24.3 cm. This purifier only consumes 5 to 82 Watts of power. You are advised to change the filters of this appliance in every six months.
What we liked:
It can even remove particles that have sizes equal to 2.5 micrometers.
The LED indicators are very efficient and never malfunction.
What we didn't like:
On speed level-three, the purifier starts making an annoying noise.
If there is high pollution, the filters will only last a couple of months.
How Does Air Purifier works?
Air purifiers are nothing new in the market. They are present for the past 200 years but in a very different form. With the help of air purifiers, you will save yourself from hundreds of allergies and problems related to respiration like asthma. Your indoor air quality can be increased with the help of an air purifier but do they work? This is a common question that many people have. It is an expensive device, and knowing how it works can help you buy it in confidence.
Working of air purifiers:
Air purifiers work by removing mold spores, smoke, pollen, virus, bacteria, pet dander, and different pollutants that can easily enter your lungs and cause many health issues. They can even affect your immune system. You will not be able to see these pollutants with your naked eyes, which is why you will not be able to understand how dangerous the air is in your indoor space.
Air purifying filters:
Air filters are present in the air purifiers. They have very fine sieves in the filters, which will filter all the pollutants and other particles in the air. It is always good if you go for a finer sieve because that will filter better. You will be able to find HEPA or High-Efficiency Particulate Air filters, and they have the finest sieves. They can filter airborne particles that are as small as 0.3 microns. These filters will guarantee you 99.97 percent pure air. The air circulating in the room will enter into the air filter, and then only filtered air is released out. We will be able to see only particles that are 10 microns and above.
When more air is passing through the filter, you will be able to get more filtered air. So, you will have to choose your air purifier based on the room's size instead of blaming the air purifier for not working.
UV light filtration:
Some HEPA filters also come with UV light filtration, which will help kill the bacteria and viruses that enter the air filter. This kind of filter are perfect for viral and biological contamination.
If you are picking the right air purifiers, then the people suffering from asthma and allergies will find the air filters very effective in the room. Now that you know how they work, it is important to make sure that you pick the best air purifiers for your room based on the size and capacity.
How To Choose The Best Air Purifier In India
1. Consider the coverage area
Different air purifiers can cover different room areas. Some of them are compatible to be used in small rooms, while others can cover large rooms. Before investing in an air purifier, you should know the dimensions and area of your room. After you know this information, we suggest you consider the area that the purifier can cover. This is a crucial aspect that you should never ignore.
2. Consider the air delivery rate
The air delivery rate of a purifier helps you in determining the time it will take to clean the air of your room. Consider buying a purifier with a higher delivery rate if you want the air to be cleaned in a matter of minutes. However, if you do not care about the time being extremely shorter, you may invest in purifier with a lesser air delivery rate.
3. Consider the cost
The cost of an air purifier becomes an important aspect when you are on a budget. We have listed many air purifiers on our list. The price of these appliances lies in the low-end and the high-end as well. Consider buying the air purifier whose price fits best to your budget. However, we recommend you not to buy an air purifier if you are not sure about its quality.
4. Consider the filtering
Air purifiers have several layers of air filtration these days. Generally, the number of layers can lie between three to six layers. Depending upon the layering, the air purifier can remove – pollutants, allergens, antigens, pet dander, smoke, odor, and even harmful pathogens. Always check the type of filter the air purifier has before you purchase it. Buying an air purifier that has a filter change alert is also an excellent investment.
5. Consider the power consumption and voltage requirement
Air purifiers are generally the appliances that run on electricity. Before you buy a purifier, make sure it is the one that fits in the voltage range of your home or office. You should also check the number of Watts of power it consumes. After reviewing these aspects, buy the air purifier that you think is the best with regards to the electrical supply in your home/office.
6. Consider the size
When it comes to air purifiers, they generally have similar sizes. However, you should always double-check the dimensions of the appliance. This will save you from any disappointments that you may have after placing it in your room. Also, consider the weight of the air purifier before you add it to your wishlist.
7. Read online reviews
Buyers of these air purifiers have written and posted honest reviews of these products on e-commercial sites. You can read these reviews to get a better grasp and understanding of the product. Reading reviews can save you from instances where you get disappointed from buying a product.
Air Purifiers Frequently Asked Questions
Can I expect that an air purifier can remove odor from the air?
The short and sweet answer to this question is yes; you can expect a typical and fully functional air purifier to remove odor from the air. Today, almost all the brands are offering and highlighting this feature mainly because it attracts customers. And there is nothing wrong with advertising it because an air purifier can do this job. More specifically, the carbon filter is the main reason behind it, which can filter out any odor from the air and can deliver fresh air.
There is a widespread misconception between people these days that the HEPA filter is the main factor that eliminates the odor from the air. But believe it or not, it is only a myth, and the fact is HEPA filters don't play any role to eliminate the odor. However, a typical HEPA filter can eliminate or remove the pollutant particles from the air.
Is There any maintenance cost or any other type of cost involved with air purifiers?
Well, an air purifier is a device or machinery that must have the other costs, but thankfully there is not much maintenance or any additional cost involved. The primary and necessary thing for air purifiers is electricity, a secondary cost for air purifiers. Nowadays, almost all the manufacturers are trying to manufacture the lowest electricity consumption of air purifiers, that's why we see those electricity efficient air purifiers in the market, which is another competitive factor between different brands. But still, there is another cost involved in the air purifiers, and it is the maintenance cost.
Yeah, the air purifiers indeed start decreasing the air delivery rate by the time because the dirt and pollutant particles start clogging it. It is why you must replace the essential fitters of your air purifier from time to time, and this only depends upon the air quality around you.
Does it seem good to run the air purifier while opening the window or door or a room?
There is nothing wrong with doing it because it is not about opening the window or door; it is all about your air purifier's effectiveness. If you usually prefer to run your air purifier by opening the room's window or door, you directly minimize the purifier's effectiveness. And there is nothing wrong with it if you don't have any air disease like asthma or something. If you have serious air diseases like asthma, it would be great if you don't open the windows or doors when the air purifier is running.
Do really the silent air purifiers present in the market that don't produce any noise?
No, still there is not a single option present in the market that runs without making any noise. And it seems a bit difficult because the air purifier forces the air to move through the purifier to clear it with the help of filters, and surely in this process, you must hear some noise. Well, there are some little noise levels of purifiers present, so you can go with that type of option if you don't want your chosen purifier to distract you too much with noise.
Conclusion:
Pollution levels are at an all-time high at the moment. Due to this reason, investing in a good air purifier will prove to be beneficial for the health of you and your family. These purifiers can be costly for some people, which is why we came up with this list. All the products on our list cost less than INR 10000. Also, this list has been prepared after a lot of research because we understand that health comes first. We hope that our article proved to be beneficial in refining your search for the air purifier that you were looking for.
Ridhima Sharma is a Senior Pharmacist at Kukreja Hospital, New Delhi. Ridhima completed her Diploma in Pharmacy (D. Pharm) from UP University. She regularly writes article on health information, fitness and beauty related products at IndiasStuffs.com