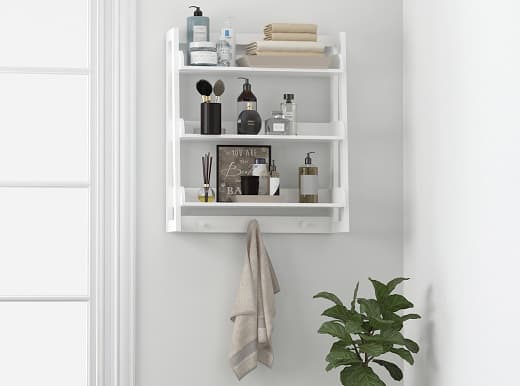 A bathroom shelf allows you to set up a dedicated space in a bathroom. It is used to store toiletries and hygiene products such as creams, toothbrushes, creams, and other small items. Some people use it like a medicine cabinet to store medical tools. These shelves are generally installed over sinks, above toilets, or under sinks.
They allow you to free up your floor space, so you have more space for standing around in the bathroom. These shelves are available in different sizes, shapes, finishes, and styles that fit into any modern bathroom. The newly designed bathroom shelves blend with the look of the bathroom interior.
Aside from the bathroom, you can install it in your bedroom or living room. You can store all your necessary items on the shelves and use the mirror on the side to groom yourself. Almost every bathroom shelves are lightweight, portable and compact. Bathroom shelves come with high-quality mirrors and easy performance.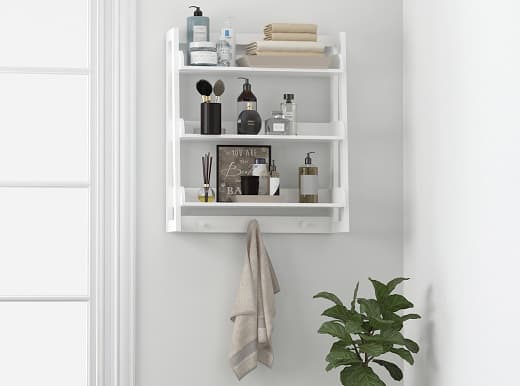 Best Buy Bathroom Shelves In India
More than that, they are being offered in various types, such as recessed cabinets, wall-mounted cabinets, free-standing and more. Wall-mounted cabinets are easy to fix on the wall and easy to store, while other types are built into the wall. You can choose as per your requirement.
How To Choose The Best Bathroom Shelves
The three most common materials for bathroom shelf designs are wood, tempered glass, and plastic.
Plastic bathroom shelves
They are popular because they are extremely durable, lightweight, and do not rust in damp conditions. They aren't the prettiest, but they're useful for keeping a variety of small bathroom essentials, and they're easy to assemble even if you don't know how to use power tools.
Tempered glass
For a contemporary room, tempered glass is indeed a popular design choice because of its minimalist appearance. If you would not have a medicine cabinet in this area, this material can be used above a sink to organize electric toothbrushes and toothpaste.
It is recommended that you purchase tempered glass that is at least three-eighths of an inch thick because it is less prone to cracking when exposed to heat & water over time.
Wood shelves
This type of shelving is ideal if you're trying to achieve a more rustic look in your home. Many different wood storage ideas are out there, from the more traditional farmhouse look to the more industrial and workshop-like appearance.
 This means that finding the right one for you shouldn't be a difficult task. If you choose wooden shelving, make sure it has been handled to withstand dampness and maintain its aesthetic appearance. Confirm the metal frame which comes with it, too. Corrosion-resistant materials or coatings should be used for this.
Style
When it is about to bathroom shelves for the house, there is also no shortage of options. This gives you the opportunity to select one that you like and that complements your space.
If you prefer a more traditional look for your bathroom, rustic wooden designs are a popular choice. These can be wall-mounted elements with built-in shelves or floating shelves, so they're a good option if your walls are particularly large.
It is possible to have the rustic or even more industrial-looking shelf with additional towel rails as well as hooks at the bottom if you are limited on hanging space. Items like hairbands and baby towels can easily be hung from these.
Size
When it comes to bathroom shelves, size matters a lot, especially if yours is a small one. Each shelf should be measured in depth and width in addition to its total height when determining how much shelf space you'll need. To ensure that the shelves can hold your bottles, be sure to take into account the frame and the distance between them.
Santosh Kumar, He is a SEO + Blogger have 12 years of experience in writing tutorial, informative and product reviews topics.