Since the tilak ceremony symbolizes the start of a new chapter in a couple's life together, it's crucial to dress to impress. There is a wide range of traditional and modern styles available to Indian guys. Men often dress formally in Indian garments like the Sherwani or Kurta Pyjama during traditional Indian tilak rituals.
These garments are often embroidered or adorned with elaborate designs, and they are constructed from expensive materials like silk or brocade.
White, beige, & gold are examples of neutral colors, whereas bright colors such as blue, red, and green are examples of more dark hues that can be worn on more festive occasions.
 The outfit would be complete with the addition of a pocket square, turban, as well as traditional shoes.
Jodhpuri suit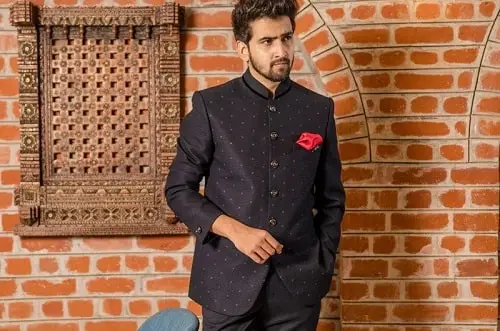 The Jodhpuri outfit is a classic that will last forever. It's official enough for a tilak ceremony but chic enough for the occasion. The jacket and pants of a suit are typically constructed from the same material, such as wool or silk. Typical elements include pleated pants and elaborate embroidery on the jacket.
Consider the event you'll be attending when you shop for a Jodhpuri suit. For a more formal event, a lighter-colored suit is recommended. A darker color is appropriate for a semiformal or casual occasion.
Climate and seasonality should also be considered while selecting a cloth. If it's the middle of summer, for instance, woolen textiles are not in trend and linen and cotton are preferable
Last but not least, find a comfortable size. The outfit shouldn't be too snug across the chest or too baggy around the legs. Furthermore, it should highlight your best features. If you keep these suggestions in mind, you should have no trouble locating a fine Jodhpuri suit to fit your needs.
Kurta Pyjama
The kurta pajama is also a common traditional garment worn by males in India for tilak ceremony. It is appropriate for both professional and informal settings, and is often crafted from breathable, lightweight materials like cotton, silk, or linen.
The Pajama might be the same color as the Kurta or a contrasting hue, while the Kurta itself can be simple or elaborately embellished. Indian men often opt for the timeless and adaptable Kurta Pajama because it combines both fashion and comfort. Kurta pajamas can be found in a wide range of styles and colors, making them a convenient solution for your tilak ceremony.
Sherwani
A sherwani is a traditional and elegant garment for a guy to wear to an Indian tilak ceremony. It consists of a long coat reaching just beyond the ankles and a pair of slim pants called chooridar. Typical materials for sherwanis include velvet, brocade, and other expensive fabrics that can be embellished with embroidery and other techniques.
Indo-western suits
It is a contemporary take on classic Indian garments. It's a novel take on a formal look that borrows from both Western & Indian styles. The staples of an Indo-Western suit are a button-down shirt and pants, but a Nehru jacket and vest is also acceptable.
Dressing in an Indo-Western style is like donning a perfect synthesis of Indian opulence with Western grace. Among young people, it is by far the most popular option. You can wear an Indo-Western dress to your tilak ceremony, and also in wedding, any festival, or to other formal event. This dress's design is quite breathtaking and captivating.
Nehru jacket and kurta pyjama
Jawaharlal Nehru, India's first prime minister is honored with the Nehru jackets namesake. This jacket is worn on top of a Kurta / Sherwani and falls to the hips. The Nehru jacket has a mandarin collar and simple, clean lines; it is typically constructed from airy fabrics like silk, cotton, or linen.
It has a similar silhouette to Western suits but incorporates traditional Indian elements like golden buttons and embroidery. The Nehru jacket is versatile enough to be worn either as part of a formal Indo-Western suit or with a pair of pants or jeans.
One can wear this attire to their tilak and can create traditional and western look together.
Conclusion
Formal and semiformal events, such tilak ceremonies and parties, frequently feature above-mentioned designer attires, which can range from timeless and subtle to striking and eye-catching.
Santosh Kumar, He is a SEO + Blogger have 12 years of experience in writing tutorial, informative and product reviews topics.